By Staff
Nov. 10, 2021: It was announced on ESPN Sunday evening that Bronxville native and St. Louis Cardinals centerfielder Harrison Bader won his first career Gold Glove. He was one of five St. Louis Cardinals to win the Gold Glove this year.
Bader, who is twenty-seven and joined the Cardinals in 2015, is known for his acrobatic and exciting diving catches in the outfield. He also led all National League outfielders with 15 defensive runs saved and 14 outs above average.  Click here to see a video with Harrison Bader highlights.
Bader said, "I've always wanted to win a Gold Glove. I just have. It's just a special moment for me and my parents. I would always tell them I was going to win one one day."
Bader grew up in Bronxville. He has been playing baseball ever since he can remember, starting with the Eastchester Little League. Bader played for Horace Mann, the NY Grays, and the University of Florida before being drafted by the St. Louis Cardinals in the 3rd round in 2015. Throughout his career, he has had the unwavering support and encouragement of his mom, Janice Baio Bader, who worked at Sports Illustrated magazine for 15 years, his dad, Louis Bader, and his sister, Sasha.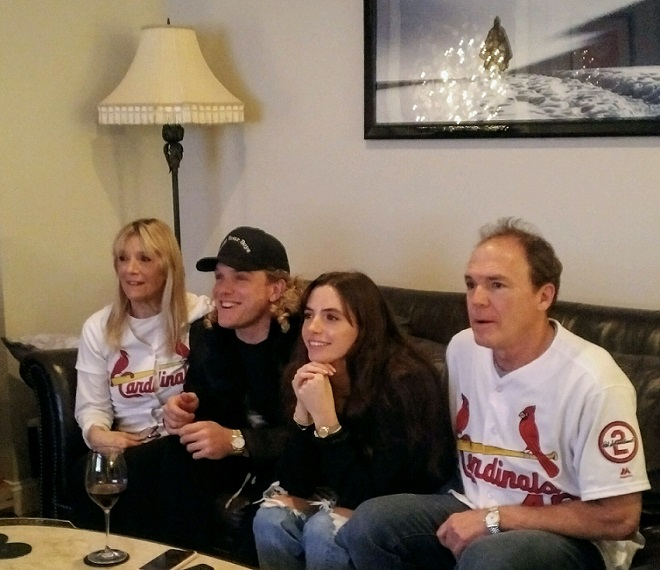 Harrison Bader (second from left) watching the ESPN telecast about the Gold Glove with his mom Janice (far left), sister Sasha (second from right) and Dad Louis (far right)
Earlier on ESPN, Bader said, "Something I can control every day is the work I can put into being as good a defender as possible." And there is no doubt he puts in the effort, all for the love he has for the game and the motivation to succeed.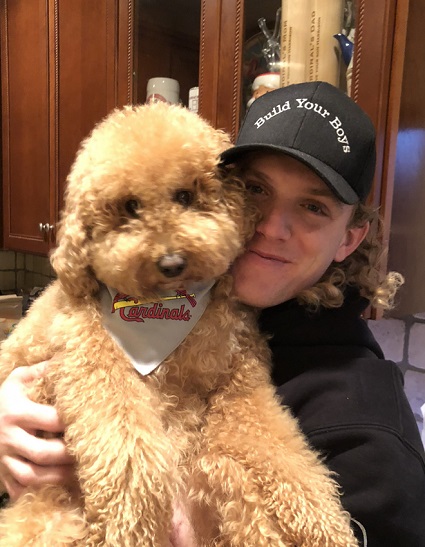 Harrison Bader with one of his biggest fans, the family golden doodle Riley