Girls' soccer team. Photo submitted by Don Cupertino.
By S.Q DeJoy and J. Murrer
Sept. 8, 2021: The Bronco fall season got underway last weekend, and while high school athletes across the state played a shortened season in 2020, the Broncos are slated to play a full schedule, which includes both regional and state championship games.
All of the Bronxville varsity teams will compete in their first games by the end of the week, but both the boys' and girls' soccer teams are already in action. After working extremely hard during the preseason, the girls' soccer team opened last Friday with a 1-0 win in the annual Eastchester Cup.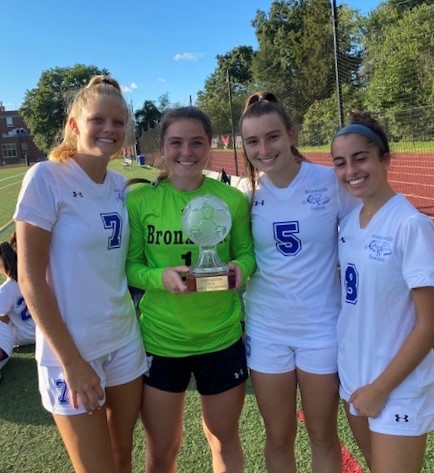 Captains of the girls' soccer team holding the trophy after winning the Eastchester Cup. Photo submitted by Don Cupertino.
"Winning the Eastchester Cup wasn't easy but Milly [Koenig], our keeper helped us preserve the win," said longtime coach Don Cupertino.  "Lily Jebejian scored the game winner at the 46th minute mark on a dazzling upper 90 shot."
Jebejian was the leading Scorer in Section 1 last year and earned All-State honors in Class B. Jebejian, Koenig, and teammate Alice Vranka were named by Lohud as players to watch this season, and Jebejian was chosen as one of Lohud's Elite 11, a list that spotlights the top soccer players in Westchester, Rockland and Putnam Counties.
The boys' soccer team defeated Albertus Magnus 6-0 in the 8th Annual Rockland vs. Westchester Challenge. Scoring for the Broncos were Miles Courtney (2G), Alex Kupersmith (1G), Ellis Goodson (1G, 1A), Chris Patterson (2A), Max Morgan 1G), Brody Pearlman (1G), Paul Sands (1A) and Miles Jernigan (1A).  Will Redman, a senior midfielder on the Bronxville team, was named to the Lohud's Elite 11 watch list.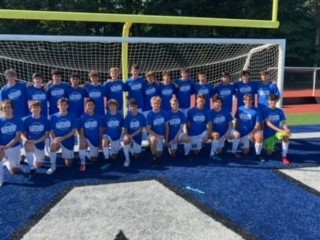 Boys' soccer team. Photo submitted by Donny Lucas.
A lot has changed about high school sports since last fall. In August of 2020 Governor Cuomo mandated school sport start dates and Covid restrictions. This past August, the New York State Education Department (NYSED) only made recommendations, leaving the New York State Public High School Athletic Association (NYSPHSAA), individual sections, school districts, and local health departments to make the call.
All Bronxville sports, including football, got the go ahead to play this fall. Covid restrictions have relaxed with no mask policy for play outdoors but masks are required indoors and on bus rides.  With 72% of 12–15-year-olds and almost 75% of 16–25-year-olds vaccinated in Westchester County, Bronxville has not mandated vaccination. Neighboring Yonkers, however, requires that all athletes have at least the first dose of the vaccine by September 27th.
It is not just an ordinary fall season, though. Last week's deluge from Hurricane Ida caused flooding in the school and on the playing fields. Once the water receded, it became apparent that part of Chambers Field had buckled.
"We have closed the track and fields until those areas can be cleaned andsanitized," wrote Roy Montesanto in a letter to the Bronxville community on September 2nd.  "Our field turf representative will be assessing any damage today so we can begin repairs immediately. They will test the fields to ensure they are safe for play. In the meantime, our Athletic Director, Joe Haven, is actively seeking alternative sites for any games that are scheduled for the next week. Our goal is to be able to play on our fields by the first home football game scheduled for Saturday, September 11th."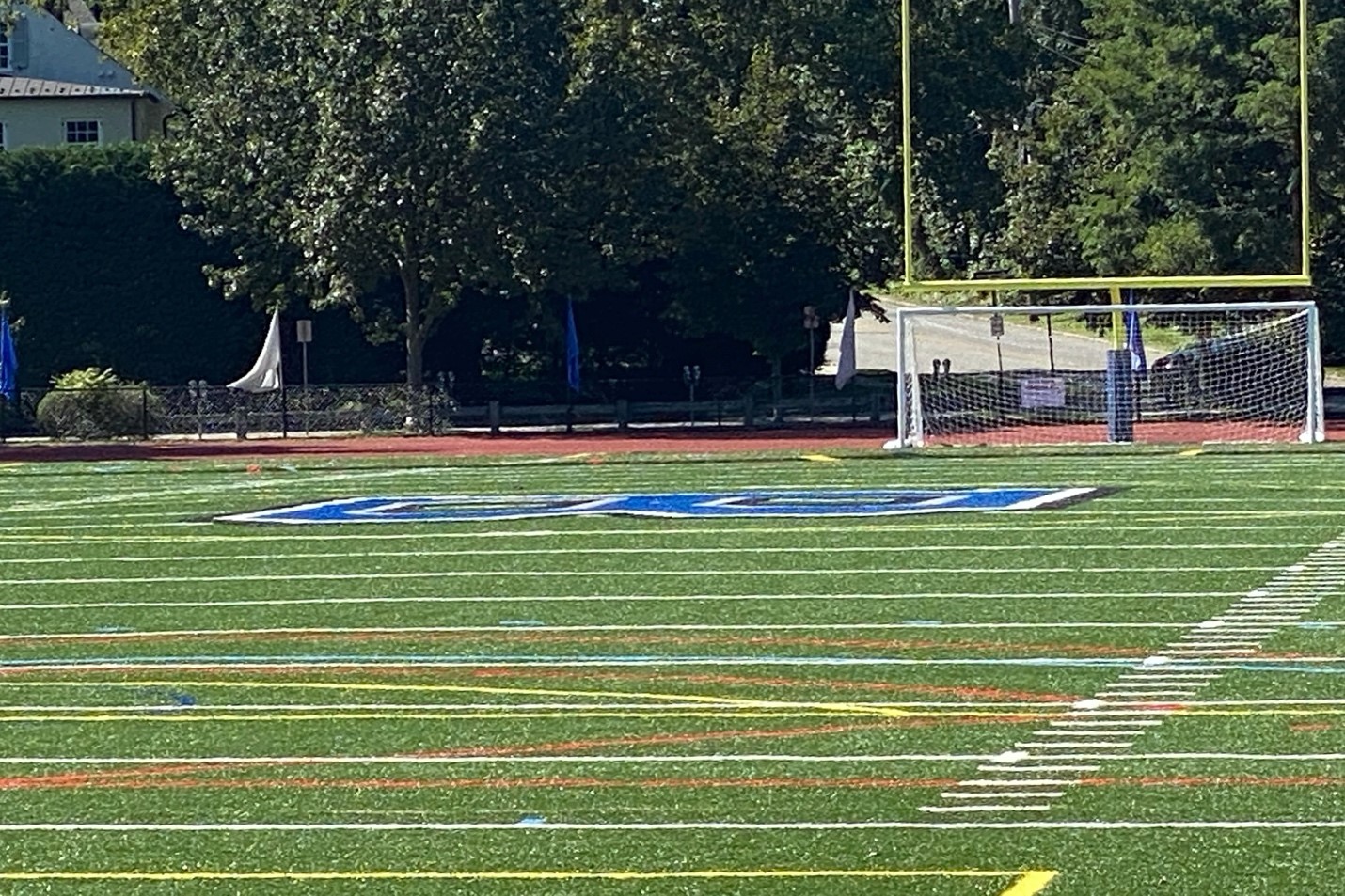 Chambers Field buckling at the "B" after flooding from Hurricane Ida. Photo by J. Murrer.
The football team has a seven-game season but only three of those games were scheduled to be played at home, including Saturday's opener against Pearl River. Field hockey opens tomorrow at Somers, the cross country teams have a meet at Irvington and the girls' tennis team will open at Byram Hills tomorrow and compete at Eastchester on Friday.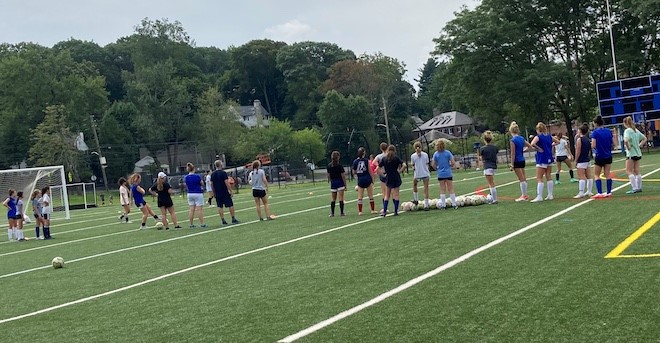 Practice on Chambers Field in August. Photo by S. Quinn DeJoy. 
When high schools across the state took the field for their first practice on August 23rd, Robert Zayas, the executive director of NYSPHSAA, stressed the importance of having high school athletes back on the field.
"Today thousands of students in NY return to participation on their high school teams," tweeted Zayas. "Research shows student-athletes receive better grades, increased attendance & have less discipline issues when compared to non-participating classmates. Participation is important!"
With no limitations on the number of fans this fall, it should be an exciting season.
Go Broncos.