The Bronco football team defeated Valhalla, 28-0, on Saturday. Photo by Susan Miller.
By S. Quinn DeJoy and J. Murrer
Mar. 24, 2021: Better late than never. The Bronco football team is back in action. Designated as a high-risk sport last fall, the season was put on hold, and it was not until late January that high school football was officially allowed to start.
"We were in limbo," said Captain Henry Donohue.  "We had no reassurance of a season. We were lifting and just hoping it would come together. Late in January I was at track practice when I saw on my phone that we were approved for football. It was a great feeling. We never thought it would really come around so we are pumped that we now have a season."
The Broncos faced the Class C defending champ Valhalla in their opening game last Saturday.
"We came out a little bit on our heels at the beginning," said Donohue.  "Our first drive was three and out. Then, Valhalla drove down the field but we stopped them on the goal line. From that point on, we dominated. Our offense starting clicking, and we won 28-0."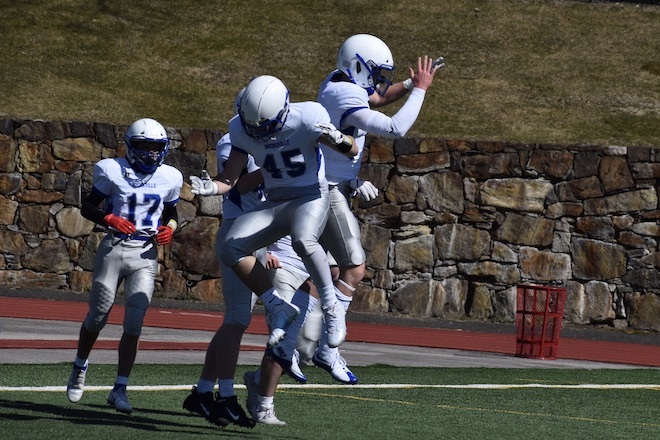 Captain Will Murray (45), senior Chris Golimbu (17) and teammates celebrating in the end zone. Photo by Susan Miller.
Senior wide receiver Eric Fleisig caught a touchdown pass from quarterback Conor O'Neil, and O'Neil rushed for three touchdowns.
O'Neil is a new addition to the Bronco team this year. He played quarterback for Riverdale Country School before coming to Bronxville last summer. In the Valhalla game, O'Neil rushed for 127 yards and completed 6 of 9 passes for 59 yards.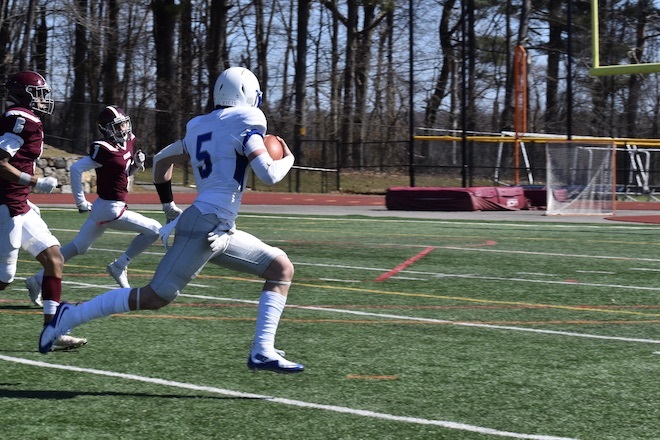 Senior quarterback Conor O'Neil (5). Photo by Sue Miller.
"I think Conor O'Neil is a big addition to the team," said senior running back Connor Randall. "Having him come and free up Henry [Donohue] to play running back was a huge gift for us."
Donohue, who has been a part of the varsity team for three years, played running back as a sophomore but was thrust into the quarterback position last season. In the game against the Vikings on Saturday, Donohue was back in his favorite position as running back and rushed for 146 yards.
Captains Donohue, Will Murray, George McCormick and T.J Curran lead the team, which has 37 players on the roster including 21 seniors. Most of the seniors have played football together for many years, but there are some newcomers on the team from soccer and ice hockey who are getting their first chance to play because the season has been moved to March.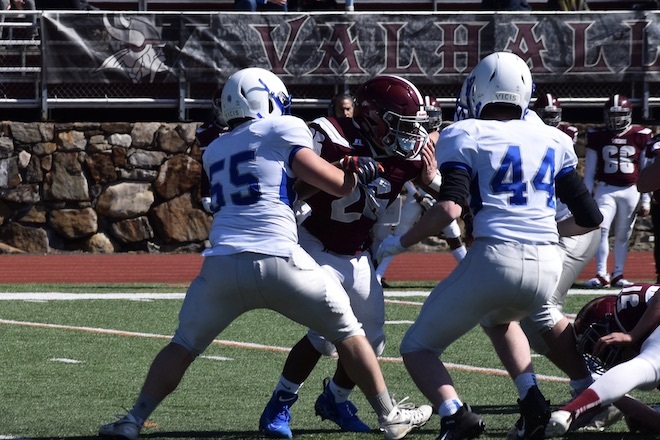 George McCormick (55) and sophomore Chris Lockwood on defense. Photo by Sue Miller.
"It is a pretty senior heavy team and not just with numbers," said Donohue. "It is a pretty talented class. We have been playing together since 5th and 6th grade football and thinking about our senior year since then.  We are finally here."
After several years of playing in Class B, the Broncos moved back to Class C this spring due to changes in school enrollment. The Bronxville team was one of the smallest schools in Class B last season but was still able to do well finishing with a 4-4 record.  
The Broncos are back to playing their old rivals in Class C including Dobbs Ferry, who they will face on Saturday.
"We haven't played them in a while," said Randall. "The last time we played Dobbs, they beat us so this is a revenge game for us.  Last year Valhalla won Class C and Dobbs was the runner-up."
Unfortunately, Randall was unable to play in last Saturday's game against Valhalla. He had been quarantined due to contact tracing and was short just one practice. Randall, who is a three-sport athlete at Bronxville, will continue to play football and run track at Middlebury next year. 
The team has been conditioning on and off for the past year under the leadership of Coach Patsy Manganelli.
"Coach Manganelli has been a really big part of keeping us together and helping us have a season," said Randall. "He is on top of things, and he is really supportive of us. We all really appreciate him."
The Broncos will open at home against Dobbs on Saturday at 1:30. Fans will be restricted to two per player but the game can be viewed on LocalLive.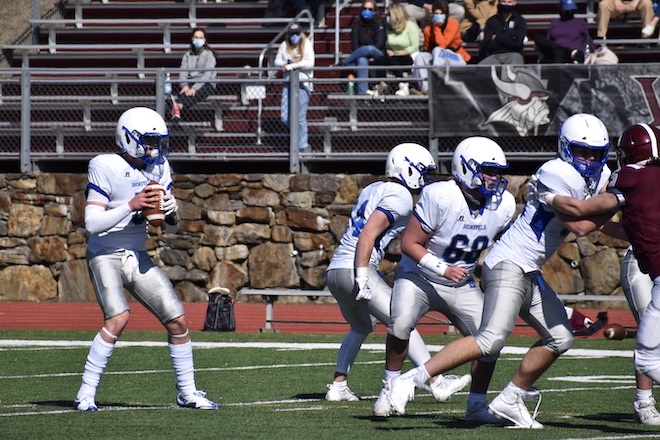 Bronxville line including Captains T.J. Curran (68) and Henry Donohue (24) holding off Valhalla. Photo by Sue Miller.
Go Broncos!