By S. Quinn DeJoy and J. Murrer
Feb. 24, 2021: The Bronxville boys' basketball season has been very busy since starting their games last week. After their close loss to Alexander Hamilton 67-63 last Tuesday, they regrouped and came out strong winning their next three games against Alexander Hamilton (54-46), Palisades Prep (54-37), and Palisades Prep (81-38).
"The biggest difference from our opening loss is we are playing defense on the defensive side and sharing the basketball on offense," said Coach Bobby Russo. "The speed at which we are playing is the best part. We are getting up and down the floor at an insane rate."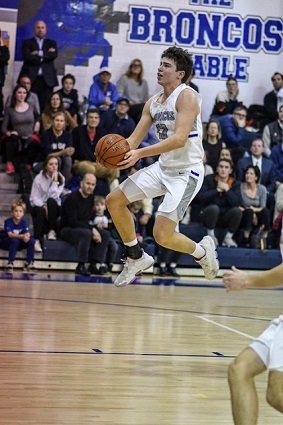 Chris Kelty during 2020 season
The team captains are senior Riley Ramundo, senior JP Swenson, and junior Chris Kelty. Kelty has been a top scorer with 19.5 points and 8.9 rebounds per game. The other two starters are Sean McGrath and Jack Hershberg, who have both been able to come up with big plays.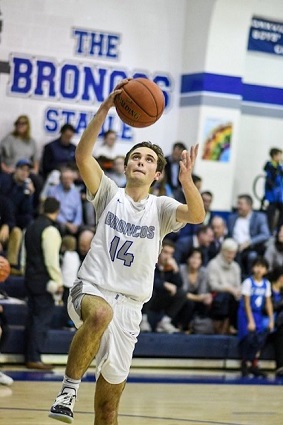 Jack Hershberg during 2020 season
"The best highlight so far in this short season was tonight's game against Palisades Prep," said Coach Russo about Monday night's game. "We had four players score 15 points or more. Teddy Dolan had 18, Sean McGrath had 16, and Chris Kelty and Riley Ramundo each had 15. A total team effort from start to finish."
Ramundo and Swenson, the only seniors on the team, were honored Monday night before the game. Normally, no fans are allowed, but for senior night, each senior was allowed to have two guests. 
There are two more games this week against The Biondi School (formerly Leake and Watts), but the real contest for the team will come in the next two weeks. The Broncos will face Hastings, the defending Class B Champion, on Monday, Yonkers Montessori Academy on Tuesday, powerhouse Dobbs Ferry on Wednesday, and undefeated Class A Hendrick Hudson on Saturday. Finally, on March 8th, the Broncos will play Westlake, a team that has gone to the Sectional Final Four for the past two years. 
"I'm super excited to see what our team is made out of," said Coach Russo. 
Go Broncos.