By Susan Miele
Mar. 31, 2021: One would think that after 60 years of employment, it would be time to retire. One would especially think that after 60 years of standing on one's feet, it would be time to sit down. Not so for Nick DeVincenzo, owner of Continental 109. As he celebrates his diamond jubilee as a Continental hair stylist and 40 years of Continental ownership this year, DeVincenzo holds on with pride.
"I take a lot of pride in this business. This is my home, and the people who work for me I consider family. One girl has been with me 40 years; another, 30; another, 28. The girls don't want me to retire."
What keeps him going? "I love to serve the people. That's why I'm still in business."
Though several other Bronxville establishments can boast of comparable longevity, how many have been continuously owned and operated by the same proprietor since 1961?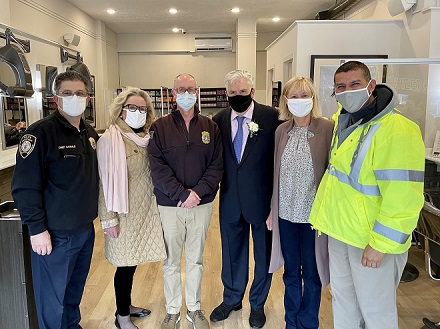 60th Celebration: (L-R) Bronxville Police Chief Satriale, Bronxville Mayor Mary Marvin, Bronxville Administrator, Jim Palmer, Nick DeVincenzo, Bronxville Trustee Mary Behrens and Victor Lema, Village Foreman
DeVincenzo recalls the original owners taking over the space previously occupied by a dress shop circa 1960, starting with four styling chairs. Business flourished, and eventually a second store, formerly a milliner, was annexed. Following multiple renovations (and the elimination of hooded hair dryers), the current salon boasts 26 stations and averages 700 clients a week serviced by about 35 staff.
"If you put your heart into it, it comes out so much better. Everything is so much better," DeVincenzo opines.
In Continental's early days, neighboring Tower Hairstyling was already extant, as was Topps Bakery across the street. DeVincenzo recalls other neighbors being Miss Ida's dress shop, a drugstore called Bellis, a men's clothing store named Comstock, a Woolworth's, a fruit store and a Grand Union on Park Place, and an A&P where CVS now stands.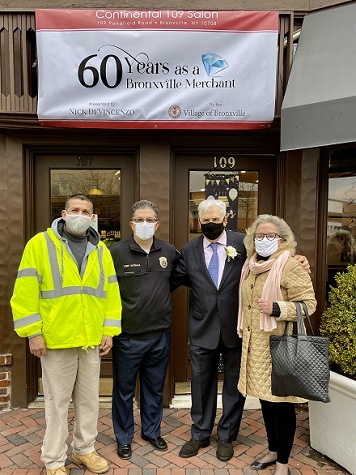 60th Celebration: (L-R) Victor Lema, Village Foreman, Bronxville Police Chief Satriale, Nick DeVincenzo and Bronxville Mayor Mary Marvin
While many businesses have come and gone since, Continental is still going strong, thanks to DeVincenzo's commitment to service, drive, and close watch. He credits a surge in business to the time when his son Marc joined the team after having established himself as a sought-after stylist with the renowned Frederick Fekkai salon. Clients travel to Bronxville to place their hair in Marc's care. The long-term plan for Continental is for Marc to carry on his father's legacy and to share ownership with the staff.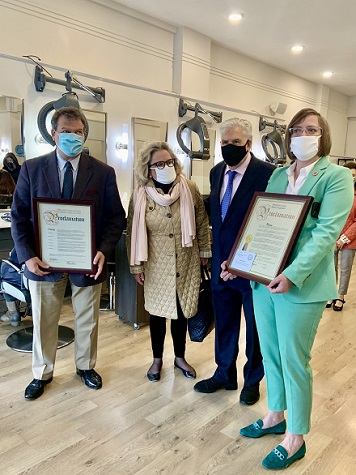 60th Celebration: (L-R) Westchester County Executive, George Latimer, Bronxville Mayor Mary Marvin, Nick DeVincenzo and and Westchester County Legislator, Ruth Walter
As an orphan who moved to Venezuela where he worked long hours as a young teenager, DeVincenzo couldn't have imagined that he would one day have his own successful hair salon (and a daughter who attended Harvard University and Yale Medical School).
And who could have predicted that a Bronxville girl who got her hair done at Continental would return 50 years later for a follow-up appointment?
Photos courtesy M. Behrens