By Karen Talbot
May 11, 2022: This month, I engaged the help of our good friend and longtime resident of Bronxville, Art Nagle, who is an expert on the specialty stores along Arthur Avenue. This area is known as the "Little Italy" of the Belmont neighborhood of the Bronx and is near the Botanical Gardens. Art has been coming here for over thirty-five years but has not been back for over a year due to Covid 19. Art, his wife Paige, and my husband David and I walked by the many great shops where you can buy "all things Italian."
Here are the highlights:

Parisienne Cafe: Our first stop was to get dark and flavorful coffee and cappuccino from the Parisienne Cafe, the only French establishment in the area.
Madonia Bakery: Next, we purchased delicious biscotti from the 100-year-old Madonia Bakery, which had eleven varieties of biscotti. Orange cranberry walnut dipped, and toasted almond and pistachio were our perfect choices. This is a full-service bakery for authentic bread and cookies and specializes in filling cannoli on the spot!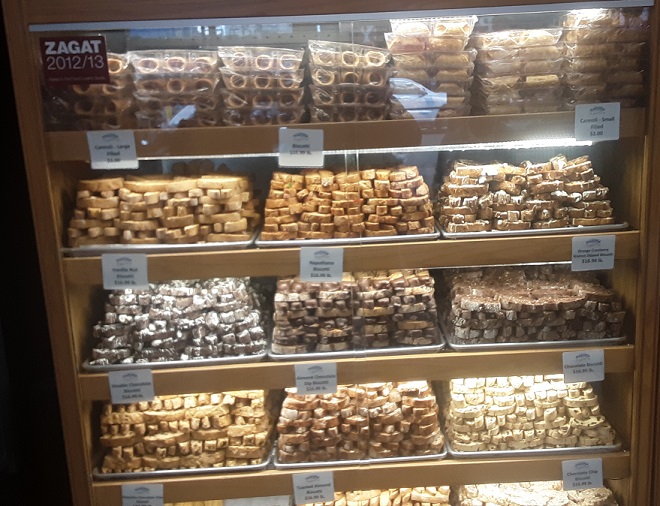 Biscotti
Pace's Italian Market: This market has all sorts of cheese. You can sample and then choose what to buy. We chose a winning combination of Gouda and Parmesan and a nutty Manchego.
Randazzo's Seafood: This store carries a huge variety of seafood, including soft and hard-shell crabs, clams, mussels, prawns, and shrimp, among many others.
Arthur Avenue Market: This market is a must-see. It houses specialty purveyors featuring cured meats, cheese, bread, and pastries. Within the market is Peter's Meat Market, which has some usual meat such as lamb and pork hearts and porchetta roast.
Mike's Deli: Don't miss Mike's Deli, famous for cured meats, cheese, pasta, hearty sandwiches, and big barrels of olives. At Boiano Food Inc., you can find all sorts of fruits and vegetables, and at La Casa Grande Cigars, you can watch cigars being made.
Biancardi Pork Store is an old-school butcher with high-quality meat and different kinds of meat like baby lamb, kid, and goat.
Addeo & Sons Bakery: Around the corner at 187th Street and Hughes Avenue, don't miss Addeo & Sons Bakery, which sells Eiccola (Lard Bread), consisting of pork pieces, prosciutto, ham, salami, and of course, lard. The staff recommends having it warmed up with eggs at breakfast.
Borgatti's Ravioli and Egg Noodles: Go another block to Belmont to visit Borgatti's Ravioli and Egg Noodles, an institution since 1935. You can watch them make fresh pasta.
Casa Della Mozzarella: Another great place is Casa Della Mozzarella, a long and narrow store worth squeezing into for their regular, smoked, and other kinds of this popular cheese.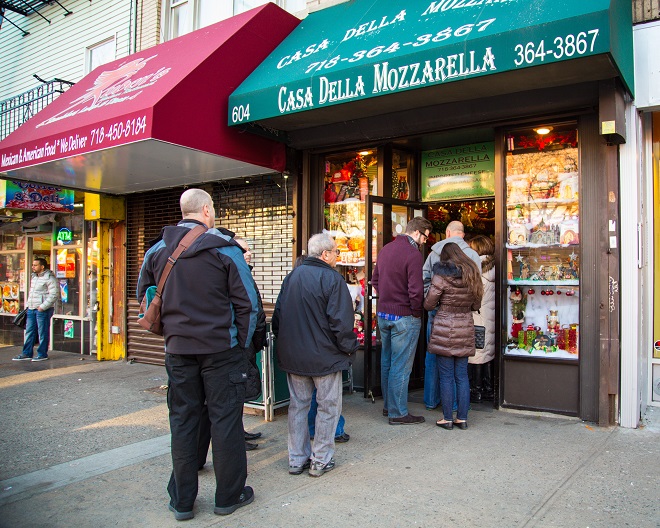 Casa Della Mozzarella
Mount Carmel Wine & Liquors: You can end your tour at Mount Carmel Wine & Liquors, which has a great selection of Italian wines to serve with the other goodies you have purchased for your special Italian meal!
Photo at top and bottom: Shutterstock.  Photo of biscotti by K. Talbot