Pictured (L-R) Clara Lizio Melchiorre and Rosie Amodio
By Staff
Apr. 7, 2021: Rosie Amodio of Bronxville has co-written a cookbook with chef Clara Lizio Melchiorre called Cooking With Clara: Recipes of a Lifetime.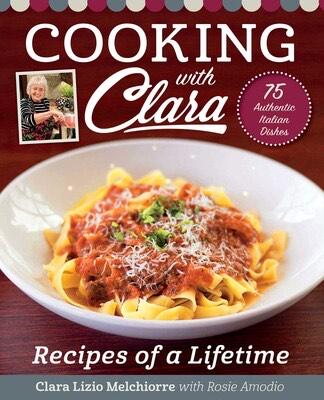 Clara is the daughter of the famous "Mama Celeste" Lizio of frozen pizza fame. Clara worked in the family restaurant, pasta, and pizza businesses for many years until opening her-own highly successful Italian restaurant in the Chicago area in the 1980s. 
Rosie Amodio, who has lived in Bronxville with her family since 2019, spent 20 years working in magazines such as Marie Claire, InStyle, Cosmopolitan, and The Knot, covering fashion, beauty, and lifestyle. She is also the child of Italian immigrants, and her family ran a successful Sicilian restaurant in Brooklyn for decades.
Rosie and Clara were introduced by one of Rosie's colleagues from her magazine days. He called and said, "What are you doing tomorrow? I need someone to help write an Italian cookbook." Thankfully, Rosie had a pretty clear schedule. Shortly after meeting and clicking with Clara, who was in hospice, the Covid-19 lockdown began.
Undeterred, the two co-wrote the cookbook Cooking with Clara: Recipes of a Lifetime over zoom. Rosie and Clara developed a wonderful friendship during that time as Rosie captured Clara's stories and recipes. 
It was Clara's lifelong dream to publish her recipes and techniques. She passed away peacefully at the age of 82, just as this book was being published. 
Contact Womrath at 914-337-0199 if you are interested in purchasing this book.
Photos courtesy R. Amodio