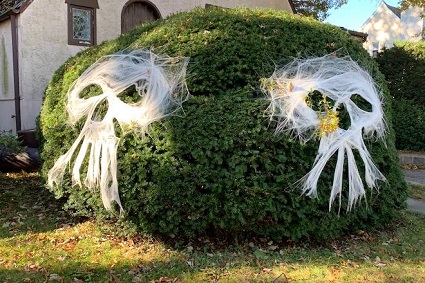 By Staff
Oct. 23, 2019:  Below are some fun Halloween events in Bronxville starting Friday, October 25th.
Friday, October 25, 3:30 to 5:00 PM:  Family Film "Halloweentown" at the Bronxville Publilc Library
Friday, October 25, 4:00 PM:  Bronxville's annual Halloween parade will start at the Bronxville High School flagpole on October 25th at 4pm. There will also be a Haunted House in the School. 

Saturday, October 26, 9:30 - 1:00 PM:  Harvest Moon Festival at Reformed Church Nursery School, 6 Kraft Avenue in Bronxville, Congregational Hall (located at Kraft and Midland).  Click here for more information about the Harvest Moon Festival.
Sunday, November 3, 12:00 - 4:00 PM: Bronxville Children's Halloween Festival is now on Sunday, November 3rd.  Rides, activities, pony rides, live music and food.  The Festival will take place at Leonard Morange Square in Bronxville.
Photo by A. Warner