By Staff
Apr. 22, 2020: During this unusual time, we are all staying at home to stay safe. 
MyhometownBronxville reached out to readers to hear about some of the positives they have experienced while staying home.
This is what readers said:
Gardening

"We are building a garden! We finally have enough time to devote to making sure it grows. We have no idea what we are doing, but we sure are having fun trying!"
"I've had time to really weed my garden and now am appreciating the buds as they emerge"
"I'm Gardening! Dividing plants. Reorganizing a garden." 
Food, Diet & Exercise
"We have all five of our kids home - from Kindergarten to college — and I've been able to work from home for 5 weeks now. I could not be happier to have everyone under one roof. Have started baking bread which I have never done before. Experimented with two different versions of crusty no-knead bread, naan and rosemary focaccia. I can send recipes!"

"I've gotten to exercise regularly"
"I'm doing the Whole30"
'I served meals with fine china and silver...if not now, when?"
'I logged miles and miles walking."
"We've been able to have family dinners, which are hard to do when we're all running to sports activities and other obligations."
"I'm cooking more plant based meals." 
"Virtual cook-offs with friends and family members."
"Thank God for the Peloton."

Connecting with Family & Friends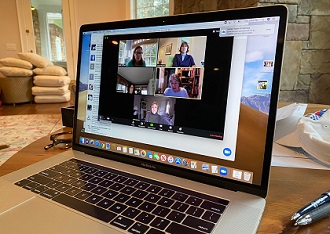 "I learned how to Zoom with family and friends and as a result have gotten to know my great-nephews in a distant city as never before"

 "I have loved the video and text group calls with friends."

"I exchanged letters (not emails) with my sisters and enjoyed checking the mailbox."
"My children and I now "zoom" with their 94 year old grandmother."
"I've gotten to spend time with my busy teenage children."
"I've gotten to hear what my children's classes are like."
"Virtual cocktails with friends."

Things to Be Thankful For
"I keep a running list of things to be thankful for with a dear friend."

"Noticing how blue the sky is, how warm the sun is, how fresh the air is, how vibrant the flowers - simple things we didn't notice before because we were too busy, moving too quickly, and not present."

New Activities

"Family game night-several times a week!"

"Puzzles and Games are back in our house."
Getting Organized
'The house is getting organized"
"I am delighted to have almost finished purging, organizing and putting into albums the zillions of stray pictures accumulated over many years. It's a tedious project that I have put off until "I have time" - well, I've had time!"
"I've attended to things around the house I have never noticed."
Pets
"The dog loves all the attention."

Photo at top by A. Warner; photo in middle by J. Murrer