Myhometownbronxville photographer, Neely Bower, wins a First- "Best photograph in show" at the Nantucket Garden Club Show this past weekend.
May 3, 2023:  Below is information about upcoming events in and around Bronxville. If you would like to thank an organization or be included in the MHTB listing of events, please send information to
This email address is being protected from spambots. You need JavaScript enabled to view it.
.
Ongoing: New traffic lights are being installed at the corner of Midland and Pondfield.  See photo below taken May 4th.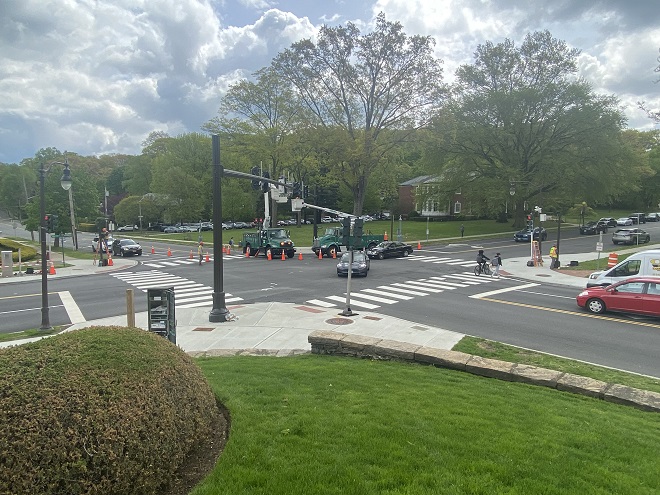 May 5 & 6: The Bronxville Middle School is proud to present Disney's The Lion King Jr.
This Friday, May 5th and Saturday, May 6th at 7pm. Tickets available at the door or
by clicking on this link.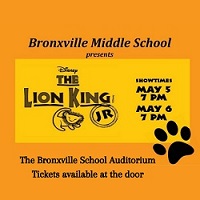 May 5: The Counseling Center's Spring Gala,
honoring Mayor Mary Marvin, Siwanoy Country Club, 6 p.m. Cocktails and dinner followed by a live auction. To purchase tickets to the gala, participate in a silent auction, or make a donation, go to 
counseling.givesmart.com
, or call The Counseling Center at 914-793-3388.To see more live auction items, visit our page by scanning this QR code with your camera.

May 6, 11am: Coronation of King Charles in London.  It will begin at 5 a.m. EST for American viewers. Following the ceremony, there will be a concert featuring Lionel Richie and Katy Perry, among others. ABC News , CBS News, Good Morning America and other networks will cover the coronation. 
May 7, 10 a.m. and 2 p.m:  Bicycle Sunday May 7 and every Sunday in May, June and September except Memorial Day and Labor Day Weekends: Westchester County Parks today announced dates for the Bicycle Sundays season for 2023. During this annual event, bicyclists, skaters, joggers and walkers will take over 6.5 miles of the Bronx River Parkway. The program kicks off May 7 and will continue every Sunday in May, June, and September – except Memorial Day and Labor Day weekends.
May 8: Community Fund 37th Annual Golf Outing at Siwanoy Country Club.
For more information, contact the Community Fund at 914-337-8808. 
www.thecommunityfund.or
g
May 13, 9am - 2pm: The Reformed Church of Bronxville Clothing and Tag Sale: 
 The sale will consist of a wide selection of gently used clothing for all ages, including an expanded Designer Boutique and collection of Eileen Fisher Plus sizes.  In addition to maternity & plus sizes, there is an assortment of fashion accessories, costume jewelry and shoes.  Home items include linens, decor, housewares and knick-knacks, plus plenty of toys and games and sports equipment.  Preview sale items on:
Instagram@reformedclothingsale
 on and
Facebook@reformedclothingsale
.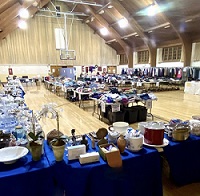 May 16:  Voting for Bronxville School Budget for 2023-24 and also for two trustee positions for 3-year terms. Click here
 for more information about the budget and candidates.
May 16:  Arts Festival on the front lawn of The Bronxville School (weather permitting). 
May 18, 2pm: 
Women's Health Care Month.  F
ree seminar sponsored by Gramatan Village in 
partnership with NY-Presbyterian Westchester. Open to the Public. 
Speakers:
Luona Sun, MD and Anurag Sharma, MD. 
Topics: 
Breast Health, Breast Cancer Prevention Tips, and Breast Self-Awareness 
Location:
 Bronxville Public Library -Yeager Room
May 18 - 21: Film Festival at The Picture House:
Support the Picture House Bronxville by coming to the "Party of Kraft" Avenue in Bronxville and Flim Festival May 18 - 21. 
Click here
to learn more. 
Click here 
for tickets.
June 2-3: Village of Bronxville Sidewalk Sale
June 3, TAKE BACK DAY, 10 a.m. - 1 p.m. Elementary school parking lot for county shredder and behind Village Hall to drop off for reuse or recycling electronics, clothing, bedding for animal shelters. 
Ongoing: Enjoy a fun outing with the kids to the Stepping Stones Museum for Children in Norwalk. 
It offers many fun exhibits geared for kids. 
Click here
for more information.  Mathews Park, 303 West Avenue, Norwalk, Connecticut. 203-899-0606
Weekly Meeting: Bronxville Senior Citizens
 has weekly meetings and events. 
Click here
 to learn more.