Notice
: Trying to get property of non-object in
/home/mhtb/public_html/plugins/system/modulesincontent.php
on line
93
| | | | |
| --- | --- | --- | --- |
| Paige Nagle to be Honored at Gramatan Village's May Magic 2019 | | | |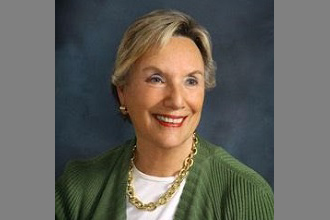 By Sherry Saturno, Executive Director, Gramatan Village

Apr. 17, 2019:  Paige Nagle, dedicated Bronxville community member, will be honored at Gramatan Village's annual May Magic 2019 benefit on Wednesday, May 15, at the Bronxville Field Club from 6:00 to 8:00 pm.
Paige was raised in southern New Jersey and after high school enrolled at Northwestern University. After graduating in 1966, she moved to New York City and accepted a position at CBS Broadcasting in its Columbia Records division working with musical talents who recorded on its labels. In this role, she had the opportunity to meet many interesting people and truly loved every minute of it.
While at CBS, Paige met Art Nagle, who was in graduate school, and they were married in 1970. She then left CBS and was hired by the American Museum of Contemporary Crafts (now the Museum of Arts and Design), where she worked with its founder, the philanthropist Aileen Osbourne Webb, whom she adored. After their two children, Katie and Chris, were born, they moved to Bronxville in 1978. Drawn by the attractive commute and excellent school system, they have happily lived in the village ever since.
In addition to being a mother and a homemaker, Paige also studied at the New York School of Interior Design in Manhattan and started her own residential interior design firm with clients in Westchester and Fairfield counties. As an avid volunteer and active member of the community, she has served with many local charities and civic organizations and is an especially active parishioner of Christ Church Bronxville.
Paige has also been an enthusiastic member of the music therapy ensemble The Song Pipers since shortly after settling here and has served several terms as its president. Established in Bronxville in 1949, The Song Pipers reaches out to people in nursing homes, hospitals, senior citizen centers, and rehabilitation facilities in lower Westchester, bringing live music to the elderly and infirm in an effort to make their days brighter and more fulfilling. Paige's passion for singing and her love of her community has been an important part of living in Bronxville. She donates her time, talent, and treasures where she thinks they might help others and has been rewarded time and time again by how happy it makes her.  
The Nagles' daughter lives in Manhattan and their son lives in Florida with his wife, Candace, and two granddaughters, Avery and Amelia.
Admission to the May Magic Benefit is $100 per person, of which $75 is tax deductible. To make a reservation or learn more about the event, please contact Gramatan Village at 914-337-1338 or email  CLOAKING .
Pictured here: Longtime Bronxville resident Paige Nagle. 
Photo courtesy Gramatan Village
Editor's note: As a public service, MyhometownBronxville publishes articles from local institutions, officeholders, and individuals. MyhometownBronxville does not fact-check statements therein, and any opinions expressed therein do not necessarily reflect the thinking of its staff.