The girls' lacrosse team before boarding the bus to the New York State Championship. Photo courtesy of @BXVHSprincipal.
By S.Q. DeJoy and J. Murrer 
June 14, 2023: The Bronxville girls' lacrosse program has been a force in Class D for many years. Between 2017 and 2022, the Broncos made four trips to the State Championships finishing as the State Runner-up three times and winning the State Championship last year over Section 3's Skaneateles.
The 2022 State Championship team graduated five starters, all of whom went on to play in college, which meant that many younger players needed fill the holes that were left. 
During the regular season, the Broncos played a very tough schedule and finished with an 8-7 record. They competed against most of the top teams in Section 1 and some nationally-ranked teams from Connecticut. The experience gained by playing these highly competitive teams would pay off for the Broncos in the end. They sailed through sectional and regional playoffs outscoring their Class D opponents 91-23, and by the time they reached the State Semifinal, they had a nine-game winning streak.
In the State Semifinal game against Penn Yan last Friday, the Bronco offense continued their scoring madness and won the game by a score of 18-8.
In the other bracket of the State Semifinal, Skaneateles defeated Cold Spring Harbor 6-5 to set up a repeat State Final between Bronxville and Skaneateles.
The Lakers dominated in the first half outscoring the Broncos 8-2, and in the second half, they jumped out to a 10-2 lead. Bronxville was able to score four more goals before the end of the game, but Skaneateles prevailed winning the game 11-6.
"This season we were able to accomplish much more than many thought we would be able to," said senior captain, Catherine Berkey. "Coming off of a strong season last year and graduating a large aspect of our team, everyone was able to step up and adapt to their new role."
The four captains of the team will continue to play in college. Catherine Berkery will play at University of Pennsylvania, Anna Becker at Columbia, Whitney Rowan at Vassar, and Olivia Shinsato at Georgetown.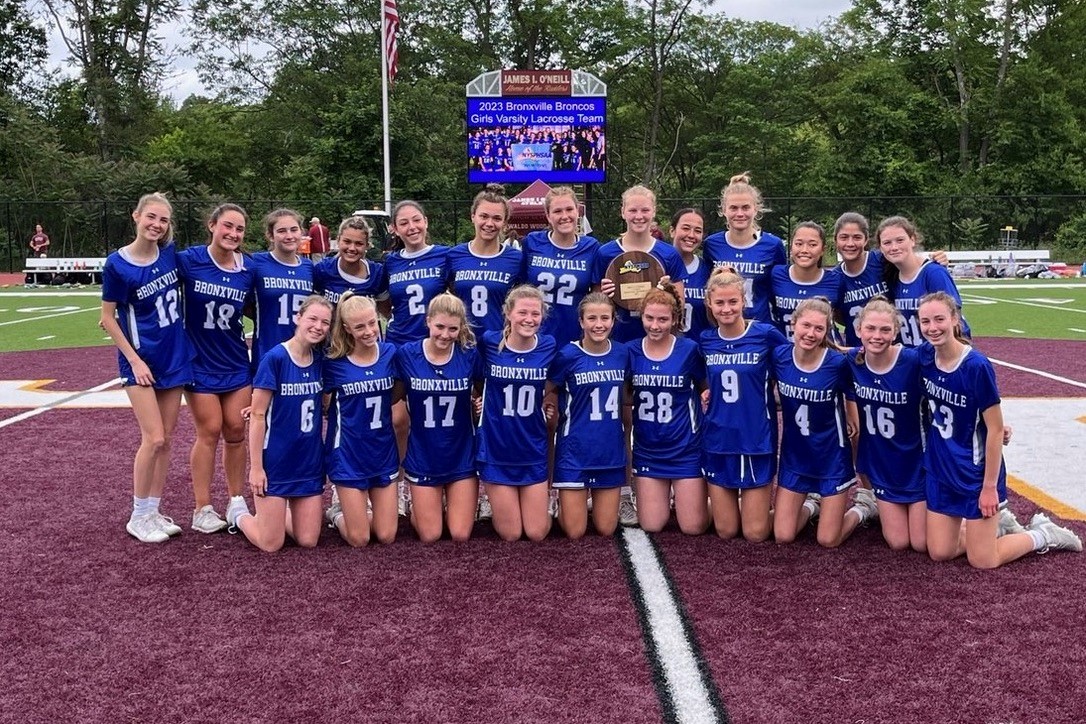 The girls' lacrosse team after winning the Regional Championship against James O'Neill High School.
Go Broncos!