Chris Lockwood on the mound in the game against Valhalla. Photo by Ryan Kenny.
By S.Q. DeJoy and J. Murrer
April 26, 2023: The Bronxville baseball team is halfway through the season, and with a 9-1-1 record, they sit at the top of Class B.  The Broncos traveled to Valhalla on Monday to face a team that had won 7 straight games, and they walked away with a 10-0 victory.
"The defense is definitely our strong suit," said senior pitcher Chris Lockwood.  "We won a lot of close games because our defense made very few if not zero errors the entire game. Offensively, we have been producing runs in an old-school fashion, and it has been very effective."
In Monday' game against the Vikings, Bronco bats were alive. They scored 10 runs on 10 hits with 2 doubles and 6 stolen bases. Offensive highlights included: Jaquette (2-3, 2B, RBI, 2SB); Heraty (2-3, 2B, 2RBI, SB); Lockwood (2-3, 2RBI, SB); Kenny (1-3, RBI); Freeman (2-2, 3RBI, 2SB); and Vail (1-3).
The pitching in the Valhalla game was close to perfect. Lockwood threw a one-hit shutout and struck out eight, surpassing his 100th career varsity strikeout. Lockwood, who is 4-0 so far this season, threw a complete game against Albertus Magnus last week giving up only 4 hits with no earned runs. In 27 innings pitched this spring, he has a 0.00 ERA and 23 strike outs.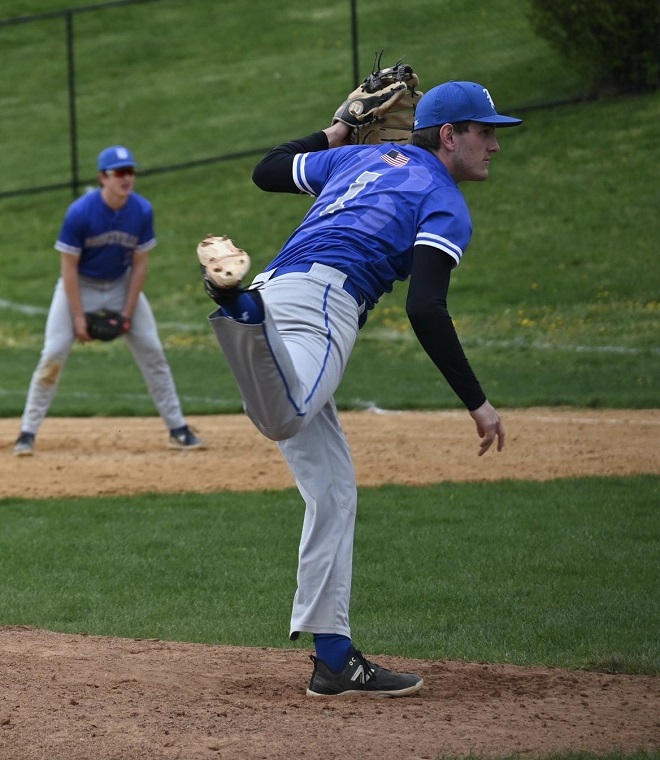 Chris Lockwood on the mound in the game against Valhalla. Photo by Ryan Kenny.
"Throwing my 100th strikeout was an amazing feeling," said Lockwood.  "I owe a lot of those strikeouts to my amazing catcher Connor Kenny. He wins me a lot of strikes, and I wouldn't be near as good as I am without him behind the plate."
"I'm happy I reached the milestone," added Lockwood, "but there is a lot more to focus on down the road and I'm excited for the rest of the season."
The Broncos will be on the road for the next week but will return home on May 3rd with a game against Edgemont at 4:30.
Go Broncos.