The Bronxville baseball enjoying spring training at Disneyworld this week. Photo by M. Schultz.
By S.Q. DeJoy and J. Murrer
April 5, 2023: The Bronxville School is on break this week, but the Bronco spring season is in full swing. Both the baseball team and the girls' lacrosse team traveled to Florida and had games early this week. The boys' lacrosse team has a full schedule at home this week with a game against Greenwich yesterday and a home game against Iona Prep on Thursday morning.
Here is a brief look at the season opening games.
Baseball
The varsity baseball team has compiled a 36-7 record over the past two years, and with help from captains Chris Lockwood, Ethan Jaquette, Ted Heraty, and Connor Kenny, the team is off to a good start so far this season. The Broncos opened in Florida this week at Disney/ESPN's Wide World of Sports.
Playing in Florida on Sunday, the Broncos had an 11-0 win over Briarcliff in their southern season opener. Chris Lockwood got the win after pitching a complete game with 6Ks and only 78 pitches. The Bronco offense was led by Jaquette (3-5), Lockwood (2-3), and Jaime Valdes (2-4).
In their second game against Briarcliff yesterday, the Broncos defeated the Bears 7-4. Jaquette pitched 5 innings to get the win, and Heraty got the save. Offensive highlights include Jaquette 2-3, RBI, SB, Heraty 2-3, 3 RBI, 2SB, Lockwood 1-3, RBI, Kenny 1-3, SB and Valdes 2R.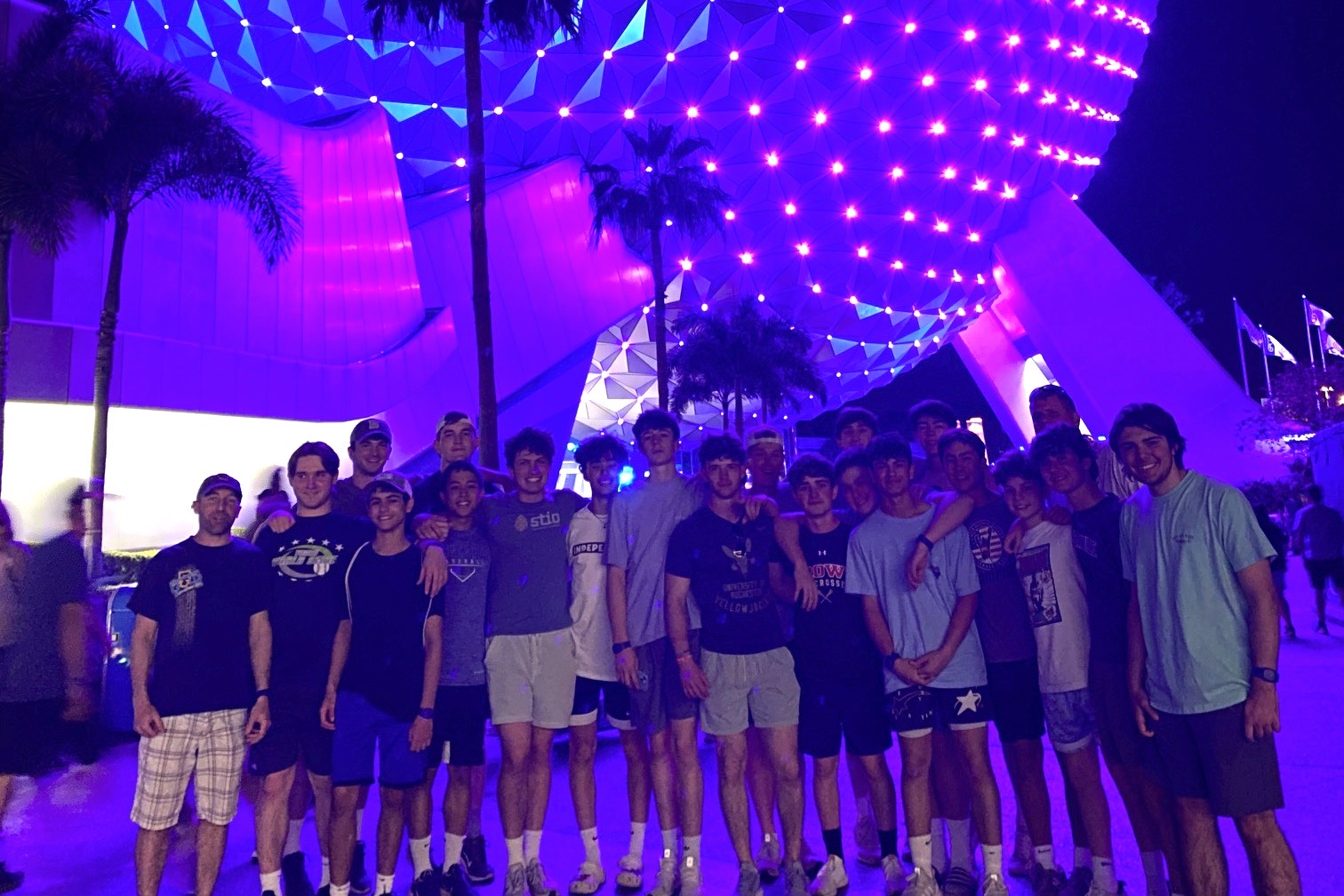 The team takes a break from spring training to visit EPCOT. Photo by M. Schultz.
After returning home from Florida, the team will have three games next week, including home games against Blind Brook on Tuesday and North Salem on Friday.
Boys' Lacrosse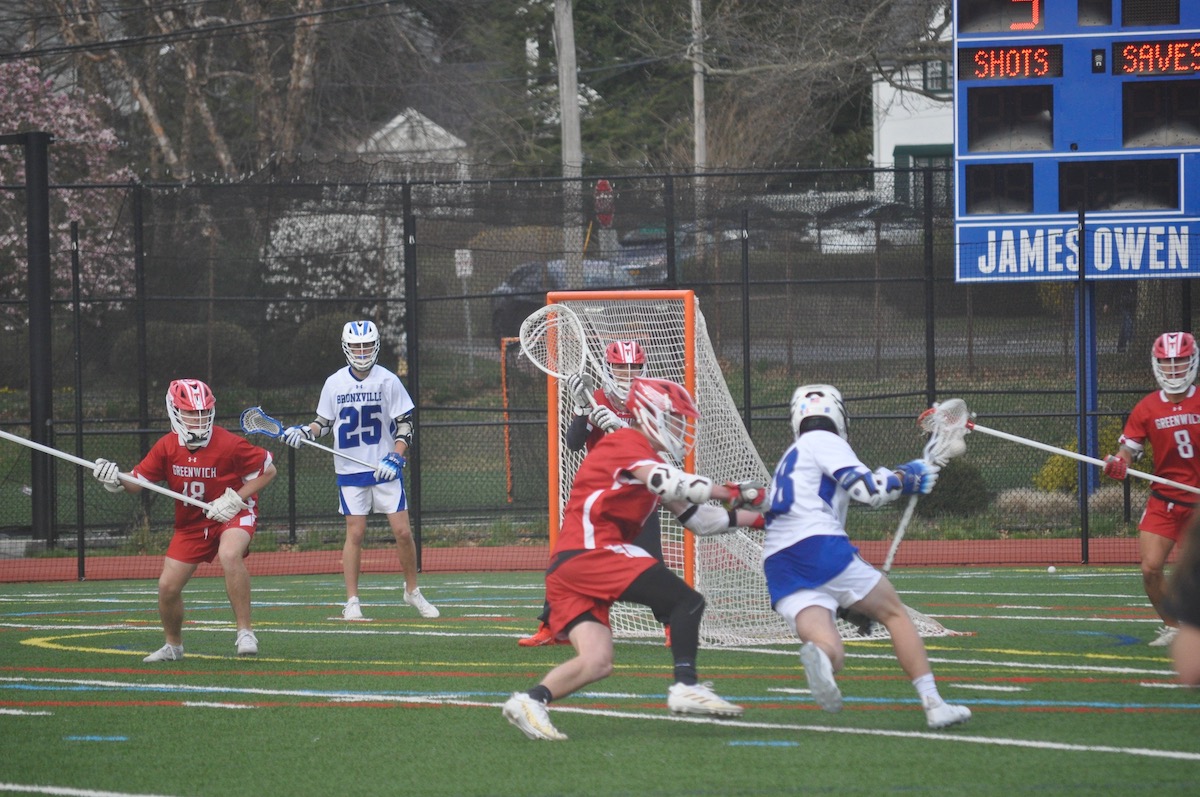 The Broncos head toward the goal in the game against Greenwich yesterday. Photo by J. Murrer.
Last year the Bronxville boys' lacrosse team had an outstanding season finishing in second place behind Briarcliff who made it to the state semifinals. This year's team returns some outstanding players including attackman Chris Patterson and goalie Luke Arrighi who were recently named to Lohud's Elite 11 list.
Bronxville is known for its strong lacrosse programs. While the Broncos are a Class D team, during the regular season most of their games will be played against much bigger schools. The boys opened the season last week with a 7-6 loss to Class AA Scarsdale, currently ranked No. 2 in the Lohud Power Rankings. In their second game of the season, the Broncos lost to No. 5 Iona Prep 11-4.
In yesterday's home game against Greenwich, the Broncos and the Cardinals fought to the bitter end. The Broncos' 5-3 lead at halftime turned into a 7-6 Cardinal lead in the fourth quarter, and with just a minute left, the Broncos tied it up to send the game into overtime. Tough defense kept the game scoreless until the third overtime when the Cardinals scored for an 8-7 win.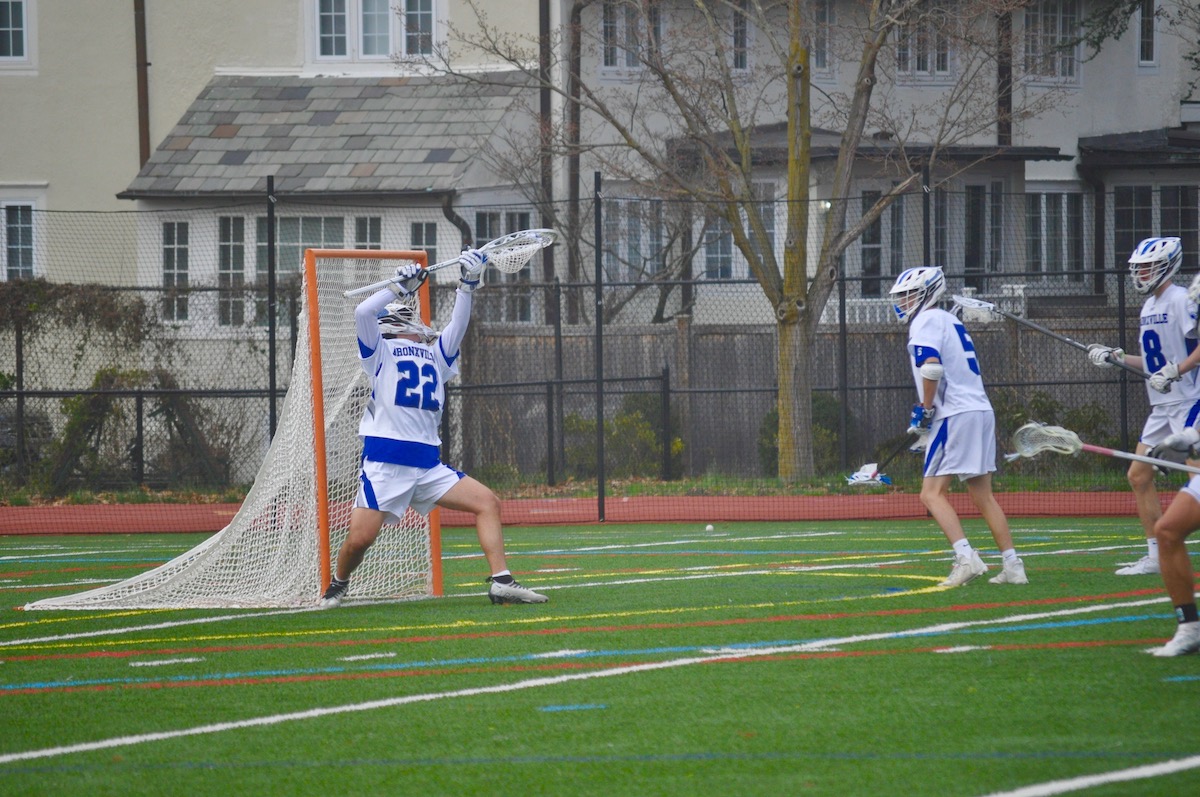 Luke Arrighi makes a save in the game against Greenwich yesterday. Photo by J. Murrer.
The Broncos will play another top-ranked school on Thursday when they take on Fordham Prep at Chambers Field at 11AM. They will face their first Class D opponent, Irvington, on April 12th.
Girls' Lacrosse
Last year, the Bronxville girls' lacrosse team won the Class D New York State Championship and was ranked 9th nationally.  The team returns Catherine Berkery who was named Journal News Westchester/Putnam Player of the Year in 2022. Berkery and teammates Anna Becker, Whitney Rowan, and Olivia Shinsato were named to Lohud's Players to Watch List.
The Class D Bronco girls are ranked No. 1 in Lohud's Power Rankings and will play a tough schedule against top-ranked teams from Section 1, Long Island, and Connecticut.
The Broncos (1-3) lost 11-7 to North Shore in their season opener, but came back two days later with an 11-7 win over Horace Greeley. Playing in Florida this week, the team lost to IMG Academy but will keep pushing ahead as they head back north to face Wilton High School on Saturday. The Broncos' schedule is not for the faint of heart. Wilton is ranked No. 19 nationally.
Go Broncos.