The Bronxville girls' 4x200m relay team. Photo courtesy of @bxvboystrack.
By S.Q. DeJoy and J. Murrer
Jan. 25, 2023: Track and field athletes from 280 public and private schools from across New York, Connecticut, New Jersey, Pennsylvania, Delaware, and Maryland competed at the US Army Official Hall of Fame Invitational last Friday and Saturday. 
The Broncos competed against athletes from schools of all sizes and achieved the National Standard in six events.
Competing in the two-mile invitational run, sophomore Lux Burgin ran a personal best time of 11:43.54 finishing in 11th place and qualifying for Nationals. She also competed in the 3000m finishing 10th with a time of 10:58.10.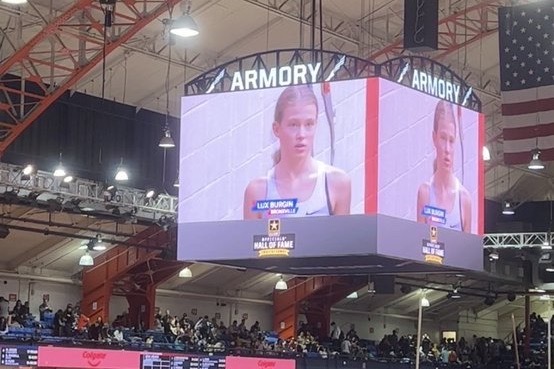 Lux Burgin on the big screen at the Armory. Photo courtesy of @bxvboystrack.
Scarlett Kane placed 5th overall in the racewalk. Her time of 8:39.13 was a season's best performance and was also a National qualifying time.  
Four Bronxville relays had stellar performances. The girls 4x200m relay team of Juliet Winiecki, MaiLy Reinking, Kara Kochansky, and Danielle Dragoni set the tone on Saturday morning by running their best time of 1:45.17 and finishing 4th overall. They hit both the State and National Standards and are currently ranked 6th in the state and 44th in the entire country. 
The girls 4x800m relay team of Hope Hershberg, Maddy Stupart, Charlotte Murray, and Maddy Williams also came up big. They achieved the National Standard with a 9:54.42 and a 5th place finish overall.
The boys' SMR relay was another highlight of the meet. Pierce Patterson, Davis Patterson, Jaime Valdes, and Ellis Goodson ran an impressive 3:38.50. This time not only qualifies the boys for Nationals, but also ranks them 14th in the U.S.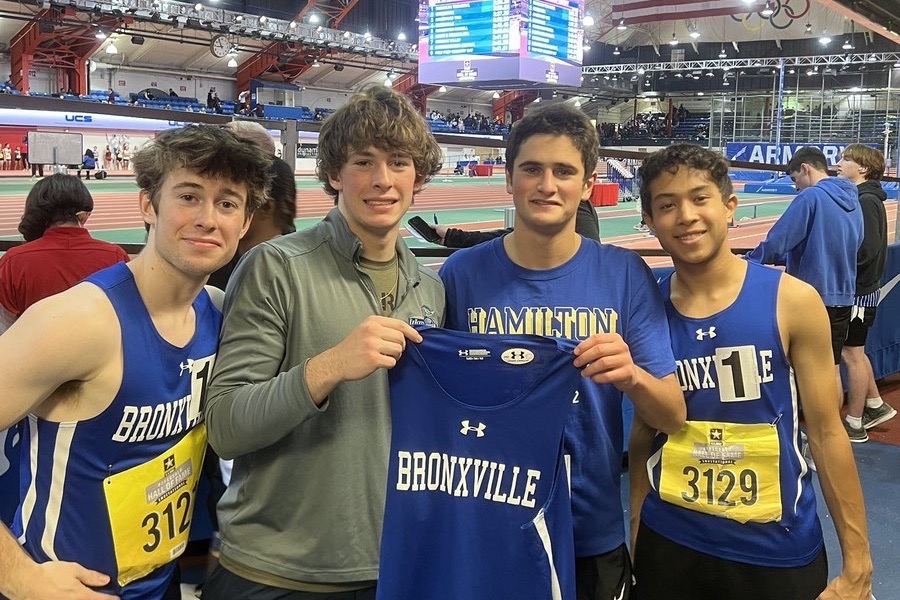 The Bronxville boys' SMR. Photo courtesy of @bxvboystrack.
The underclassmen on Bronxville's track and field team also had noteworthy finishes. Maddy Williams outran the competition in the sophomore 1000m race in a time of 3:04.30, setting a new meet record and qualifying to compete at Nationals.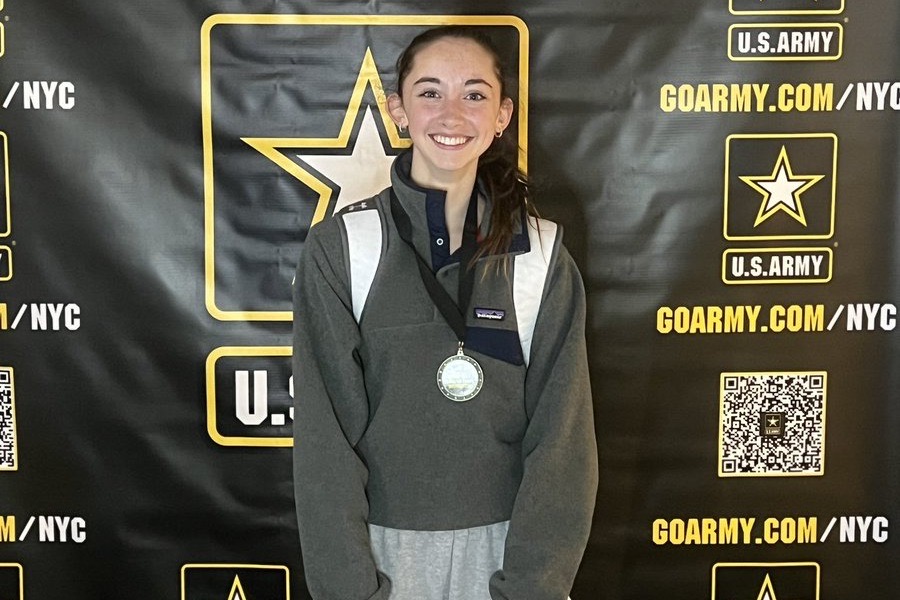 Maddy Williams placed 1st in the sophomore 1000m. Photo courtesy of @bxvboystrack.
Two Bronxville runners had outstanding finishes in the freshman 1000m. For the girls, Quinn Sheehan had a personal best by a full six seconds (3:22.45) and brought home a medal in the freshman 1000m, and for the boys, Julian Gonzalez ran a 2:49.75 to place 4th in the freshman1000m.
The first event of the weekend featured Javier Tomala-Reidel who placed 4th out of 171 runners in the freshmen 200m dash. His time of 24.08 is 4th all-time for the Broncos indoor track and field program.
Bronxville underclassmen had strong performances in field events. Stinos Koloutsos and Matthew McSherry both medaled in the sophomore shot put. Koloutsos placed 4th with a throw of 32-7.75, and McSherry placed 6th with a 31-7.
Virginia Shah and Virginia Hail finished 5th and 8th in the freshmen long jump with distances of 13-08.5 and 13-02, respectively.
Girls' Basketball
In other Bronco news, the girls' basketball team (7-8) won the North Salem Tournament last week. They defeated Tuckahoe 42-24 in the first round and North Salem 34-26 in the championship game. Senior guard Anna Becker and senior forward Catherine Berkery were named to the All-tournament team, and Becker was named tournament MVP. Becker and Berkery are co-captains of this year's team.
Go Broncos.