Indoor track and field team captains (l to r): J. W. Henningson, Chris Lockwood, Ellis Goodson, Ian Gegenwarth, and Hope Hershberg. Not pictured: Katie O'Hare and Danielle Dragoni. Photo by J. Murrer.
By. S.Q DeJoy and J. Murrer
Jan. 11, 2023: The boys' and girls' track and field teams kicked off the New Year by winning their respective League Championships last week at The Armory. Competing against Briarcliff, Irvington, Pleasantville, Putnam Valley, and Westlake, the Bronco girls scored 195 with second-place Pleasantville scoring 89, and the boys' team scored 181 followed by Briarcliff with 130.
The Bronxville relay teams contributed to Bronxville's overall success. The boys' placed first in the 4x200m and the 4x800m and placed 2nd in the 4x400m, while the girls' team swept all three relays.
Seven of the runners on the boys' team have come to indoor track after a very successful cross country season. They won the Class C New York State Championship under Coach Jim Agnello, who was recently named Coach of the Year by lohud.  Cross country team members J.W. Henningson, Andrew Jensen, Kieran McBride and Jack Toal continued their success at Leagues placing in the top five in multiple middle and long distance events.
Bronxville's 4x400m relay teams will compete at the Millrose Trials today. Ellis Goodson, J.W. Henningson, Ian Gegenwarth, and Kieran McBride will run for the boys, and Maddy Williams, Maddy Stupart, Hope Hershberg, and Charlotte Murray will run for girls. Max Dicker will also compete at the Millrose Trials. He is the No. 1 seed in the pole vault.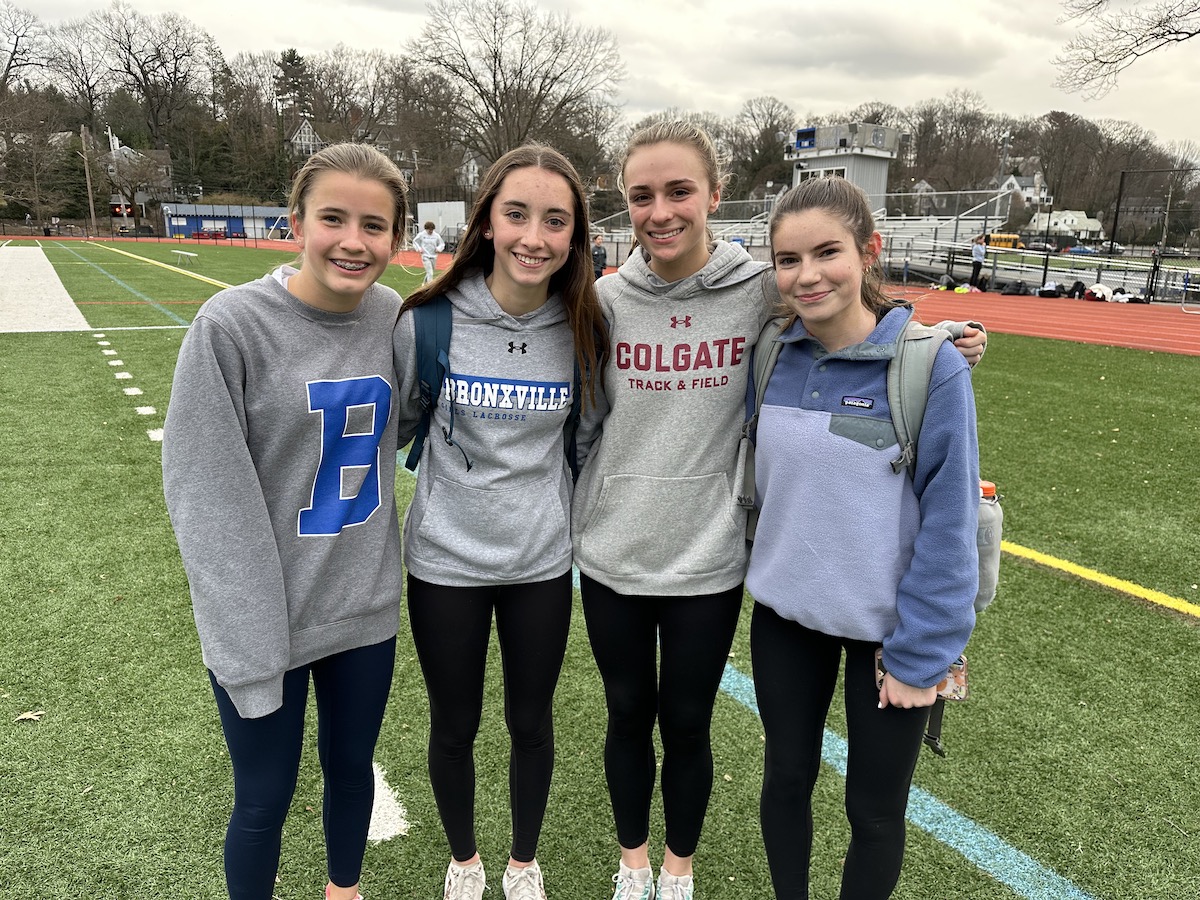 The 4x400m relay team (l to r): Charlotte Murray, Maddy Williams, Hope Hershberg, and Maddy Stupart. Photo by J. Murrer.
See below for top five finishers at the League Championships.
Go Broncos.
League Results 
Girls
1500m Racewalk: Scarlett Kane, 3rd, 8:46.64
55m dash: Danielle Dragoni, 1st, 7.51; Mai Ly Renking, 2nd, 7.68
300m dash: Kara Kochansky, 1st, 43.76; Juliet Winiecki, 2nd, 44.60
600m: Hope Hershberg, 2nd, 1:46.14; Maddy Stupart, 3rd, 1:46.20; Charlotte Murray, 4th, 1:49.07; Neda Brinster, 5th, 1:52.95
1000m: Maddy Williams, 1st, 3:18.44; Katie O'Hare, 3rd, 3:26.00; Caitlin Paisley, 5th, 3:31.88
1500m: Maddy Williams, 1st, 5:03.86
3000m: Lux Burgin, 2nd, 11:17.93; Meghan Curran, 4th, 12:00.68
55m hurdles: Samantha Pagano, 5th, 11.85
4x200m relay: Juliet Winiecki, MaiLy Reinking, Kara Kochansky, Danielle Dragoni, 1st, 1:48.09
4x400m relay: Astrid Pulkkinen, Neda Brinster, Rose Woolery, Eva Mihova, 1st, 4:33.31
4x800m relay: Hope Hershberg, Maddy Stupart, Maddy Williams, and Katie O'Hare, 1st, 10:26.63
High Jump: Linnea Hentschel, 4th, 3-9
Long Jump: Juliet Winiecki, 1st, 14-7; Virginia Shah, 4th, 12-11; Viginia Hail, 5th, 12-6.5
Triple Jump: Danielle Dragoni, 1st, 31-9.5; Eva Mihova, 2nd, 30-9
Shot put: Campbell Molloy, 3rd, 23-7
Weight throw: Whitney Rowan, 1st, 25-7.25; Campbell Molloy, 2nd, 24-2.5 
Boys
55m dash: Davis Patterson, 4th, 7:02; Pierce Patterson, 5th, 7.04
300m dash: Pierce Patterson, 1st, 37.10; Davis Patterson, 2nd, 37.18; Javier Tomala-Reidel, 4th, 38.31; Gavin Benton, 5th, 38.47
600m: Ian Gegenwarth, 3rd, 1:29.17; J.W. Henningson, 4th, 1:32.07; Dash Kwan, 5th, 1:32.65
1000m: Andrew Jensen, 3rd, 2:48.42; Luke Corr, 4th, 2:48.95
1600m: Kieran McBride, 2nd, 4:53.23; Jack Toal, 5th, 4:59.02
3200m: Kieran McBride, 2nd, 10:26.01; Julian Gonzalez, 3rd, 10:35.76
55m hurdles: Wyatt Gravier, 3rd, 8:46; Aidan McBride, 4th, 8:80
4x200m relay: Pierce Patterson, Jaime Valdes, Federico Pirelli, Javier Tomala-Reidel, 1st, 1:39.80
4x400m relay: Gavin Benton, Tommy Henningson, JW Henningson, Dash Kwan, 2nd, 3:44.33
4x800m relay: Andrew Jensen, Ian Gegenwarth, Luke Corr, Jack Toal, 1st, 8:54.42
High Jump: Finn Sands, 1st, 5-10; Wyatt Gravier, 2nd, 5-6
Long Jump: Jamie Valdes, 2nd, 18-4
Triple Jump: Max Dicker, 3rd, 36-1.5
Pole Vault: Wyatt Gravier, 4th, 8-0; Aidan McBride, 5th, 8-0
Shot put: Chris Lockwood, 2nd, 40-1.5
Weight throw: Chris Lockwood, 3rd, 41-11.25; Jack Newton, 4th, 39-3; Alex Napolitano, 5th, 36-10.5