Photo by Patrick McEnroe.
By S.Q. DeJoy and J. Murrer
Nov. 2, 2022: Bronxville tennis history was made this past weekend at the New York State Championships. Junior Victoria McEnroe battled through five matches over three days to win the Singles Title. Based on records that date back to 1980, she is the first Bronxville girl to take home a gold medal. Victoria is the daughter of tennis legend Patrick McEnroe.
"The first match is always the hardest, and I was nervous and felt off my game," said McEnroe.  "I felt like I forgot how to play tennis. I didn't start off confident at all, but after my third match when I played well, I starting feeling more confident."
The New York State Championships were held in Schenectady from October 27th-29th.  There were 32 players from across the state in the singles draw, and the top three players from each Section compete at States. McEnroe qualified for States by finishing second in Section 1 behind Brewster's Mia Palladino.
On the first day of states, McEnroe dropped the first set against Christian Brothers Academy's Gieselle Vlassis but in the end pulled out a 3-6, 6-2, 6-3 victory. It was the only three-set match that McEnroe would play.  She went on to defeat Orchard Park's Maya Clinard 6-3, 6-1 in the second round and Cold Spring Harbor's Nicolette Loffler 6-3, 6-1 in the quarterfinals.
In the semifinals, McEnroe won the first set 6-4 against Brighton's Layla Tozin, but the second set proved to be more of a challenge. In that set, McEnroe was down 4-3 at one point, but came back to take a 6-5 lead. Tozin then upped her game to tie it at 6-6 forcing a tiebreaker.
"When it got to the tiebreak, I locked in and went up 6-0 in less than 5 minutes and played a couple of amazing points," said McEnroe.
In the championship game against Longwood's Victoria Matos, McEnroe took the first set 6-4 and battled in the second set to win 7-5.
"In the second set, I went down 3-0.  Victoria played much better, and then I actually was down 5-4 and two set points.  I told myself do not think about the score and just try to win every point. The day before I had watched a long three-set match between Mia Palladino and Victoria [Matos], and they each had four match points. I thought about that and became super focused. I knew anything is possible."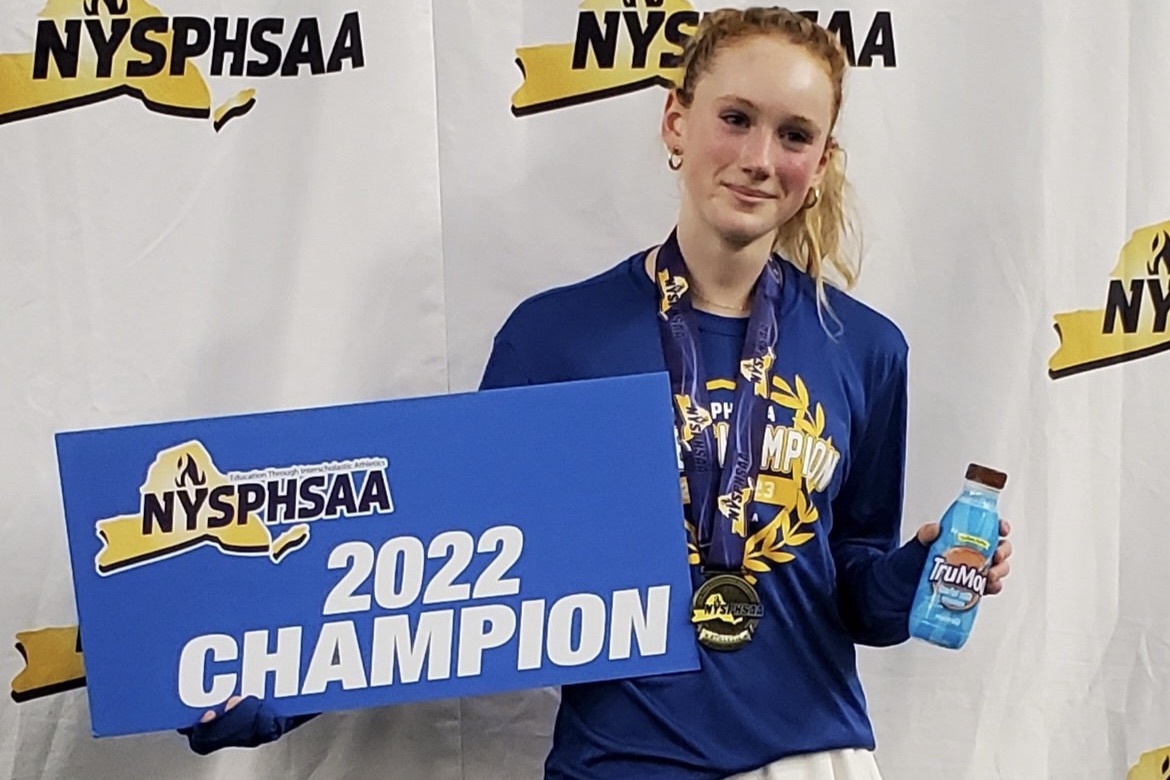 Photo by Patrick McEnroe.
McEnroe plays for the high school team in the fall but competes in USTA tournaments the rest of the year. She trains at the John McEnroe Tennis Academy at Randall's Island.
"I get out of school a little early every other day.  I play for an hour and do fitness, but the main thing I do is play in a group at night from 6-8. Sometimes I play with my coach or my Dad in the morning before school."
The Bronxville girls' tennis team had a 12-4 record this season and lost in the Team Sectional semifinals to Byram Hills, who won the Section 1 Team Championship.
"Byram Hills is very good," said McEnroe, "but I think next year we are going to go even farther than we did this year. Hopefully, we can go all the way. We have an incredible singles lineup. Hannah Shamas and Annette Dani are good enough to be playing No. 1 and win 75% of their matches."
McEnroe plays in USTA tournaments against many of the girls who competed at States, but the New York State Championship is a coveted title.  
"I play of all these same girls in the USTA, but States happens once a year and everyone wants to win. I wasn't the top seed, but I was one of the favorites. It was in my brain to win it."
Go Broncos.