Centennial celebration of Bronco football at Siwanoy Country Club. Photo courtesy of @BronxvilleFB.
By Jack Randall
Oct. 19, 2022: As part of Bronxville High School's centennial celebration, over 200 Bronxville Football alumni gathered to commemorate 100 years of Bronxville Football.  Bronxville has a rich tradition for football and ex-players/coaches from all over the country and beyond came to Bronxville on Saturday October 1st to watch the Broncos battle Ardsley on Chambers Field in the afternoon and meet that night for dinner at Siwanoy Country Club.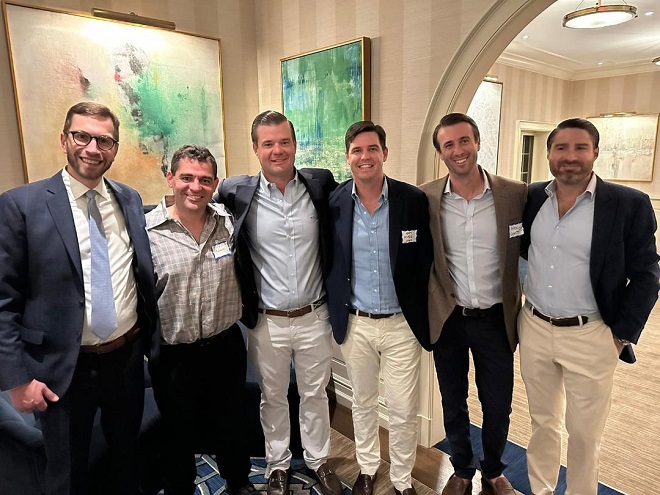 Bronco football players from the 2002 and 2003 varsity teams. Photo courtesy of Alex Lentz.
The event was organized by a small group of football alum led by Henry Palermo, who played on the Bronxville 2010 State Championship team.  The festivities attracted players from every decade of Bronxville football from the 1940's to the present.  The evening was emceed by Bronxville Booster Club Board Member, John Kelty, and included speeches from two of Bronxville's legendary coaches, Bob McGrath and Vito Priore. The speeches from both coaches were delivered by their sons Buzz McGrath and John Priore, both ex-players, making the message even more poignant.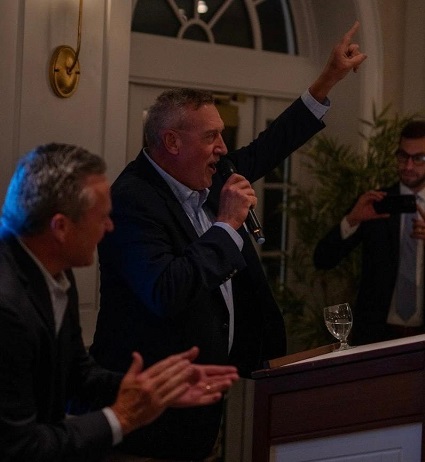 John Priore, son of former Bronxville football coach Vito Priore. Photo by Walker Liggitt.
Coach McGrath and Priore's words detailed the history of the program, the coaches that came before them that set the stage for success including Bronxville's fabled winning streak of 37 in a row back in the 1960's under coach Bob Spenik.  Coach Bill Magner led Bronxville to a state championship game in 1997, and Jeff Napolitano coached the 2010 team that finally brought home the state crown. Assistant Coach Phil Kuczma was also in attendance.  Kuczma had been a connective coaching thread across decades of Bronxville teams.
Attendees heard speakers from different eras sharing the impact that growing up in Bronxville and how the experience of playing Bronco Football shaped their lives.  Bruce Warwick, team captain from Class of 1956, talked about the quality of the boys who he played with and the success they had later in life.  Class of 1967 graduate, Jeff White, talked about how Bronxville prepared him for his time at UT – El Paso, and eventually as a kicker/punter in the NFL.  James Roberson, class of 1977, talked about how after transferring to BHS from Tuckahoe, Bronxville coaches and teammates supported him in ways that have driven his success in life. He shared that he carries his Bronxville experience with him every day as an educator and motivational speaker now living in England.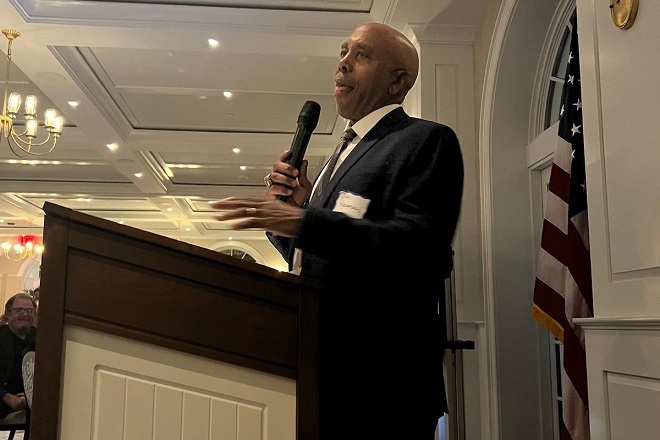 James Roberson, Class of 1977, speaking about his experience as a Bronco. Photo by M. Murrer.
The evening featured memorabilia and an inspiring 5-minute retrospective highlight reel on Bronxville football produced by Palermo.  The night was capped off with words from current Bronxville Football coach, Patsy Manganelli, talking about how the night highlighted the incredible legacy of football here at the school.  Manganelli also shared the current strong state of Bronco Football program from varsity all the way down to the 5th/6th grade program to carry on that legacy.  The evening was an incredible success with the Bronco football faithful hoping they wouldn't have to wait another 100 years for a reason to reunite.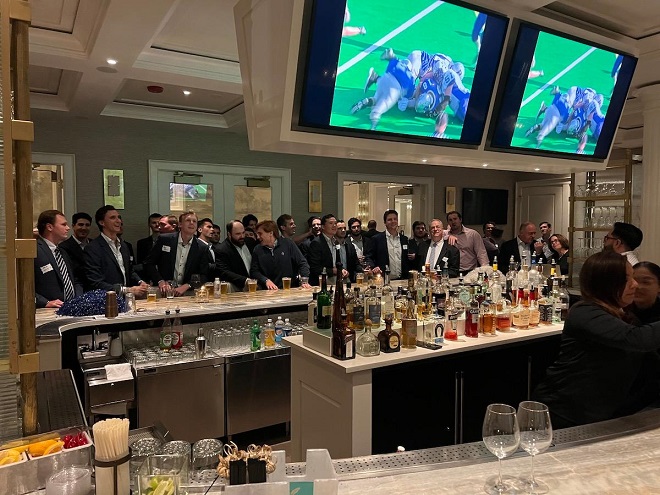 To see recordings of the speeches and the Bronco football highlight reel, click here. https://www.youtube.com/channel/UCZNbtZJPJmS51-vGXahbipg
Former coaches and players gather at the bar to watch the Bronco football highlight reel. Photo by. M. Murrer
Go Broncos.