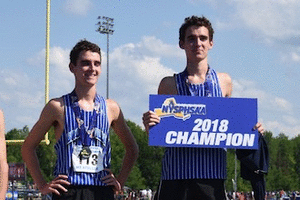 By S. Quinn DeJoy and J. Murrer     
Jun. 13, 2018: The Bronxville track and field teams sent 16 athletes to the New York State Championships last week and brought home an amazing 29 medals, including gold medals for Alex Rizzo, the girls' 4x400m relay team (Eve Balseiro, Rachael Peacock, Caroline Brashear, and Laura Holland) and the girls' 4x800m relay team (Natalie Weiner, Patty Haggerty, Holland, and Brashear).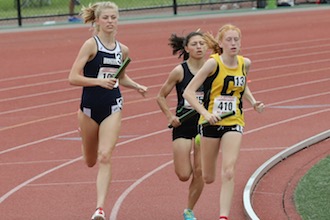 Caroline Brashear (L) at the state championships. Photo by David Brashear.
The 4x800m team placed first in Division 2 and second in the federation, which includes schools of all sizes, in a time 9:07.52. Natalie Weiner led off with a 2:18.02 and was followed by Patty Haggerty (2:17.99), Laura Holland (2:15.39), and Brashear (2:16.13).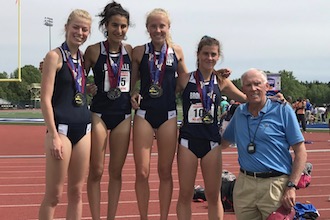 L to R: The 4x800m relay team, Caroline Brashear, Natalie Weiner, Laura Holland, and Patty Haggerty, with Coach Jim Mitchell. Photo by David Brashear.
"Natalie gave us a great leadoff," said Coach Jim Mitchell. "Patty had the best race of her career. Laura gave Caroline the baton just out of second, which she quickly took over and finished very strongly. It is a very different sort of team than in the past five years. No super-great runner like Kaitlin [Ryan], but four hard-working, committed young women with a goal."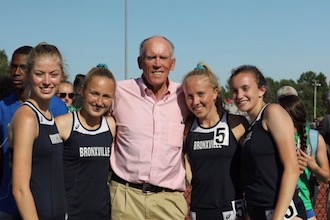 The 4x400m relay team with Coach Jim Mitchell in center: (L to R) Caroline Brashear, Rachael Peacock, Laura Holland, and Eve Balseiro. Photo submitted by Jim Mitchell.
The Bronxville 4x400m won the Division 2 race in 3:58.56, just a little more than a second in front of strong teams from Iroquois and East Aurora. Balseiro led off in 59.60, Peacock ran a 60.50, Brashear a 58.89, and Holland finished the race with a 58.86. It was the last state race for Laura Holland, who will graduate on Saturday.
"Laura now has seven state championships to her credit," said Coach Mitchell. "She is probably the least appreciated runner in Section 1. You could make a case that she is our best ever. She has never had a poor race and shines the most at states. It is going to be difficult to replace her."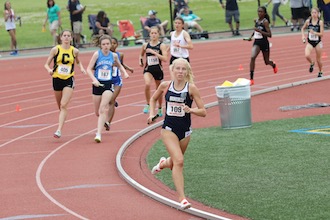 Senior Laura Holland leading the relay at states. Photo by David Brashear.
Bronxville girls' relay teams have been a continuing presence at states. It was the third consecutive year that the team sent three relays to the New York State Championships. The Bronco girls' 4x400m relay teams have won states seven times and the 4x800m Bronco relay teams have won 23 times since 1979.
In individual events, Balseiro placed fourth in the 400m in a personal best time of 57.90, and Molly Palma placed eleventh in the pole vault (8.0').
In the boys' 800m championship race, Alex Rizzo brought home gold, placing first in Division 2 and seventh in the federation in a time of 1:53.81. His twin brother, Matt, placed second in Division 2, just 0.09 seconds behind Alex. The New York State 800m championship race was so competitive that the second- through ninth-place runners finished within one second of each other.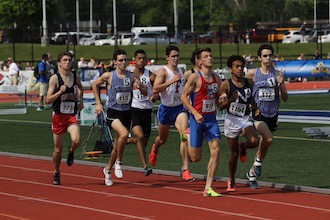 Alex Rizzo (#112) and Matt Rizzo (#113) running in the pack in the 800m at the state championships. Photo by David Brashear.
The boys' 4x800m relay team missed the Division 2 championship by less than three seconds, finishing second in a hard-fought battle with Pearl River. Its time of 7:53.10 is No. 2 all-time Bronxville and was fast enough to medal eighth in the federation race out of 30 qualified competing teams. The Broncos' strong finish at states earned them eligibility to compete at the New Balance Nationals this weekend in Greensboro, North Carolina.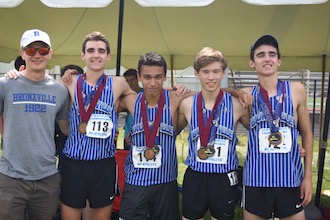 L to R: Coach Ian Clark, Matt Rizzo, Ethan Waggoner, Jack Kochansky, and Alex Rizzo. Photo by Charlotte Rizzo.
Avery Kane placed tenth in the discus with a throw of 124-11 and fourteenth in shot put with a distance of 43-01.75.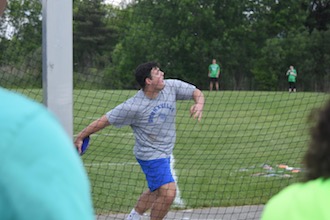 Senior Avery Kane throwing the discus at the state championships. Photo by Charlotte Rizzo.
It was a successful showing at states for the Broncos. Avery Kane and Laura Holland graduate, but the rest of the crew will be back next year.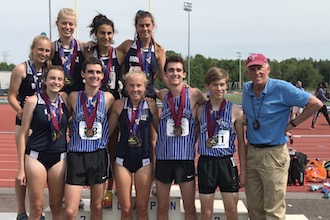 The Bronco gold medal winners (missing Ethan Waggoner). Photo by David Brashear.
Go Broncos.
Pictured at top (rotating): (L to R) Matt and Alex Rizzo; Alex is holding up the state championship banner after winning the 800m (photo by Charlotte Rizzo); celebratory sign (photo by David Brashear).