By S.Q DeJoy and J. Murrer
July 14, 2021: During the 2020-2021 school year, Bronxville athletes faced great uncertainty as they waited for word from the state about reopening. Once school sports were given the go ahead, they had to adapt to the many changes that were made to their athletic programs. Despite the altered schedules and new restrictions, the Broncos excelled in this unusual school year.
It was an amazing season for the Bronxville teams. The football team dominated every opponent and finished the season 6-0, and the girls' lacrosse team had an undefeated season after facing every top-ranked lacrosse team in Section 1. The boys' lacrosse team, the boys' soccer team, the girls' ski team and the girls' track team won their respective Sectional Championships, and the baseball team had its best season ever finishing as the sectional runner-up.
The Broncos showed that they were at the top of their game, and twelve athletes from the Class of 2021 have been recruited to play in college.
While lacrosse recruiting was completed before the pandemic hit, colleges had to change the way they recruited for other sports. Zoom meetings and phone calls replaced summer camps and in-person visits to college campuses. Some students were only able to visit the school virtually before committing.
"It was a little different because everything was on Zoom," said Connor Randall who will play football and run track at Middlebury. "There were no camps last summer. I sent out my tapes, and then I would get invited to Zoom meetings."  Randall made his very first visit to Middlebury this week.
Will Murray, who will play football at St. Lawrence in the fall, was able to get to one camp in Connecticut last summer, but he and Bronco teammate Randall had to get creative after that.
 "We started doing virtual camp and then sent in off-season highlight tapes," said Murray. "We would do different agility drills, the 40-yard dash, bench press max, speed work or anything that showed off our talent.  Our football coach, Patsy Manganelli, helped us with a lot of it."
For Melissa Marchetti, who will be competing in synchronized ice skating at Miami University, the lack of competition during the pandemic actually helped her decide that she wanted to continue her sport in college.
"I think when you do a sport so much it is easy to get tired of it," said Marchetti. "Once it was taken away because of the pandemic, I changed my mind. I decided I wanted to skate in college about half way through the application process."
These recruits are committed to competing in college because of their dedication and love for their sport.
Alanna Thompson joined the Bronxville High School Ski Team after years of racing and teaching skiing at Shawnee Mountain in Pennsylvania. As captain of the Bronxville team, she led the girls' team to a sectional championship this past winter.
"As you can probably tell, I love skiing, hence part of my decision to go to school in Vermont," said Thompson.
Soccer player Griffin Patterson loved the competition in high school, especially when playing in highly competitive games.
"Winning two Section Championships and playing in big games inspired me to want to play at the college level," said Patterson who will play soccer for Hobart in the fall.
The Broncos who have been recruited to play fall and winter sports are featured below.  The spring athletes will be covered next week.
Connor Randall: Middlebury (football)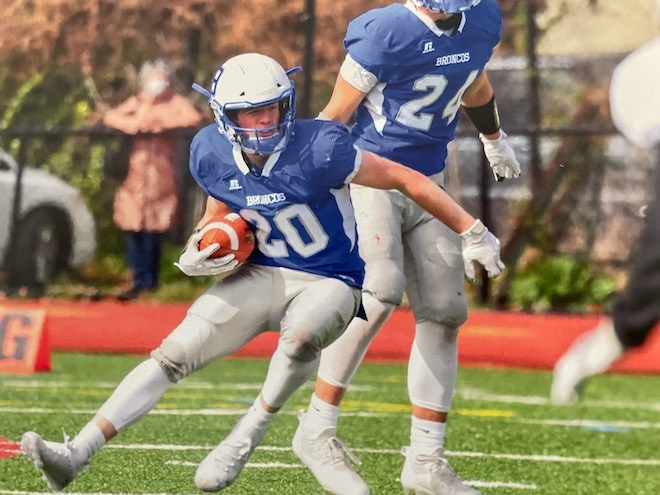 Connor Randall (20). Photo by Susan Miller McCormick.
Connor Randall was a three-sport athlete at Bronxville, playing football, lacrosse and running track.  He will play football and run track at Middlebury.
In high school Randall was a sprinter who ran any distance 400m or below. He was awarded All-League and All-County recognition in winter track, and as a junior set the Bronxville School record in the 55m dash (6.72).
"The thing I remember the most about winter track was winning the 4x200 relay my junior year," said Randall.  "We ran the second fastest time ever at Bronxville. It was a big accomplishment for me and the team."
Randall was a key player on the Bronco Football team during the Fall 2 season this year. He played running back and free safety and was awarded All-Section honors and named Defensive Back of the Year.  Randall also received the prestigious Golden Dozen award, which honors twelve football players in all of Section 1 for their athletic, academic and extracurricular accomplishments. Randall's biggest highlight of the year was being part of the undefeated Bronco football team.
Will Murray: St. Lawrence University (football)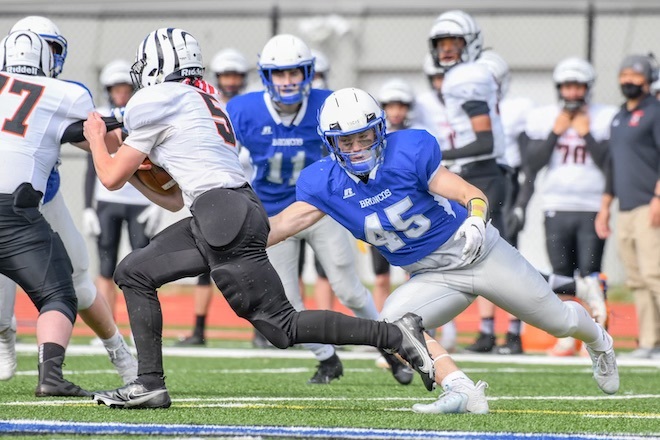 Will Murray (45). Photo by Susan Miller McCormick.
When asked about the biggest highlight of his year, Will Murray was quick to say that just getting a season was the highlight. Murray, who played running back and middle linebacker for the Bronco football team, will play at St. Lawrence University this coming fall.
Murray was brought up to the varsity team as a freshman when the team finished 0-8. He was proud to see the team turn around and finish 6-0 during his senior season, which included a win against cross-town rival Tuckahoe.
"Our win over Tuckahoe was big for us because there has always been that little clash, and it meant a lot to each of us," said Murray.  "To be able to win that game was really nice." 
Murray finished the football season with All-League and All-Section honors.
Melissa Marchetti: Miami University (synchronized skating )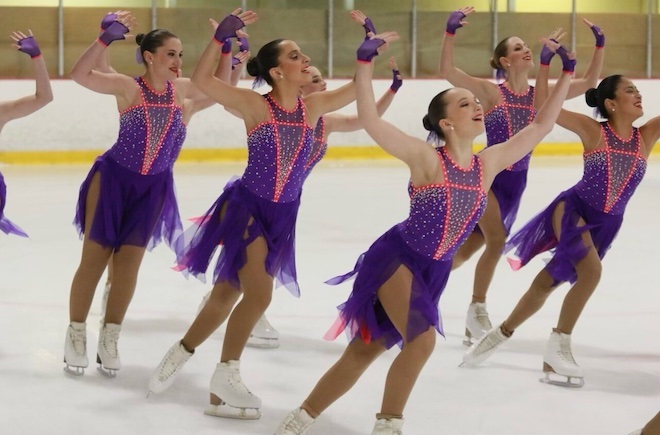 Melissa Marchetti (front). Photo submitted by D. Murphy.
Melissa Marchetti first started skating at Murray's Skating Center in Yonkers when she was in elementary school, and in 6th grade joined a synchronized skating team. She will join the Team USA synchronized skating team at Miami University, which is one of two colleges across the country to have this sport.
As a freshman skating in the novice division, Marchetti's team won Sectionals and placed 3rd at Nationals. During her junior year, her team, which is part of Team USA, competed in an international tournament in Croatia and placed 3rd.  Unfortunately, Marchetti's senior season was pieced together as virtual events. 
"We are Team USA but synchronized skating is not an Olympic sport," said Marchetti. "It is under consideration but won't happen soon."
There are only a handful of teams across the country so while at Miami, Marchetti will spend some time competing abroad once Covid restrictions are lifted.  
Alanna Thompson: University of Vermont (skiing)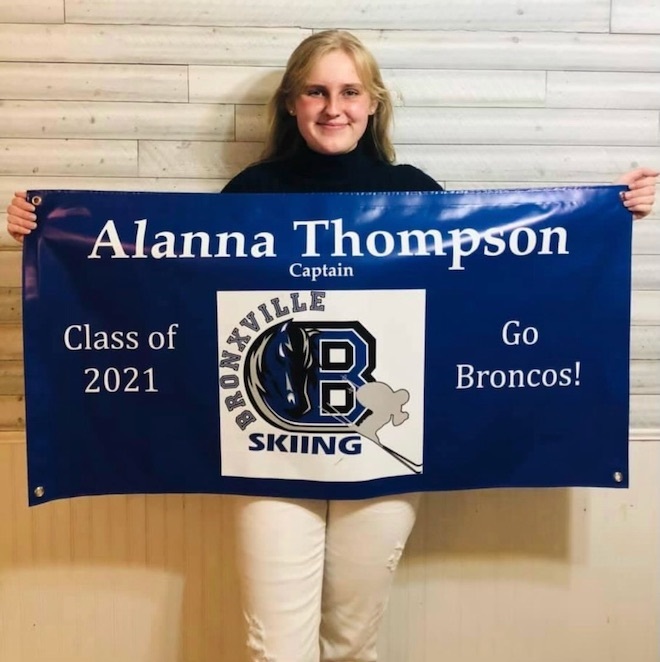 Alanna Thompson. Photo submitted by A. Thompson.
Throughout all of the high school winter seasons, skier Alanna Thompson could be found race training on the weekdays and teaching skiing on the weekends. She will continue to ski at the University of Vermont in the fall.
"I'm going to major in neuroscience and will have a heavy course load," said Thompson. "I'm going to continue to do the things I love as an outlet for stress, and to keep my mind at peace, hence I am joining the Ski Club/Team and continuing to work as an instructor on the weekends."
Thompson joined the Bronxville ski  team freshman year and made it to sectionals her first year on the team. As a senior and captain of the team, Thompson helped lead the girls' team to the Sectional Championship.
Thompson looks forward to competing and spoke about how she enjoys the sense of community that she developed with her team, other competitors and skiers in general.
"Little things like talking with strangers on lift rides about shared interest and finding people on the slope who are willing to teach you a new trick or guide you through a glade, are the things that bring me joy."
Griffin Patterson: Hobart (soccer)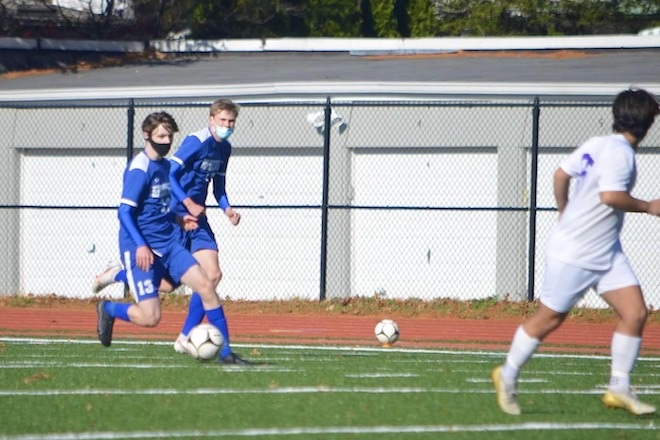 Griffin Patterson (13). Photo submitted by K. Patterson.
Griffin Patterson helped lead the Bronxville boys' soccer team to Section I Championships in 2019 and 2020. He was named All-League and All-Section during his senior season and was in the Top 20 for scoring in Section 1.  Patterson was named All-Star Honorable Mention by Lohud in 2020 and will be playing at Hobart in the fall.
"I am very proud to be playing soccer at Hobart and take my talents to the next level," said Patterson. "Hobart intrigued me in so many ways. I loved the location because of all of the family I have in Rochester and Buffalo.  I liked the school and the various opportunities it offered me. Hobart has always had a rep of being a great D3 soccer school."
Patterson also has plenty of relatives that graduated from Bronxville. When he graduated in June, he was the third generation of Renners to be awarded a Bronxville High School diploma as his mother, his grandparents, and his aunts and uncles also graduated on the front lawn of the Bronxville School.
Go Broncos.