by Janet Lee
June 16, 2021: On June 7, 2021, at half past four, the sky above Scout Baseball Field in Bronxville, NY darkened. Lightning pierced through thick blanketing clouds. Naturally, the playoff game was delayed. As quickly as it arrived, though, the storm passed, leaving a heavy haze in its path, then intermittent sunlight. The one-man grounds crew (Lenny Marrone), coaches, and players went to work creating miraculously dry field conditions. On this day, the number one seed Bronxville Broncos (15-2), led by Head Coach Anthony Vaglica, Michael Schultz, and Frank DiZenzo, hosted the number eight seed, Pleasantville Panthers. With a bye in the first round, Vaglica was ready to unleash a long-awaited Sectional game plan. 
On the mound for Bronxville was Senior Spencer Dessart; Tom Browne was Pleasantville's dealer. For three straight innings, there was no score, but a Broncos' error in the fourth put the Panthers ahead by one. The Broncos answered back in the bottom of the sixth on a Panther's error. 
Still tied at one after seven, each team scored a run in the eighth, as Dessart and Browne went toe to toe. Finally, after nine innings of heart-pounding baseball, dusk set in. After Dessart's nine-inning outing – 4 hits, 0 earned runs, 1 walk, 14 strikeouts – and Browne's eight and a third, the game was tied at two apiece. Thanks to singles by Sophomore Ted Heraty, Junior Andy Holub, and Dessart, the contest would need to be continued due to darkness. 
Tuesday, the next day, Mother Nature brought sizzling heat, and it looked like game on. However, as the clock struck four, the winds began to blow, and a full-on cumulonimbus stretched across Scout, releasing sheets of water onto Marrone's field. 
On Wednesday, both teams returned to Scout for the third day in a row to pick up where they left off and decide who would move on to the next round. At high noon, the sun shone, and a slight breeze made its way through the bustling crowd. The air filled with electricity. Bronxville's Peter Coquillette, a Junior, took the mound in the tenth and was relieved by Senior Charlie Vail before the inning was over. With a man on second and third, Vail took control, aided by an excellent defense, and got out of the tenth and eleventh with no runs. Bottom of the eleventh, though, everything changed.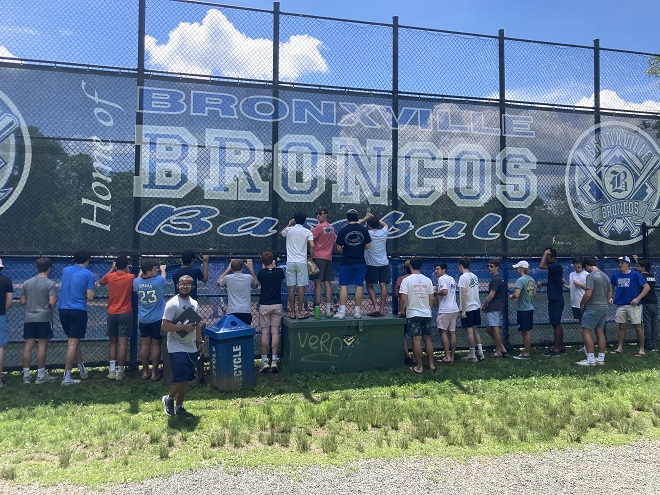 Bronco fans showing some lunchtime love to the baseball team as they finish the game against Pleasantville. Photo by Romy Coquillette
Heraty walks, Coquillette bunts, resulting in a Panther error, Holub hits into a fielder's choice and ends up on first, Pleasantville intentionally walks Dessart to load the bases. Sophomore Chris Lockwood steps up to the plate and, with a full count, smacks a fly ball to shallow right field. Heraty tags up from third and crosses the plate victorious. Three days, two storms, and eleven innings later, the Bronxville Broncos beat Pleasantville, 3-2.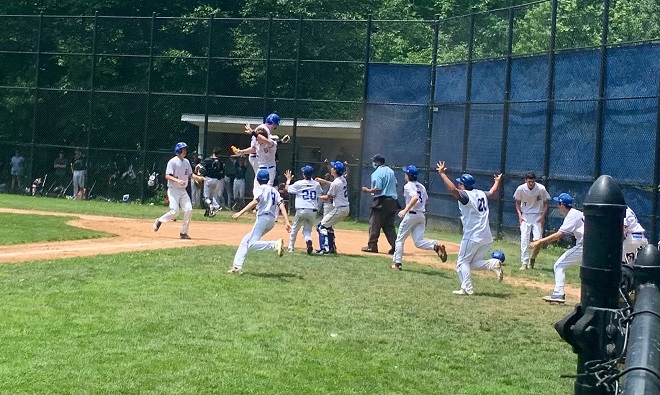 The Broncos celebrate after defeating Pleasantville in extra innings. Photo by Romy Coquillette.
On June 10, 2021, number one seed Bronxville's Broncos, took on fourth seed, Vahalla's Vikings, at Scout. The sun was beaming, the crowd was growing, and in this highly anticipated match-up, three umpires stood triumvirate. 
Home team's Sophomore Chris Lockwood pitched beautifully the first four innings, striking out five, walking two, and giving up two hits and one run. Again, Bronxville's defense was on fire, turning hard-hit balls into routine outs, including a sweet 4-6-3 double play. Reliever and Senior Charlie Vail stepped in for two, recording three hits and one run. Bronxville accumulated two runs on seven hits (Sophomores Ted Heraty and Jeremy Freeman (2), Junior Andy Holub (2), Senior Spencer Dessart, Freshman Connor Kenny) over nine innings, while Valhalla earned two runs on five hits. 
The score was tied at 2-2. Sound familiar? In exciting fashion and with bases loaded in the bottom of the ninth, the Broncos bucked their way toward victory. Here's how it happened: Holub singled, Dessart singled, Lockwood walked on four pitches. Vail stood in the box, eagle-eyed, and ended the match with a walk-off walk. Closer Heraty notched the win in the ninth, giving up no runs, fanning three, and walking one. As the Vikings sailed away, the Broncos went back to the corral to prepare for the championship match-up.
On June 12, 2021, the Bronxville School baseball team made it to the High School Section I Class B Varsity Baseball Finals for the first time in Bronxville School history. 
Late in the afternoon, the Broncos hosted Rye Neck in a packed arena resembling the good old pre-pandemic days. The only sounds of thunder came from the previously pent-up, emotionally-charged crowd gathered together to witness one of the winningest baseball teams Bronxville has ever had.
Senior Spencer Dessart took the mound for Bronxville and quickly fanned the first three Rye Neck batters. However, the second inning was rough for the Broncos as an error led to a run, then three more errors in the third and fourth resulted in two more runs for the Rye Neck Panthers. 
Bottom of the fifth, with bases loaded, no outs, Freshman Connor Kenny singled for an RBI, but with three consecutive strike-outs after that, Bronxville ran out of opportunities. Over the course of seven innings, pitcher Dessart stuck out ten, walked one, and allowed three runs on eight hits, but his 90mph fastball was not enough to clinch this Class B Championship. Singles were recorded for Junior Peter Coquillette, Sophomores Jeremy Freeman and Jamie Valdez, Dessart, and Kenny. The Broncos lost 6-2.
Just a year ago, we were sheltered-in-place, wondering when baseball fans would be cheering from the bleachers, when umpires would crouch down inches behind catchers, and when players and coaches would not be required to mask up. For once, in what felt like a lifetime – invigorated by possibilities – that warm Saturday evening watching baseball at Scout Field felt … normal.
The Coaches' Awards will be announced today, June 16.
Other Awards For Bronxville include:  
Diamond Nine Academic and Athletic Award – Spencer Dessart 
League Pitcher of the Year – Spencer Dessart
All Section – Spencer Dessart, Andy Holub
All Section Honorable Mention (HM) – Peter Coquillette
All League – Spencer Dessart, Ted Heraty, Connor Kenny, Peter Coquillette, Jeremy Freeman, Andy Holub, Chris Lockwood, Charlie Vail; All League HM – Jamie Valdes, Jack Gangemi.
Photo at top by J. Lee