Spencer Dessart on the mound in the game against Blind Brook. Photo by David Fenner.
By S. Quinn DeJoy and J. Murrer 
May 12, 2021: The varsity teams are two weeks into the regular season and competing at a high level. The baseball team is undefeated, and the girls' lacrosse team has received the number one ranking in all of Section 1. There is a lot going on in this abbreviated season, and the Bronco athletes are up to the task.
Here is a look at how the teams are faring so far this spring.
Baseball
The baseball team has opened with wins over Blind Brook (11-1), Edgemont (12-1), and Valhalla (4-2). In their most recent game against Tuckahoe, it was a pitcher's duel, pitting Bronxville's Spencer Dessart against Tuckahoe's Mike Meyers. With great pitching on both sides, the game remained scoreless until the final inning when Bronxville's Jamie Valdez walked with the bases loaded for a game winning RBI. 
Dessart is 2-0 on the mound with wins against Blind Brook and Tuckahoe. He has 20 strikeouts while giving up only five hits and one walk, posting a 0.00 ERA in 12 innings pitched.  Dessart also had an impressive week offensively, batting .615 with four RBIs and four runs scored. His contributions have helped lead the Broncos to their 4-0 start.
Strong pitching performances also came from Charlie Vail, with his victory over Edgemont where he allowed one run in five innings. Ted Heraty and Chris Lockwood have also contributed to the Bronco's solid pitching.  
At bat, Peter Coquillette leads the team with a .667 average amassing ten hits in four games. Also contributing offensively are Ted Herary (BA, .462) and Andrew Holub (BA, .364).
"Our biggest strength has been our team chemistry led by captains Spencer Dessart, Charlie Vail, and Peter Coquillette," noted Coach Anthony Vaglica.
The Broncos will play Westlake at home today at 4:30.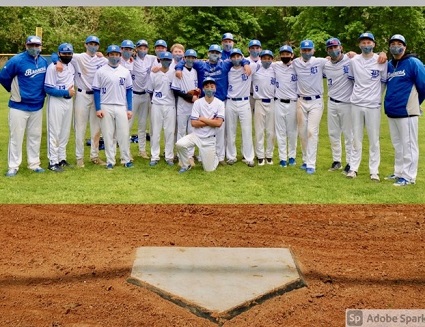 The Bronxville baseball team. Photo courtesy of @sports_broncos.
Track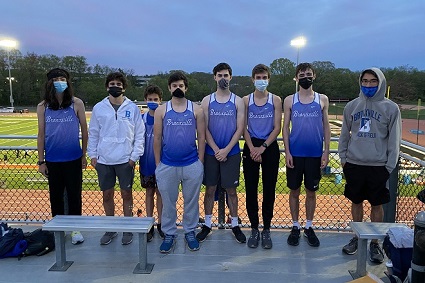 Medal winners at the Loucks Games. Photo by Brian Halling. 
The boys' and girls' track teams had outstanding performances at the Loucks Games last weekend. The combined points scored for the two Bronxville teams placed them second overall at the meet just behind Newburgh.
"This is a pretty remarkable finish given the number of teams competing and our small size," said Coach Brian Halling.
At the Loucks Games held at White Plains High School last weekend, John Ryan was a Bronco standout placing second in the mile run with an outstanding 4:21 for the full mile.  Ryan is off to a great start this spring finishing first in the mile at the Pirate Relays last week in a time of 4:27.63.
In addition to Ryan, seven Bronco boys received medals at the Loucks Games in three different relays. The varsity 4x400m relay (Ian Gegenwarth, Eric Fleisig, Johnny Moynihan, JW Henningson) placed 6th in 3:42.14,  and the varsity sprint medley relay placed 4th in 3:43.14 (Fleisig, Moynihan, Henningson, and Ryan).  
Younger members of the team also fared well. The freshman/sophomore distance medley relay (Will Hogue, Ellis Goodson, Gegenwarth, and Skylar Lau) placed third in 12:03.37.
The girls' team also had a strong showing. Millie Koenig came in first place in the long jump with a distance of 16-8.25, a 7.25-inch personal best. She is now tied for No. 3 in the state. Also scoring for the Broncos were Scarlett Kane, who placed 6th in the 100m racewalk in 9:39.60, the 4x100m relay team (2nd, 52.17), the sprint medley relay (2nd, 4:16.42) and the distance medley relay (5th, 13:23.32).
Lacrosse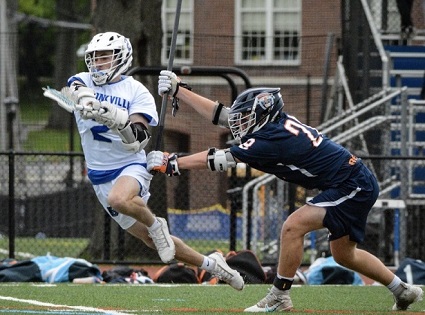 Henry Sheehan (2) in Saturday's game against Briarcliff.  Photo submitted by C. Donohue
The boys' lacrosse team had wins over Irvington (17-5) and Haldane (21-5) but lost their home opener to top-ranked Class C Briarcliff, 10-9. In the game against the Bears, Tommy Garofalo and Henry Sheehan scored three goals apiece, and Connor Randall scored two. The Bronco boys moved up to No. 7 in the LoHud Power Rankings this week. They will play Putnam Valley at home today at 4:30.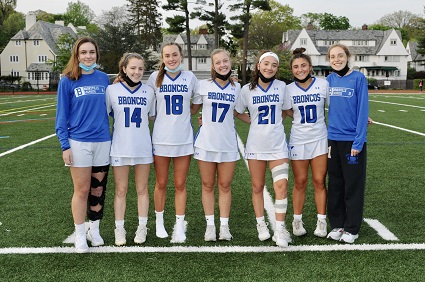 Jane Becker, Caroline McGrath, Betsy Marshall, Meg Outcalt, Alex Doukas, Victoria Ruffo and Katie Formato. Photo by Jane Ircha.
With wins over No. 1 Suffern (10-8), No. 2 John Jay Cross River (10-7), No. 7 Somers (14-12) and No. 4 Yorktown (9-6) in an eight-day stretch, the Bronco girls jumped up to the top of the Lohud Power Rankings. It is an impressive ranking for the Class D Broncos who are competing against the top lacrosse programs in all of Section 1.
In the Somers game this past weekend, Victoria Ruffo scored four goals, and Caroline Ircha Molly Krestinski, Megan Krestinski, and Bridget Finely scored two apiece. The girls will face Pleasantville at home on Friday at 4:30.
Tennis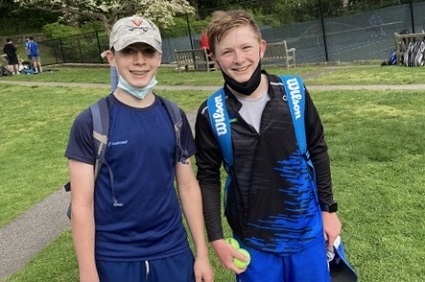 The first doubles team (Patrick Kenny and Rhys Brown) after their win over Blind Brook. Photo courtesy of S. Klurfeld
The Bronxville tennis team had a great outing on May 6th against Blind Brook. Bronxville's first doubles team, middle schoolers Rhys Brown and Patrick Kenny, picked up a win as did the second doubles team, senior Macklin Pettee and junior Spencer Blumenreich (6-1- 6-1). The third doubles team, senior Liam Angelone and sophomore Jay Marshall, also won their match 6-0, 6-1.
Girls' Golf
Junior Molly Stoltz was named to Lohud's Stellar 6, recognizing her as one of the top golfers in Section 1. She was named the most valuable golfer for the Bronxville team in 2019. Molly also plays squash and is ranked fourth nationally among GU19.
Go Broncos.