The ETBE team members celebrating their regional championship win. Photo by Mike Smith.
By S. Quinn DeJoy and J. Murrer
Mar. 17, 2021: The Eastchester/Tuckahoe/Bronxville/Edgemont (ETBE) ice hockey season would typically start right after Thanksgiving, but high-risk winter sports including ice hockey and basketball were not allowed to start until mid-February.
The late opening made for a very compressed season, but the Eagles made the best of it finishing with a 10-2 record and winning the Southern Westchester Regional Championship against the No. 1 seed, Mamaroneck.  It was an especially gratifying victory for the Eagles who developed a rivalry with Mamaroneck last season.
The rivalry began last March when the 11th seeded Eagles finished as the Section 1 runner-up, pulling off a Cinderella story. Going into the 2020 playoffs as the underdog, the Eagles defeated higher seeds Cortlandt and Scarsdale.  Against all odds, they continued their winning streak by upsetting No. 2 Mamaroneck 1-0 in the sectional semifinals. It was a game that neither team would forget.
When the Eagles and Tigers met again this year in early March, Mamaroneck edged out ETBE 3-2 in a hard-played regular season game.
"We fought in that game," said Coach Steve Forgzaglia.  "We were down 2-0 and came back to score one. Then we were down 3-1 and came back to score another one. We outshot them but could not get that last goal to tie it up."
The rivalry, though, was still alive because one week later, the Eagles would get a chance to play Mamaroneck in the final playoff game.
The playoff season looked very different because of COVID restrictions, and the usual Section 1 playoffs were modified to become regional competitions
Unfortunately, the New York State Championship was canceled back in December.
After a whirlwind winning season, the Eagles earned the No. 2 playoff seed and defeated New Rochelle in the quarterfinals and Rye in the semis. Those two wins set them up for a rematch with the No. 1 seeded Mamaroneck in the Southern Westchester Regional final.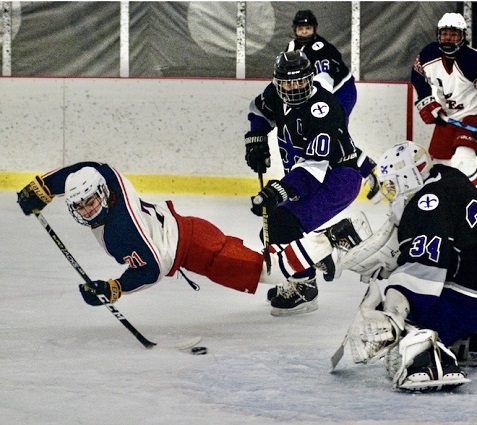 Will Stupart diving for the puck in the New Rochelle quarterfinals game. Photo by Mike Smith.
In the regional final game on Sunday night, the Tigers went ahead 1-0 in the first period. At the end of the first period while the Zamboni machine was out on the ice, the ETBE team had a chance to regroup.
"We were down 1-0 but we knew we could win easily if we played the game that we had played throughout the rest of the playoffs," said Captain Kyle Dillon. "When we came back out, I scored the first goal and got really excited. It really motivated me and the entire team."
After the goal by Dillon, the Eagles went on to take a 2-1 lead with a goal from junior Will Stupart, and then scored again when Luke Arrighi scored on a loose puck right after Pat Dodson had taken a shot for the Eagles.  A final goal by Dillon with an assist from his co-captain, Earl Gretzinger, led the Eagles to a 4-1 victory celebration. Eastchester's JP Rosabella, a senior goalie, had 20 saves in the game.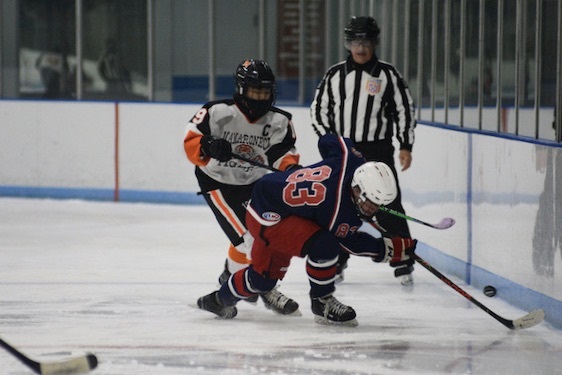 David O'Shaughnessy (83) during the regional final. Photo by Mike Smith.
"We won because of the team effort that we have," said Coach Forzaglia. "Everybody pulls their weight and does their job. Junior Will Stupart has had a phenomenal year. He is the legend that could. He doesn't quit and doesn't stop. Earl Gretzinger played a phenomenal game and season. He is dependable every minute of every game. Kyle Dillon had a huge game against Mamaroneck, great playoffs and great season overall for us."
This year's ETBE team has one player from Edgemont and the rest are from Eastchester and Bronxville. Starters include Bronxville seniors Dillon (F) and Gretzinger (D), Bronxville sophomores O'Shaughnessy (F) and Dodson (D), and Eastchester seniors Luke Ferrara (F) and J.P. Rosabella (G).
Three Bronxville team members were honored yesterday at the high school sports award evening. Will Stupart was named MVP, Earl Gretzinger received the Coaches' Award, and Luke Arrighi was recognized with the Most Improved Award.
"We were glad to have a season," said Coach Forzaglia. "We came off a great season last year and were able to continue that streak going through this year. All these kids worked really hard."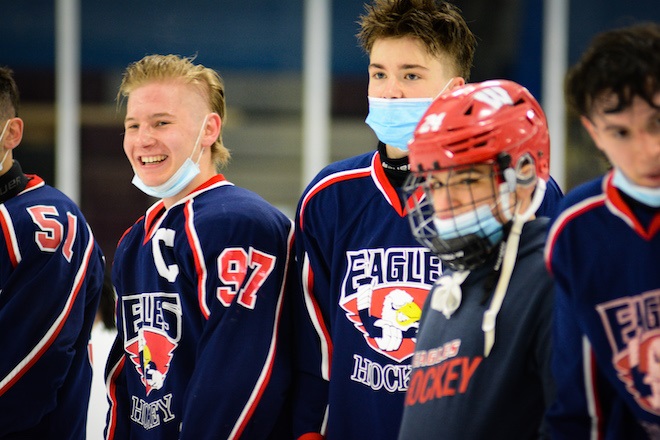 Earl Gretzinger (97) and teammates smiling after the win over Mamaroneck.  Photo by Mike Smith.
For senior Kyle Dillon, playing on the ETBE ice hockey team and winning the regional championship has been an awesome experience.
"The camaraderie on this team has been great," said Dillon.  "It has been amazing. Playing on this team has been the best part of my high school experience."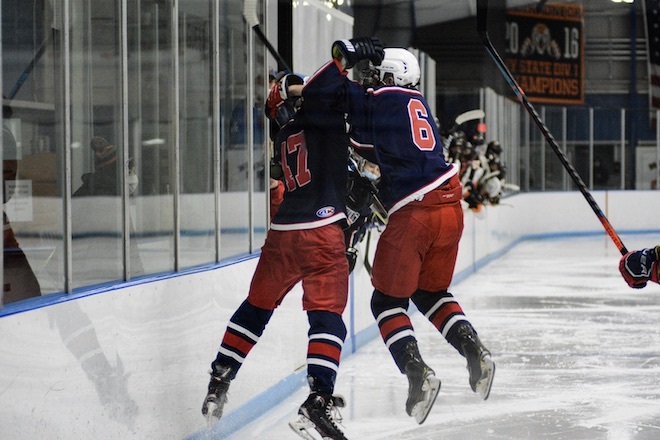 Kyle Dillon (6) celebrating with his teammate after the regional victory. Photo by Mike Smith.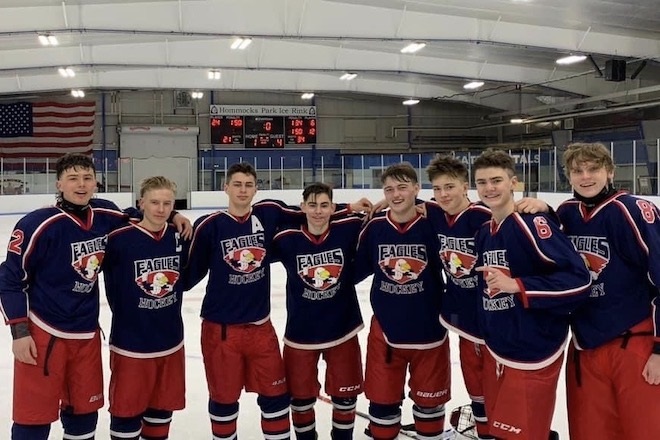 ETBE Bronxville players l to r: Luke Arrighi, Earl Gretzinger, Kyle Dillon, Will Stupart, David O'Shaughnessy, Cooke Evans, Patrick Dodson, and Liam Angelone. (Not pictured David Clark.) Photo submitted by M. O'Shaughnessy.
Go Broncos!