By Allison Roesser
July 7, 2021:  First, great news! C-Sted, the labrador retriever mix that we featured last week, has been adopted!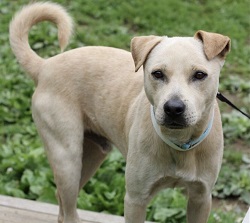 C-Sted
Lennon
"Love is a flower you've got to let grow."
~ John Lennon
Lennon is a 12-week-old grey, blue and silver tabby and the biggest boy of a litter of five kittens. He has distinct and beautiful markings and an adventurous and outgoing personality.
Lennon is the first one to try anything and everything; he is playful and clearly the leader of his pack. He is wonderful with children and other cats and purrrfectly litter-box trained as well.
Lennon is not shy and will take over your lap even if it means pushing through a pile of his siblings. He is as affectionate as he is playful, easy to handle, and quite the talker. Rest assured, Lennon will not let you forget that he is in the room and will happily remind you not to be late with his dinner. 
Lennon and his siblings just became available for adoption this week and cannot wait to find their forever homes.
If you would like more information about this fabulous kitty or other kittens and cats in need of adoption, please visit www.NY-PetRescue.org.