By Allison Roesser
Apr. 7, 2021: All dogs are unique, but every once in a while, I come across one that is truly extraordinary. I'm excited to introduce Amelie. A two-year-old Labrador/Shepard mix who has quite a story to tell. 
Amelie was found wandering the streets of Abakan, Russia as a puppy. She was starving and barely alive when she was first rescued. When she arrived at the shelter, she was very frightened, but when she found herself with a bowl of food in front of her and a roof over her head, she quickly started warming up to people and ultimately became the most easy-going and hassle-free dog in the whole shelter. 
Amelie was adopted and went on to become a competition dog. She has won many prizes and awards in her two short years. She can do tricks, she can dance, and is as loyal and obedient as they come. Everything she does, she does with passion and pleasure. Amelie is extremely social from all her time doing competitions, is perfect on a leash, and completely housebroken too.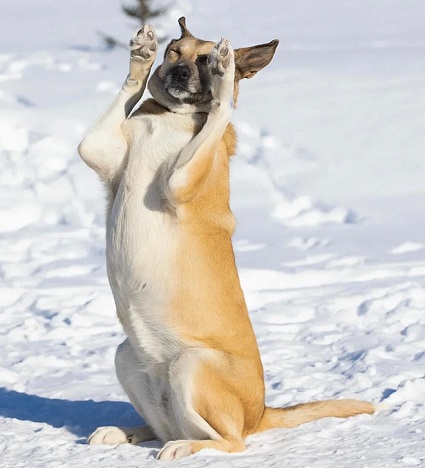 Sadly, this incredibly smart and talented girl lost her family in Russia and is now in need of a new home. 
Amelie is very people oriented. She gets along with everyone she meets, including cats and other dogs. It is believed she could fit in to almost any type of living situation or environment. 
Amelie is scheduled to arrive at JFK airport on April 16th. She is healthy, spayed, and fully vaccinated. She weighs 59 pounds and is 23.5 inches tall.  
If you are interested in learning more about this loving, intelligent, and friendly girl, please visit Furry Tales International Rescue Team and fill out an application here.  Or you can email the application to This email address is being protected from spambots. You need JavaScript enabled to view it. or call (267) 847-1971 for more information.