Bronxville Giving Garden
By Mary Liz Mulligan
June 23, 2021: Our growing season is well underway at the Bronxville Giving Garden!  We have a new Farmer at the helm, Sal DeVivo.  Please do stop by and have a chat with Farmer Sal.  I am totally in awe of the amount of physical labor and smarts Sal has already dedicated to the BGG.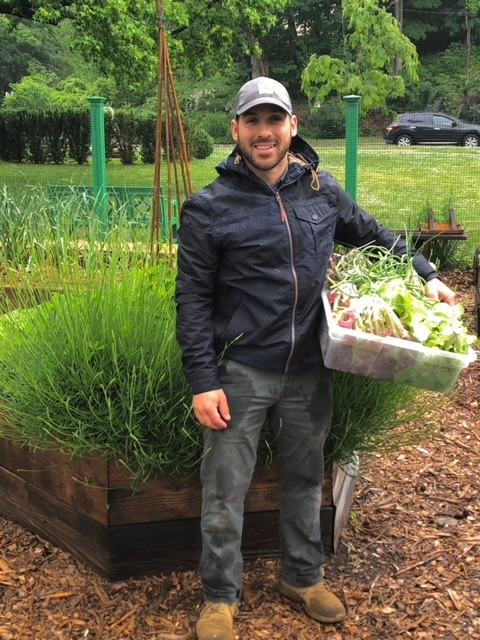 Sal DeVivo
There have been some nice and needed upgrades. This being our 5th season, it was time for a partial soil remediation and other spiffing-up.  Even dirt gets a little tired!  In keeping with the forward strides the rest of the world is making, the BGG is also getting back to normal.  The "No Visitors Allowed" signs and the locks are gonzo!  We are also welcoming some volunteers to help with the gardening and deliveries to the Tuckahoe and Mount Vernon of the harvests.
The BGG connected with the Bronxville High School Habitat for Humanity Group this spring.  They have generously donated and are currently putting  the walls, door and roof together of our new storage shed with what looked like a million screws!  DPW cleared the general area and built a platform for the shed.  Teamwork!  There were shifts of 3' guys' who are totally 'into' and dedicated to their 'shed duty'.  The 'gals brigade' of the Habitat Group came over two weekends and sanded and painted two coats on all the wood fencing for the Garden. I was very impressed by all these students dedication to helping where/when it is needed as well as their mentors, Mr. Chris Doyle and Ms. Zhanna Cabrera's ease of working alongside and easy chatter and shared laughter.  The girls even scrubbed our sign!  It was their idea.  The heat and humidity indexes were not the normal May temps - more like late August.  We are extremely grateful for their efforts and it was a pleasure working with them.
The veggies and herbs are sprouting and our first harvest was June 3rd.  If you would like to volunteer to help puttering in the dirt, harvesting and/or delivering the harvests please contact me via email at This email address is being protected from spambots. You need JavaScript enabled to view it.. Harvesting is mostly done on Monday, Tuesday or Thursday mornings since the pantry and CSA open at 10 on those days.
The Food Pantry at ECAP in Tuckahoe has been opened 3 days a week, up one day from the normal 2 days due to the.  Sharp increase in need due to the pandemic.  Food insecurity has increased at an alarming rate and our area is not exception.
The BGG is responsible for raising all the funds necessary to maintain the Garden.  We have been fortunate to be supported by local residents.  If you would like to help please send your donation payable to Village of Bronxville, noting "BGG" on the check memo line, and send to Bronxville Giving Garden, PO Box 404, Bronxville, NY, 10708.  All donations are 100% tax deductible and very much appreciated.
Please do come by and see our new look and how the BGG is booming and blooming!  Our new bench is in place and the butterflies and other pollinators are visiting.  I donated 3 native pollinator plants this season.  Although there is some construction going on connected to the new DPW facility, our little space on corner of Pondfield Road and Gramatan Avenue can still offer some solid, quiet, passive greenspace. 
Photos by Mary Liz Mulligan
Editor's note: As a public service, MyhometownBronxville publishes articles from local institutions, officeholders, and individuals. MyhometownBronxville does not fact-check statements therein, and any opinions expressed do not necessarily reflect the thinking of its staff.