A New King of England is crowned this week. Photo by N. Bower
May 10, 2023:  Below is information about upcoming events in and around Bronxville. If you would like to thank an organization or be included in the MHTB listing of events, please send information to
This email address is being protected from spambots. You need JavaScript enabled to view it.
.
May 13, 9am - 2pm: The Reformed Church of Bronxville Clothing and Tag Sale: 
 The sale will consist of a wide selection of gently used clothing for all ages, including an expanded Designer Boutique and collection of Eileen Fisher Plus sizes.  In addition to maternity & plus sizes, there is an assortment of fashion accessories, costume jewelry and shoes.  Home items include linens, decor, housewares and knick-knacks, plus plenty of toys and games and sports equipment.  Preview sale items on:
Instagram@reformedclothingsale
 on and
Facebook@reformedclothingsale
.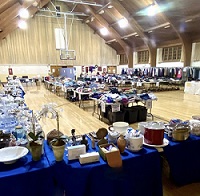 May 13: Bronxville Farmer's Market is open. Your favorite and new vendors will be there. 8:30AM - 1:00PM rain or shine
May 16:  Voting for Bronxville School Budget for 2023-24 and also for two trustee positions for 3-year terms. Click here
 for more information about the budget and candidates.
May 16:  Arts Festival on the front lawn of The Bronxville School (weather permitting). 
May 17: Tickets will be sold in the village starting on May 17 and throughout the month of June for the annual Senior Citizens Council raffle
for a free parking space in Bronxville Village
! If you have not received raffle books in our mailing, please contact 
This email address is being protected from spambots. You need JavaScript enabled to view it.
. Ticket donations are $3 per chance, $5 for two, $15 per book of six, and $75 for six books.
Drawing Date
: Mayor Mary Marvin will select the lucky winner on Flag Day, June 14
th
.  Winner need not be present. Term of space is July 1 to June 30.
May 17, 7pm: "Black Lutheran History in America" at Village Lutheran Church. The speaker is Dr. Kathryn Galchutt, former professor of history at our Concordia College, now teaching at Concordia University Irvine, California This year's lecture honors the memory of Rev. Dr. Merlin and Lois Rehm, longtime VLC members, as well as Rev. Dr. Donald Miesner and Rev. Paul Boecler, fellow colleagues of Rev. Professor Rehm in the Religion Department at Concordia College who both recently passed. This year's lecture celebrates the Rehms along with the lives and ministries of these other leading theologians and dedicated ministers in our community.
May 18, 2pm: 
Women's Health Care Month.  F
ree seminar sponsored by Gramatan Village in 
partnership with NY-Presbyterian Westchester. Open to the Public.
Speakers: 
Luona Sun, MD and Anurag Sharma, MD. 
Topics: 
Breast Health, Breast Cancer Prevention Tips, and Breast Self-Awareness 
Location:
 Bronxville Public Library -Yeager Room
May 18 - 21: Film Festival at The Picture House:
Support the Picture House Bronxville by coming to the "Party of Kraft" Avenue in Bronxville and Flim Festival May 18 - 21. 
Click here
to learn more. 
Click here 
for tickets.
May 19, 7pm: Black Lutheran History Lecture for the Public at The Village Lutheran Church, 172 White Plains Road in Bronxville. The lecture is entitled 'Black Lutheran History in America.'  This lecture is part of the church's semi-annual lecture in pastoral studies honoring the late Concordia College professor Rev. Dr. Merlin and Mrs. Lois Rehm. Dr. Rehm served as senior professor of religion for more than twenty years at the former college, and also as pastor of Trinity Lutheran Church, Scarsdale.  Dr. Kathryn Galchutt, professor of history at Concordia from 2000-2021 and now in that same position at Concordia University, Irvine, CA, will offer "Black Lutheran History in America."  A reception sponsored by Thrivent Financial will follow the lecture – all are welcome.
May 19 - 29: Memorial Day Events in Bronxville. 
Click here
for a full list of events.
June 2-3: Village of Bronxville Sidewalk Sale
June 3, TAKE BACK DAY, 10 a.m. - 1 p.m. Elementary school parking lot for county shredder and behind Village Hall to drop off for reuse or recycling electronics, clothing, bedding for animal shelters. 
October 1, SAVE THE DATE: Bronxville Village's 125th Anniversary Celebration. 
The Committee Chairs for this celebration are Mary Behrens (Village Trustee), Helen Knapp (Village Trustee) and Lisa Rao (Village Resident).
Ongoing: Enjoy a fun outing with the kids to the Stepping Stones Museum for Children in Norwalk. 
It offers many fun exhibits geared for kids. 
Click here
for more information.  Mathews Park, 303 West Avenue, Norwalk, Connecticut. 203-899-0606
Weekly Meeting: Bronxville Senior Citizens
 has weekly meetings and events. 
Click here
 to learn more.