June 16, 2021:  On June 14, 2021, the Bronxville School held its 2021 Bronxville High School Awards ceremony.  Each class attended in person and parents were able to watch the awards on the Bronxville School YouTube Channel.  Below is the list of this year's recipients.
Innovation: Awarded to a student for innovating and creating something new from what one knows.
Grade 9:  Simos Dimas, Kathryn Giuriceo, Caitlin Harrington, Julia Perry, Ella Tuck, Andreas Wimmershoff-Gonzalez
Grade 10:  Rachel Conniff, Fiona Denning, Andrew Doyle, Aarna Pal-Yadav, Xen Rice, Charles van Tienhoven
Grade 11:  Olivia Cevasco, Peter Coquillette, Olesya Gorbunova, Grace Gramins, Molly Stoltz, William Stupart
Grade 12: Megan Barker, Patrick Bird, Thomas Dragoni, Maya Engenheiro, Earl Gretzinger, Liam Heraty, Beatriz Nasciemento Liete, Isabel Overby, Artemis Radik, Bjorn Samios, Henry Sheehan
Critical Thinking: Awarded to a student for thinking critically, gaining understanding and having the courage to change one's mind.
Grade 9:  Alice Heathwood, Frannie Krause, Rohit Mandapati, Grace Murray, Lucy Thiessen-Rodriguez
Grade 10:  Molly Bishop, Brooks Clifford, Andrew Doyle, Ian Gegenwarth, Amelia Grullon, Hope Hershberg, Eamonn O'Reilly
Grade 11:  Elizabeth Brennan, Elizabeth Burnell, Lucy Clark, Charlotte Harwood, Aidan Sulimirski, Alice Vranka
Grade 12:  Katie Formato, Liam Heraty, Annabelle Krause, Kaitlin McBride, Caroline Palermo, Kelly Weild, Avery Widen
Leadership: Awarded to a student for finding his or her voice, communicating clearly, leading passionately with persistence.
Grade 9:  Frannie Krause, Tymon Milewski, Lucas Sulimirski, Devavrat Tarwala, Van Villanueva
Grade 10:  Isabelle Fenner, Thomas Heraty, Wesley Kane, Manoela Rodembusch
Grade 11:  Spencer Blumenreich, Olivia Cevasco, Erin Foley, Grace Gramins, Charlotte Harwood, Bethany Lee, Chloe Lee
Grade 12:  Nayanika Clark, Liam Heraty, Annabelle Krause, Kaitlin McBride, John Moynihan, Caroline Palermo, Catherine Zannetos
Engaged Citizenship:  Awarded to a student who collaborates and serves, and engages the world to make it a better place.
Grade 9: Keyon Harrold, Frannie Krause, Matthew Pasquale, Devavrat Tarwala, Antonio Tao-Guerrero
Grade 10:  Savannah Delli Colli, Fiona Denning, Wesley Kane, Michaela McSherry, Whitney Rowan, Clarissa Russo
Grade 11:  Elizabeth Burnell, Lucy Clark, Natalie Gunther, Olivia Gunther, Chloe Lee, Shayden Sipple
Grade 12:  Patrick Bird, Henry Donohue, Caroline McGrath, Isabel Overby, Emily Plaza, Michael Randall, Maeve Sullivan, Ashley Toal, Kelly Weild
MUSIC & DRAMA AWARDS
THE NATIONAL SCHOOL CHORAL AWARD is given in recognition of singular merit, ability and achievement, for outstanding contributions to the success of the school vocal program, and for an unusual degree of loyalty, cooperation and high achievement.  Awardee: Caroline Palermo
THE SOUSA AWARD recognizes young musicians displaying superior musicianship, leadership, dependability, loyalty, cooperation and other qualities of conduct that school instrumental music programs strive to impart. The Sousa Award is the top nationwide prize in the school band field. Awardee: Macklin Pettee
LOUIS ARMSTRONG AWARD  Louis Armstrong changed the course of jazz music through his phenomenal creativity and skill as a trumpeter, singer, and band leader.  In addition to his musicianship, Armstrong was beloved for his humility, generosity, and compassion.  The Louis Armstrong award is given in recognition of excellence in the performance of musical jazz and contributions to the school's music program.   Awardee: Patrick Bird
THE JOE RAPOSO SING AWARD was initiated by Mr. Raposo's family in memory of the highly acclaimed composer.  Mr. Raposo's family had lived in Bronxville, with two of his children attending the Bronxville School.  Mr. Raposo's contributions as a composer continue to live on, as well as his memory.  The awardee is chosen by the Music and Drama Departments for outstanding achievement in both fields.  This year's student's talent and personal contributions made it easy to recognize our recipient of the Joseph Raposo Sing Award.      Awardee: Olivia Conniff
THE NATIONAL SCHOOL ORCHESTRA AWARD is presented in recognition of leadership and excellence in the performance of orchestral and chamber music.  Awardee: Saya Mueller
THE LEONARD BERNSTEIN ORCHESTRA AWARD is presented in recognition of excellence in musical performance, creativity and leadership.   Awardee: Remi Mellinghoff
THE DRAMA ACHIEVEMENT AWARD is given in recognition of merit, ability and achievement for outstanding contributions to the success of the school's drama program.  Awardee: Artemis Radik
THE ROBERT JACKSON TECHNICAL THEATRE AWARD recognizes a student who has superior commitment to the execution of the technical theater requirements of theatrical productions. It is named for Robert Jackson, the designer who gave our theater program direction.  The award is in recognition of this student's time, commitment and dedication to continued excellence.  Awardee: Nicolas Baror
THE KATE WELLING MEMORIAL AWARD is presented in memory of Kathryn Welling, a 2002 BHS Graduate, to a senior who shares Kate's love of music and her ability to brighten the lives of everyone she encountered.  Awardee: Kaitlin McBride
ALL-STATE MUSIC ENSEMBLES is the highest recognition awarded by the New York State School Music Association.  To apply for this distinction, one must first receive a perfect score on an audition consisting of solo  literature typically performed by professional musicians.  From this pool of candidates, the best are selected to perform with the All-State ensembles.  We are proud to announce that two Bronxville students were selected for membership in the 2021 All-State Music Ensembles:  Megan Barker, Chorus and Patrick Bird, Symphony Orchestra
ART DEPARTMENT AWARDS
THE ART AWARD recognizes the talent and achievement of students in the visual arts. This emerging artist not only produces high quality work but in sharing his art, enriches the cultural life of the Bronxville community.  Awardee: Bjorn Samios
THE OCTOBER GROUP award is given for excellence in art which has been contributed by a group of Bronxville artists known as THE OCTOBER GROUP. Each year they honor two students who have demonstrated artistic growth and development through talent and dedication to the Art discipline.  Awardees: Andrew Doyle and Jason Timothy Pascual
THE SPENCER MEMORIAL ART AWARD is awarded in memory of Edward Hathaway Spencer, given by his family, Mr. & Mrs. Francis Flannery.  Mr. Spencer served the Bronxville community as a school board member and community servant.  He was also an avid art enthusiast. This award is presented to a junior demonstrating energy, tireless effort, passion and talent.  Awardee: Michaela Zucker
THE CYNTHIA GRIGG-FRANK MEMORIAL AWARD honors Cynthia Grigg-Frank whose tireless energy and creativity graced Bronxville with many years of beauty, especially at Graduation. It is awarded to a senior dedicated to the arts and seeking out and promoting a unique artistic vision. Awardee: Skyler Martin
THE AP STUDIO ART STUDENT ARTIST AWARD is given to an outstanding senior whose vision and authentic voice has been appreciated by her classmates over the past four years. Her artistic voice is uniquely her own and an inspiration to others. She has thoughtfully and earnestly compiled a cohesive body of work this year as she explored and developed her independent thesis. Awardee: Arianne Wortel
AP ART HISTORY AWARD is given to an exceptional student of AP Art History whose dedication and scholarship contributes greatly to the class. This student is observant, inquisitive and versatile and plans to incorporate this knowledge into future studies.  Awardee: Elizabeth Burnell
THE BRANT FOUNDATION ART AWARD This award has been contributed by The Brant Foundation, a local Art Research Study Center, which promotes education and appreciation of contemporary art and design.  This student has demonstrated passion, energy and scholarship in Art and Art History throughout high school. The recipient of this award will have the opportunity to complete an internship at the Brant Foundation and begin pursuing a career in the arts.  Awardee: Isabel Overby
WORLD LANGUAGES DEPARTMENT AWARDS
THE LUCIE MASSEY MEMORIAL AWARD is presented in memory of Lucie Massey who taught French in Bronxville from 1957-1972.  She held a Ph.D. from La Sorbonne in Paris and was chairperson of the Foreign Language department throughout her tenure.  She was a demanding teacher with a keen interest in the French language, literature and culture.  This award recognizes outstanding students in their Junior year who demonstrate superior achievement, genuine interest and an appreciation for the study of French language and culture.  Awardee: Erin Foley
The JOHN ZIDIK MEMORIAL AWARD is an achievement award in Latin presented in memory of John Zidik, a Latin teacher at the Bronxville School.  John began his career as a Latin teacher and also served as an Assistant Principal and Acting Elementary School Principal during his twenty years in the Bronxville School.  This award is presented in remembrance of his outstanding teaching ability and dedication to all of his Latin students.  Awardee: Alice Vranka
THE MIGUEL DE CERVANTES AWARD is an award given by members of the community to recognize superior achievement, genuine interest and an appreciation for the study of Spanish language and culture.  Awardee: Donna Napolitano
SEAL OF BILITERACY: The Seal of Biliteracy is a New York State Education Department's Office of Bilingual Education initiative that provides graduating seniors the opportunity to demonstrate proficiency in both English and another World Language.  Students who pursued the Seal created a digital portfolio of their work in the target language, presented their work, and were interviewed by a panel of teachers and administrators.  The following students have successfully completed the requirements for the Seal of Biliteracy.
In French: Georger Daher, Isabel Overby, Eve Sullivan
In Latin: George Daher, Annabelle Krause, Rachel Roberts Kate Saluti, Emma Van Ness 
In Spanish: Xiwen Yu
WORLD LANGUAGE FELLOWS:  Through a generous grant from the Bronxville School Foundation, the Bronxville World Language Department created a signature program called the World Language Fellows.  This program provides world language students with the chance to engage deeply in solving real-world global challenges and connect with the larger community of global scholars. We would like to recognize the following student fellows with awards for excellence:
JUNIORS: Elizabeth Burnell (French), Lucy Clark (Latin), Rory Denning (Latin), Bethany Lee (French), Teresa Markola (Latin/Spanish), Say Sipple (Latin), Fiona Vail (French), Alice Vranka (Latin), Isaiah Weir (Latin), Patrick Wu (Latin)
SENIORS: George Daher (French/Latin), Holden D'Avico (Latin), Isabel Overby (French), Eve Sullivan (French), Les Résultats du Grand Concours 2020-21, (National French Exam)
NATIONAL FRENCH EXAM: According to National Headquarters, 29,513 students across the nation enrolled in Le Grand Concours this year.  This year we had 26 Bronxville students in grades 9-12 earn a medal of distinction or a certificate of honor. I am proud to announce that the following Bronxville students earned a distinction of Gold, Silver, Bronze or a Mention d'Honneur on this year's National French Exam.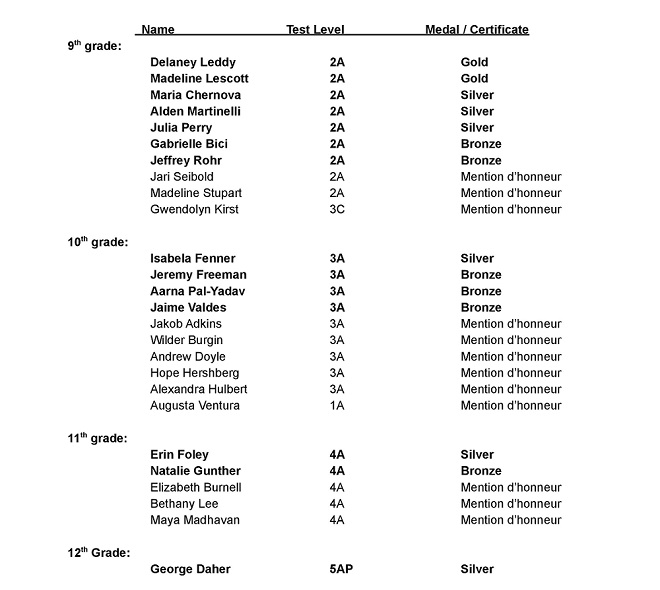 NATIONAL LATIN EXAM AWARDS: In March, students from Bronxville High School participated in the 2021 National Latin Exam.  These students were joined by over 88,000 others from all 50 states and 20 foreign countries including Australia, Canada, China, Germany, Indonesia, Italy, Japan, New Zealand, Philippines, Poland, Taiwan, Turkey and the United Kingdom.  Congratulations to the following students who received awards on the exams.  When your name is called, please come to the stage to receive your award.
9th Grade
Silver Medal - Maxima Cum Laude: Teddy Grammins, Thomas Sheumack, Kathryn Giuriceo
Magna Cum Laude: Griffin Blumenreich, Chloe Sword, Anne Greatrex, Jack Reilly 
Cum Laude: Maeve McWilliams, Alexander Chrostowski, Frannie Krause
10th Grade
Gold Medal - Summa Cum Laude: Remi Mellinghoff, Dallas Agnew
Silver Medal - Maxima Cum Laude: John Rizzo, Ian Gegenwarth
Magna Cum Laude: Anastasia Richard, Brooke Kaye , Ted Heraty, Alex Clark
Cum Laude: Nick Hood
11th Grade
Silver Medal - Maxima Cum Laude: Patrick Wu
Magna Cum Laude: Spencer Blumenreich, Teresa Markola, Isaiah Weir  Patrick Greatrex
Cum Laude: Kelly Baclija, Paul Hodulik
12th Grade
Magna Cum Laude: Liam Heraty, Jack Pagano, Rachel Roberts, Peter Curran
SCIENCE DEPARTMENT AWARDS
THE GERTRUDE & WARING WILLIS MEMORIAL AWARD is presented to the senior student who has demonstrated a commitment to and an aptitude for science.  The student chosen has explored the science curriculum at Bronxville with a curiosity that is to be applauded.  Awardee: Amir Yaghoobi
THE RENSSELEAR MATHEMATICS AND SCIENCE AWARD is given to a junior who excels in math and science and demonstrates potential success in science or technologically-oriented profession.  Awardee: Molly Stoltz
MATHEMATICS DEPARTMENT AWARDS
THE OSCAR DEY WILLIAMS AWARD recognizes the students who have shown outstanding effort and progress in the field of mathematics during the ninth and tenth grades. Awardees: Rohit Mandapati and Aarna Pal-Yadav
THE BERNICE ORSHANSKY AWARD has been donated by the family and friends of Bernice Orshansky in recognition of the outstanding role she played for over twenty years as a mathematics teacher in the Bronxville School.  Miss Orshansky was able to develop character, knowledge and appreciation of mathematics in her students.  The award is presented to eleventh grade students who successfully completed the eleventh year mathematics course and who have demonstrated appreciation and understanding of that level of math by exhibiting perseverance and acceptance of responsibility for their education.  Awardees:  Lucy Clark and Matias Gibbons
SOCIAL STUDIES DEPARTMENT AWARDS
National History Day Awards
Second Place National Qualifiers: Wilder Burgin, Brooks Clifford, Eleanor Clifford, John Henningson, Aidan McBride, Saya Mueller, Charles van Tienhoven
Third Place Nationals: Isabela Fenner 
State Finalists: Amelia Grullon, Thomas Heraty, Alexandra Hulbert, Brooke Kaye, Sarah Modesitt, John Ryan
Recognition for Outstanding Research and Historical Scholarship: Henry Clifford, Lily Crystal, Lucy Curran, Fiona Denning, Ian Gegenwarth, Sophie Hartmann, Wesley Kane, Michaela McSherry, Remi Mellinghoff, Natalia Metzger, Aarna Pal-Yadav, Sanaa Patel, Jack Perry, John Rizzo, Hayes Romley, Clarissa Russo, Loufei Sung, Jaime Valdes, Zi Xin Xu
ONLINE LEARNING AWARD
AWARD FOR EXCELLENCE IN ONLINE LEARNING recognizes a student for outstanding achievement in the online environment.  This is awarded by OC21, a consortium of schools in Westchester providing online courses.  All students participating in online courses within OC21 from schools throughout Westchester are eligible.  This year, a Bronxville High School student was awarded for her achievement.  Awardee: Charlotte Harwood
ATHLETIC & SCHOOL SPIRIT AWARDS
Athletics in the Bronxville School play an important role in teaching leadership and team play to our students.  Over two thirds of our students participate in some sport or extra-curricular activity during the course of their enrollment in the high school. While most of the Athletic awards are given out at sports awards assemblies held at the end of each season, we honor some students with special awards today.
THE JOHN CHAMBERS ATHLETIC SPIRIT AWARD recognizes outstanding school spirit and athletic growth. Our former superintendent, John Chambers, was an inspiration and champion of the interscholastic program at Bronxville during his ten years as Superintendent. Awardees: Kaitlin McBride and Connor Randall 
DAVID INGALLS MEMORIAL AWARD: The Class of 1970 presents this annual award in memory of David Ingalls, to a sophomore boy.  The award recipient strives to improve athletically and scholastically.  It is the dedication to become a better athlete through hard work and effort that characterizes the winner of this honor.  Awardee: Thomas (Ted) Heraty
THE GREGORY TIDWELL AWARD: This award is presented in recognition of Varsity athletic achievement, but also includes traits that have been passed on through Bronxville history:  sincerity, honesty and devotion to student activities.  Awardee: Henry Donohue
THE BRONXVILLE SCHOLAR/ATHLETE AWARD is presented annually to the outstanding senior athletes who by their performance, example and influence as both scholars and competitors have done the most during their high school careers to excel in the classroom and on the field of competition.  Awardees:  Earl Gretzinger and Avery Widen
DICKERSON STREET, a past School Board member, had a commitment to student participation in the competitive sports program.  The Street Medals are awarded to the athletes who have been outstanding in interscholastic competition throughout their high school careers and have exhibited leadership and citizenship in their activities.  This is the highest Bronxville athletic achievement award given at this time.  Awardees: Henry Donohue, Alexandra Doukas, Jules Gravier, Elizabeth Marshall, Connor Randall, Henry Sheehan and Maeve Sullivan 
ELLEN O'TOOLE D'ARCY TEAM SPORTS AWARD: This sports award goes to two-sport varsity athletes who have consistently shown self-sacrifice, commitment and teamwork in each of the sports in which they have participated -- irrespective of talent, performance or wins and losses.  This award reflects the type of community and team sacrifice that every small school like ours needs in order to consistently field multiple athletic programs.  Awardees: Katie Formato
THE KAREN PETERSON LEADERSHIP AWARD recognizes a senior leader who demonstrates integrity, dedication, and enthusiasm for athletics and its contribution to the school and larger community. This award honors Karen Peterson, our Athletic Director who exemplified these qualities during her 22 years of service to The Bronxville School.  Awardee:  Elizabeth Marshall
THE VIRGINIA LANIS award is presented to the female athlete who displays athletic skill, sportsmanship, and leadership during the participation in interscholastic competition. Awardee:  Alexandra Doukas
THE LOU BRINSMADE AWARD is presented to the male athlete who displays athletic skill, sportsmanship, and leadership during participation in interscholastic competition. Awardee: Henry Donohue
THE SPORTSMANSHIP AWARDS: The Bronxville High School Physical Education Department presents each year to two students, in the senior class, who demonstrate school spirit, enthusiasm towards competition and good sportsmanship. Win or lose, these students always put forth their very best effort.  Awardees: Peter McSherry and Beatrice Nascimento Leite
AWARDED TO STUDENTS AT OTHER CEREMONIES
THE EASTCHESTER FIRE DEPARTMENT honors Thomas C. Viafiore with a scholarship for the student who has during the last four years exhibited a pattern of growth and development. Awardee: Giuseppe Del Prete
THE EASTCHESTER VOLUNTEER FIREFIGHTERS establishes an annual scholarship to be awarded to Bronxville High School seniors, for outstanding Community Service. Awardees: Mariana Apostolatos and Alanna Thompson
THE EASTCHESTER VETERANS ASSOCIATION AND LT. COL. SAM DIRIENZO VETERANS OF FOREIGN WARS POST 2285 are honoring a graduating senior with a $1000.00 scholarship.  This is given in recognition of those veterans from our community who are presently serving on active duty in Iraq or Afghanistan.  We wish to recognize their sacrifice and commitment to our country.  An important characteristic of this recipient is academic excellence and the earned respect from the school and community alike.  Awardee: James Swenson
WESTCHESTER/PUTNAM ASSOCIATION OF SUPERINTENDENTS outstanding student recognition.  Awardees: Timothy Atkeson and Avery Widen
THE COMMUNITY FUND OF BRONXVILLE, EASTCHESTER, TUCKAHOE SCHOLARSHIP AWARD is given to deserving students in honor of Policeman Michael Frey, an Eastchester policeman who was killed in the line of duty and to celebrate the work of all emergency personnel in the area – police, fire, ambulance and other workers. This award is given in recognition of service and dedication in support of their peers in school and the community at large. The award is to be used to help further these students' higher education.  Awardees: Kaitlin McBride, Emily Plaza and Catherine Proskoff
2020 SERIES SCHOLARSHIPS FOR ACADEMIC EXCELLENCE are given by the New York State Education Department to students who demonstrate academic excellence should they plan to attend a University of the State of New York. Awardees:  Benjamin Davis, Victoria Ruffo, Eve Sullivan and Ziwen Xu
NATIONAL AND STATE AWARDS  
ATTORNEY GENERAL TRIPLE "C" AWARD recognizes "character, courage and commitment."   Awardees: Caroline Palermo and Jessica Sondey
NEW YORK STATE SENATOR SHELLEY MAYER AWARD – given to a junior and a senior who have gone above and beyond in serving the community, innovation of their ideas, and perseverance in executing their plans.  Awardees:  Peter Coquillette and Rory Christian
NYS COMPTROLLER THOMAS DiNAPOLI CERTIFICATE - awarded to seniors who have shown academic excellence and the potential for leadership through involvement in activities that improve the school and/or the community.   Awardee: Annabelle Krause and Caroline McGrath
NATIONAL MERIT COMMENDED STUDENTS
Each year the National Merit Scholarship Corporation honors approximately 50,000 students from the million plus juniors that take the PSAT exam.  This year we are proud to have ten students in the Class of 2021 earn the distinction of Commended Student.  This distinction is earned by demonstrating mastery on the PSAT exam given in the fall of the junior year.
Timothy Atkeson, Liam Heraty, Annabelle Krause, John Moynihan, Toranosuke Ozawa, Catherine Proskoff, Mykhailo Pustovit, Riley Ramundo, William Swenson and Ashley Toal
NATIONAL MERIT FINALISTS
These seniors have achieved the distinction of being named Semi-Finalist then Finalist. Maya Brinster, Artemas Radik, Michael Randall and Eve Sullivanl,
NATIONAL MERIT SCHOLARSHIP WINNER
Avery Widen
RECOGNITION OF FRESHMAN TRANSITION LEADERS FOR 2020-2021
Liam Angelone, Timothy Atkeson, Megan Barker, Isabelle Beit, John Borsch, Isabella Bouvard, Mariana Apostolatos, Christina Canty, Ava Chiang, Rory Christian, Olivia Conniff, Nayanika Clark, Edward Conway, Thomas Curran, Holden DAvico, Marielle Dibbini, Maya Engenheiro, Katie Formato, Henry Donohue, Calvin Golimbu, Caroline Hulbert, Liam Heraty, Isabelle Kennedy, Lorelei Heath, Anna Kate Kochansky, Avalon Kaplan, Annabelle Krause, Melissa Marchetti, Benjamin Mandanas, Elizabeth Marshall, George McCormick, Kaitlin McBride, Caroline McGrath, Gabriela McLain, Riley Morgan, John Moynihan, Kamil Mutlucan, William Murray, Elaine Neild, Olivia O'Keefe, Margaret O'Hare, Skyler Martin, Margaret Outcalt, Isabel Overby, Toranosuke Ozawa, Macklin Pettee, Artemis Radik, Riley Ramundo, Michael Randall, William Rizzo, Evelyn Robert, Caroline Palermo, Uma Revadigar, Rachel Roberts, Catherine Saluti, Jessica Sondey, Liam Sands, Maeve Sullivan, Emily Plaza, Lyndsie Schultz, Henry Sheehan, Wyatt Spiegel, James Swenson, William Swenson, Alanna Thompson, Bjorn Samios, Ashley Toal, Kelly Weild, Avery Widen, Catherine Zannetos, Rayne Wiser and Ziwen Xu
COMMUNITY AWARDS                            
THE BRONXVILLE ROTARY CLUB is honoring two students who have exemplified their motto of service above self.
Arthur Miller Award Recipient:  Michael Randall
Robert McGrath Award Recipient:  Caroline McGrath
THE DAUGHTERS OF THE AMERICAN REVOLUTION (ANNE HUTCHINSON CHAPTER) YOUTH CITIZENSHIP AWARD presents Good Citizenship Medals to students who by their personal acts and attitudes have proven most outstanding citizens and represent values embraced by Anne Hutchinson such as respect for value of diversity, and the promotion of the democratic spirit of freedom of thought.  Awardee: Caroline McGrath
THE JANSEN HOSPICE/ PALLIATIVE CARE - WILLIAM BUNKER SNYDER MEMORIAL AWARD is given in recognition of Mr. Snyder's exemplary commitment to the Jansen Memorial Hospice.  He was described as a quiet, compassionate man.  His sense of humor and genuine love for mankind were demonstrated through his tireless efforts as a community servant.  We are pleased to join the Jansen Hospice in honoring one of our students who demonstrates exemplary compassion and service to others.  Awardee: Catherine Saluti
DESTINATION COLLEGE OUTSTANDING PEER TUTOR AWARD: With tremendous patience and tenacity, Senior Michael Randall has helped countless students pass Regents exams and tackle numerous subjects while simultaneously rebuilding academic confidence. Destination: College has been fortunate to have had Michael's brain power and compassion for the past four years. He will be greatly missed. But, we know he will use his generous spirit and talents wherever life takes him, always in support of others.  
MEMORIAL AWARDS
THE KEVIN BROOKS COUGHLAN PRIZE IN CREATIVE WRITING is awarded to the Bronxville High School student judged to have written the finest work of creative prose or poetry in that academic year. The prize was established in 2018 and endowed by Members of the Class of 1969 to honor their departed classmate, Kevin Brooks Coughlan.  Awardee: Megan Barker
THE CORINNA DISTEFANO 2021 OPPORTUNITY SCHOLARSHIP AWARD is in honor of Corinna DiStefano who was a counselor here in Bronxville from 1966 to 1981.  Prior to her death in 2007, she endowed a scholarship for deserving Bronxville High School graduates to pursue higher education at a public university in New York State.  This award is presented to a senior dedicated to helping others and committed to academic life.  Awardee: Catherine Proskoff
THE JACK MURRAY MEMORIAL AWARD in honor of Jack Murray, a gentle man and educator at Bronxville Schools for over 50 years, honors a student who displays fairness and friendship with grace and dignity.  Awardee: Anna Kate Kochansky
THE FAMILY OF THE LATE FRANCES AND H. MAURICE DARLING has established an annual book prize for a sophomore student of the school in memory of their parents who took an active, committed interest in the school during their many years of residence here in Bronxville.  The award is presented to the student who combines an outstanding academic record in World History, and shows a genuine interest toward issues of present day peace. Awardee: Wilder Burgin
S. JAMES BLOCK AWARD is a scholarship that was established by the family of Mr. S. James Block in honor of their husband and father, S. James Block.  Mr. Block was a teacher in the Bronxville School District for many years serving as the Chair of the Business Department.  Mr. Block was also heavily involved in student organizations during his tenure in the Bronxville School System.  The award is being presented to a student who has shown school spirit, sportsmanship, and respect for teachers and peers.  Awardee: Maeve Sullivan  
THE BRONXVILLE TEACHERS' ASSOCIATION/MEG CONNORS SCHOLARSHIP AWARD is an annual award that honors the memory of Margaret (Meg) Connors, a graduate of the Bronxville School.  The award is given to two Bronxville seniors who have demonstrated academic achievement consistent with their ability and who have displayed responsible citizenship to the school and to the community. This year, we chose to honor two students who have challenged themselves academically and have been most assiduous in meeting the responsibilities of service and good citizenship to the school.  Awardees:  Melissa Marchetti and Skylar Martin
WENDY RUHM MEMORIAL AWARD The Wendy Sturges Ruhm Theater Arts Award is given in Memory of Wendy Ruhm a member of the Bronxville Class of 1993. Wendy loved theater, music and the arts.  She performed in every theatrical production and choral concert during her High School years. In college she was a member of a student -run dramatic society which produced their own shows. When she moved to New York she joined a large musical theater group where she was actively involved in all aspects of the organization, including stage management, set construction, program design and as a member of the Board of Directors. This award is given to a junior in recognition of a commitment to and excellence in Theater Arts.  Awardee: Elizabeth Brennan
THE BUDINGER FAMILY MEMORIAL AWARD is given to a student who has made contributions to the arts both in the classroom and through extra-curricular activities.  Awardee: Nayanika Clark
THE W.M. BURT MEMORIAL AWARD is given to two seniors who have demonstrated a dedication to academics as well as a commitment to the school.  Awardees: Artemis Radik and Kelly Weild
COLLEGE AND UNIVERSITY ANNUAL BOOK AWARDS
A number of colleges and universities offer book prizes or certificates to high schools to acknowledge excellence in academics, general or subject specific, leadership in the classroom and in outside activities, including volunteer service, to members of the junior class.
The entire faculty is asked to submit nominees and there is a committee composed of representatives of each department, the counselors and administrators, which selects the recipients. We make a serious attempt to choose those candidates best suited to the spirit of the college award based upon the criteria provided and staff nominations. There are so many capable students in this class that we know it is impossible to acknowledge each one today.
There is no established connection to the level of competition of the university with the grade point average of the student, except for a few which identify the most capable overall or in individual disciplines such as English, social studies or science. In specific subject areas the individual department staff make those selections. 
American Association of University Women recognizes young women who promote equity for all women and positive societal change. Awardees: In Writing –  Annabelle Krause.  In the Study of English –  Ashley Toal
The Bowdoin College Book Award is for extraordinary service to the common good and an unusual passion for inquiry, discover and innovative thinking.  Awardee: Isaiah Weir
The Brown University Book Award is given by the College's alumni association to a junior selected for outstanding personal qualities and a high degree of academic performance in English expression, both written and spoken.  Awardee: Olivia Cevasco
Colorado School of Mines is intended to recognize an outstanding student in math and science and encourage him/her to consider an engineering career.  Awardee: Alice Vranka
The Dartmouth Club Book Award is given to two juniors who best demonstrate academic excellence.  Awardees: Maya Madhavan and Sydney Tuck
The Harvard Book Prize is sponsored by the Harvard/Radcliffe Club of Westchester and the Harvard Alumni Association. The award is given to a junior who combines excellence in scholarship and high character, with achievement in other fields.  Awardee: Caroline Ircha
Johns Hopkins Book Award is given to a junior who best exhibits the qualities and characteristics that form the core of the Johns Hopkins ethic:  A demonstrated desire for intellectual and moral growth, an uncommon interest in, and capacity for, independent and original scholarship and the strength of character necessary to employ the results of their scholarship for the betterment of society. Awardee: Julia Reich
Princeton Alumni Club Award is presented to the Junior who is at the top of his or her class academically, and demonstrates both intellectual leadership and strong character.  This student also best exemplifies the spirit behind Princeton's motto, 'In the Nation's service, and in the service of all humanity.'  Awardee: Erin Foley
Rhodes College Book Award is presented to a tenth grade student for exemplary community service coupled with a commitment to leadership and helping others.  Awardee: Thomas (Ted) Heraty
The Sage College Book Award is presented to two exceptional juniors who have shown remarkable commitment to, and achievement in, one or more areas of the liberal arts. Awardees: Elizabeth Brennan and Grace Gramins
Smith College Book Award academic excellence with a commitment to community service. Awardee: Chloe Lee
St. Lawrence University Book Award is to a junior who has displayed a significant commitment to community service.  Awardee: Donna Napolitano
St. Michael's College Book Award presented to juniors demonstrating achievement in academics with a commitment to community service.  Awardees: Isabelle Friedberg and Patrick Wu
The University of Pennsylvania Book Award is given through its alumni association to a high school junior who best exemplifies the qualities and characteristics of Penn's founder, Benjamin Franklin -- a scholar, innovator and community servant.  Awardee: Peter Coquillette
The University of Rochester Bausch and Lomb Honorary Science Award to a junior with high achievement and rigor in science classes, high math scores and a positive contribution to the school.  Awardee: Alexander Kupersmith
Frederick Douglass and Susan B. Anthony Award for commitment to and understanding difficult social issues, leadership and dedication to community action and strong grades and rigorous courses taken in the humanities and social sciences.  Awardee: Bethany Lee
George Eastman Young Leaders Award for strong leadership experience at school and in the community, high grades and challenging courses and extensive involvement in extracurricular activities.  Awardee: Shayden Sipple
Xerox Award for Innovation and Information Technology is presented to a junior with a strong interest in innovation and/or information technology and a high level of achievement in this area.  This student has had exposure to new technologies outside of school, such as pursuing serious work opportunities in local laboratories or industry.  Awardee: Conner Huang
Wells College 21st Century Leadership Award recognizes the spirit, integrity and intellectual qualities of a strong leader.  Awardees: Charlotte Harwood and Amelia Koenig
The Wellesley in Westchester Alumni Club presents a book award to a junior of exceptional academic achievement, character, and contributions to extracurricular and community life. Awardee: Molly Stoltz
The Williams College Book Award is presented to the junior who has demonstrated intellectual leadership and has made significant contributions to the school.  Awardee: Fiona Vail
The College of William and Mary Book Award is presented to the junior who has demonstrated leadership in the classroom including strong academic achievement as well as leadership in the school.  Awardee: Alexandra Dessart
Tulane: is presented to a junior who has demonstrated excellence in academics, leadership and public/community service Awardee: Caroline Tormey
The Yale Book Award is given to a junior who best demonstrates academic excellence combined with an enthusiasm and spirit in contributing to the extracurricular life of the school.  Awardee: Lucy Clark
The LIGHTHOUSE AWARD is given to members of the Junior Class, as voted on by their classmates, who exemplify the school's educational ideals of enthusiasm for learning, pride of accomplishment, self-discipline, self-esteem and consideration for the ideas and values of others, and who, through selfless dedication and service to school and community during their years at Bronxville, have done the most to foster those ideals in others.  The Bronxville School Foundation sponsors this award to provide recognition of very deserving students and to celebrate the qualities of mind, spirit and service that have helped to make the school and the Foundation so successful.  Awardees:   Lucy Clark and Bethany Lee 
SFL AWARD is presented annually to the student who has served as President of the Student-Faculty Legislature.  Awardee: Liam Heraty
THE LOUIS H. BRAUN SUPERINTENDENT'S AWARD - this annual award is presented to a student who has demonstrated excellence in academics, leadership and service to the school. It honors the man who demonstrated these qualities throughout his service as Superintendent of the Bronxville School from 1957-1976.  During those years, Mr. Braun created a reputation of excellence, and demonstrated a genuine love for his profession and his position.  Bronxville was fortunate to have Mr. Braun serve for all of those years. This year's recipient is also recognized for excellence in academics, leadership and service to the Bronxville School.  Awardee: Liam Heraty
THE PRINCIPAL'S AWARD is given to members of the senior class for outstanding citizenship, demonstrated through high ideals, high standards of conduct and contributions to the life of our school.  Awardees: Timothy Atkeson and Annabelle Krause
Photo by A. Warner