Pictured: Dr, John Nunes, President of Concordia College
By Staff
Sep. 30, 2020: Last March, Concordia College in Bronxville sent its students home due to a directive from Governor Cuomo. As Dr. Rachel Eells, VP for Academic Affairs, said, "the faculty pivoted beautifully." Since the college already offered some online programs, there were tools in place to move to an online learning model.
Not knowing what fall would bring, Dr. John Nunes, President of Concordia College, and Eells began working on their fall plans. While Concordia College is an independent college, it is affiliated with the Concordia University system, which includes 30,000+ students throughout the country. This proved extremely helpful as they all shared best practices to help design strong back to school approaches for the fall.
Over the summer, Concordia College brought in a team of instructional designers to create a robust hybrid-learning model for the fall. This included making sure every student was equipped to learn. "There are students who have more challenges working from home in terms of space, resources, or both," said Eells, "We had to develop creative solutions," said Nunes, "Kudos to Rachel for finding ways, so no student is left behind."
In planning for the fall, Eells said that that the college decided early on that they wanted students back on campus and then worked to create an in-person experience that would be bolstered by online work. They also had a team working on reopening and preparedness to ensure they put in practices to keep everyone safe and followed all CDC guidelines.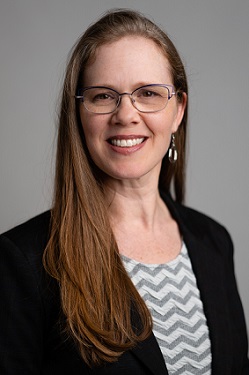 Dr. Rachel Eells, VP for Academic Affairs, Concordia College
The overall goal was to reduce on-campus density and provide a high quality program. The school currently has about 150 students living on campus and 800 other students, some taking classes on-site and some fully remote.
The school has many new protocols, including smaller classes enabling social distancing, a requirement for face masks, treating dorms like pods, limiting movement between dorns, and a "zero tolerance" policy for student parties. "We are strict about parties," says Nunes, "and compliance is high." We are holding each other accountable."
At the beginning of their reopening, Concordia had six COVID-19 cases but are now down to zero. They are following all CDC protocols for dealing with cases. For example, to return to in-person learning, the person needs to be symptom-free with a negative test. Like all learning institutions in NY State, Concordia must report its cases to NY State. Click here to see the NY State School Dashboard.
The school also has a program called "Concordia Cares" that is focused on promoting accountability, including wearing masks to keep everyone safe. Concordia Cares "flows from our Christina mission," says President Nunes, "we are a school that cares for the other and our neighbors."
In closing, President Nunes commented that the "secret weapon" of Concordia College "is 10708."  He further said, "I just want to convey my gratitude to our neighbors. So many members of the community have given so much to Concordia."
President Nunes has just published a new book, "Meant for More," and will be contributing 100% of the profit to Concordia College. "This is the academic theme of the year," he said, "We serve them so they can serve the world."
Photos courtesy Concordia College