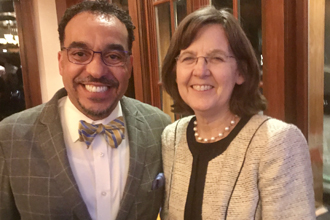 By George C. McKinnis, President, Bronxville Rotary Club

Dec. 6, 2017:  The new president of Sarah Lawrence College, Dr. Cristle Collins Judd, addressed a special dinner meeting of the Bronxville Rotary Club on November 20, 2017. Dr. Judd's husband, Dr. Robert Judd, the executive director of the American Musicological Society in New York City, accompanied her.  
Dr. John Nunes, president of Concordia College, and his wife, Monique, attended the dinner meeting, as did members of the neighboring Rotary Clubs of Eastchester, Yonkers, and Pelham. 
Leading members of the Bronxville community who are affiliated with Sarah Lawrence attended this dinner meeting: Vicki and Si Ford, Marilynn and John Hill, and Tina Staudt. Vicki Ford is an alumna and trustee of Sarah Lawrence College; John Hill is former chair of the college's board of trustees; and Marilynn Hill has long been involved with the Friends of the Sarah Lawrence Library (recently converted to the Friends of the College), of which Tina Staudt is now president. The meeting drew a capacity crowd of 50. 
Dr. Judd spoke about democracy and education, the theme of her inaugural year. Her vision of higher education is very inclusive, and she believes that differing points of view must be heard and considered. She also views the understanding of different cultures, including literature and music and the needs of different peoples and nations, as an important part of a liberal arts education. In this sense, her definition of a liberal arts education is not limited to a traditional Jeffersonian list of great books, great ideas, and academic disciplines thought to be essential to a liberal arts education; it is a rigorous academic program geared to the modern student who lives in today's cross-cultural and interdependent world who must learn to be a global citizen.   
Dr. Judd fully engaged her audience and presented a sense of her priorities by recounting what a president of Sarah Lawrence College does in a workday. Emphasizing her intention to have considerable contact with Sarah Lawrence students, she mentioned her pledge to them that she would refrain from talking on her phone or texting when encountering students on campus. If they caught her, she said, she would make a donation to the college!
Dr. Judd's day also included lunch with students and a trip to the grocery store to purchase ingredients for a pre-Thanksgiving dinner she was hosting for international students. In keeping with her presidential duties, she described meeting with faculty, speaking with the board chair, discussing the building of the Barbara Walters Campus Center, and meeting with a donor.
Knowing that many Bronxville families have sent their young children to the college's Early Childhood Center, she spoke of the value of the laboratory pre-school to both the college and the community.
A number of her comments, including her assertion that colleges should collaborate with each other, pointed to her work with the New Directions program at the Andrew W. Mellon Foundation. Some of her work with that foundation is discussed on its website. 
Those of us who heard Dr. Judd at this Rotary dinner are convinced that she will take Sarah Lawrence College in "new directions" and will expand the cross-cultural aspects of the liberal arts education that Sarah Lawrence College offers. 
This evening was videotaped for showing on Bronxville and Westchester TV channels.  
Pictured here:  Dr. John Nunes, president of Concordia College, and Dr. Cristle Judd, president of Sarah Lawrence College, at the Bronxville Rotary Club dinner.

Photo courtesy George C. McKinnis