| | |
| --- | --- |
| Bronxville Chief of Police Responds to Letter from Schatze Thorp about Pedestrians in Danger | |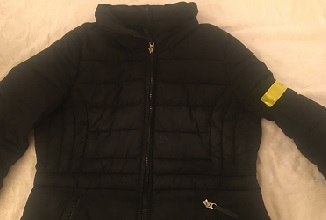 By Staff

Dec. 5, 2018:  Last week's MyhometownBronxville included a letter from Schatze Thorp about concerns over dim lighting and dangerous conditions for pedestrians walking from the train station because cars cannot easily see them. She recommended that reflectors be available near the train station. Click here to see the full letter.
Christopher Satriale, Bronxville chief of police, responded to this letter saying that reflectors are available. He said, "The Bronxville Police Department provides reflective arm- and wristbands free of charge for pedestrians and joggers. Stop by the police department anytime and see the desk officer."
The picture above is of a black jacket with a yellow reflector around the upper arm. These reflectors stretch out flat and then spring into a closed round position. They can be kept in a handbag or briefcase and taken out when needed, such as when leaving the train. You can pick one up at the Bronxville Police Station.
Photo by S. Clifford