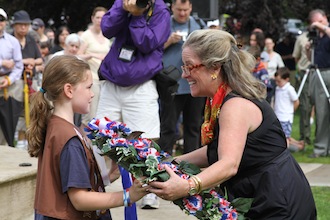 Editor's Note:  In lieu of Mayor Marvin's weekly column, below is the Memorial Day address she gave on Monday morning, May 30, to the community gathered 'round the flagpole in front of the Bronxville School.
Good morning and God Bless America!
Today is the 89th Village Memorial Day parade and commemoration and I am so pleased on behalf of the entire Village to honor Arthur Miller, World War II veteran and lifelong Village resident, as our grand marshal.
I want to tell you a little about Art.
Art interrupted his education at Duke University to serve our country as a bombardier on the B-17 so-called American Flying Fortress.
Assigned to the Eighth Air Force 486th Wing, Art flew 30 combat missions over Germany targeting factories and fuel deposits. Art's plane always encountered resistance and on one mission, a piece of flak landed in Art's lap, a souvenir he owns proudly to this day.
There were always holes in the fuselage of his plane on their return to base and Art credits the power above with keeping him safe.
By war's end, Art's decorations and citations included the Air Medal with Four Oak Leaf Clusters, European African Middle Eastern Campaign Medal with two Bronze Stars, the Distinguished Flying Cross and the World War II Victory Medal. And, at a USO show in Hollywood, he even got to meet Bette Davis and was in Times Square to celebrate VE Day.
Post service, Art graduated from Duke and came home to Bronxville for good raising his three daughters here with his late wife, Nancy Van Wyck Miller. Just as Art Miller served his country with distinction, he has given years of valuable service to our Village serving on the Board of the Chamber of Commerce, the Community Fund, his church--The Reformed Church--and as president of our Rotary Club.
Thank you Art for serving our country and our village with valor, humility, and dedication. Art, you truly are a hero among us.
To learn more about Art's service and the other heroes among us, I encourage you to visit the special Bronxville Veterans Memorial display which is exhibited just behind me inside the school until 2 o'clock today. Thanks to the efforts of Village residents Jane Staunton and Cindi Callahan, this moving tribute honors local men and women who have served our country, recounts many of their stories of heroism, and recognizes the over 1,500 Villagers on the Scroll of Honor who have proudly served our country.
I want to dedicate this year's Memorial Day commemoration to Art and to all his fellow World War II veterans who served so bravely and who are leaving us much too quickly.
Sixteen million Americans answered the call to serve in World War II and a staggering 400,000 gave their lives. It was the defining moment of the 20th century and the ultimate symbol of moral strength and national unity.
We tend to forget that when this country entered World War II, our nation was suffering from a decade of economic depression, we were not a rich country, and our military was only the 17th largest in the world. Yet our country was never more united, and at the height of the war, we had ships in every ocean and armies on five continents.
As was said about the men and women of World War II--the Greatest Generation--uncommon valor was a common virtue. They were not warriors by nature, just lovers of freedom and their country.
Most of them were modest sons of a great country and many of us are very proud to call them dad.
Yet they truly saved our country and quite literally the freedom of mankind and then came home and rebuilt the United States into the superpower it is today. Thank you, thank you World War II veterans. Thanks to your example, the rest of us are quite aware that to be born free is an accident, to live free is a privilege, and to die free is a responsibility.
Thank you all for being here today and may God continue to shower down his love and blessings on our great nature.