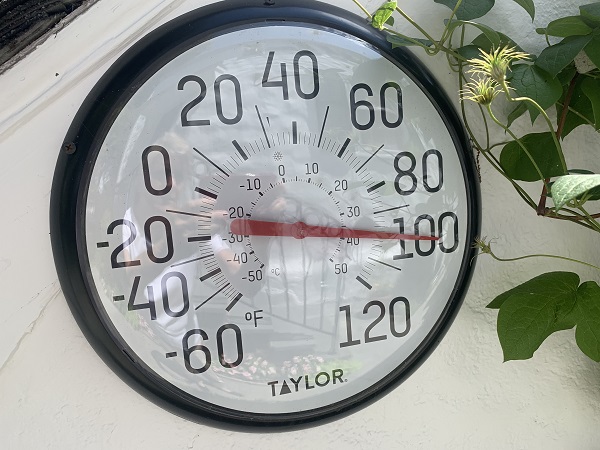 A thermometer showing a high 100 degree temperature in Bronxville this week. Photo by A. Warner
Jul. 29, 2020: Below is information about upcoming and ongoing events. If you would like to be included, please send event information to CLOAKING
Upcoming and Ongoing Events
August 2, 2020: On Sunday, August 2, the front doors of Christ Church Bronxville will be open from 11:00 AM to 3:00 PM for a food drive. Simply drive by and drop off requested food items at Christ Church Bronxville, 17  Sagamore Road, Bronxville, NY. Click here to see the list of requested food items.
August 7, 2020: Concordia College New York will broadcast the final Hoch Chamber Music Series concert of the 2019-20 season, A Night of Civics & Civility, on Friday, August 7, at 7:00 pm.  It will be broadcast on the Concordia Conservatory YouTube channel, Optimum channels 19, 74 and 75, and FiOS channels 34, 40, and 47. Delayed from its scheduled date in April by the pandemic, the concert will be performed in Sommer Center for a broadcast audience. Click here to learn more.
Bronxville Farmers' Market is open on Saturdays from 8:30 to 1:00 PM. All shoppers must sign up for a shopping slot. You can sign up on the Farmers Market Facebook page. There is also a link in their weekly newsletter. To sign up for the newsletter, send an email to CLOAKING . . 
Events in Later Months

October: Due to the continuing uncertainty of the COVID-19 situation, The Counseling Center is canceling its 2020 benefit, scheduled for October 17. They are instead hosting a lively, interactive online event in October with opportunities to support the work of The Counseling Center. Details will follow. A grand in-person 49/50th Anniversary Benefit with special honorees is scheduled for May 7, 2021, at the Bronxville Field Club.
October 6, 2020: The Community Fund Annual Golf Outing. For more information, contact Amy Korb, Executive Director, The Community Fund of Bronxville, Eastchester, and Tuckahoe at 914.337.8808.
October 15, 2020: Senior Citizens Council 50th Anniversary Benefit 
November 7, 2020: Take Back Day.  In the meantime, you can bring paper for shredding (up to four boxes), electronic waste, and other hazardous waste to the Household Materials Recovery Facility (H-MRF), 15 Woods Road, Valhalla. For details on what is accepted and to make an appointment, call 914-813-5400 or click here.
May, 2021: Gramatan Village May Magic Event