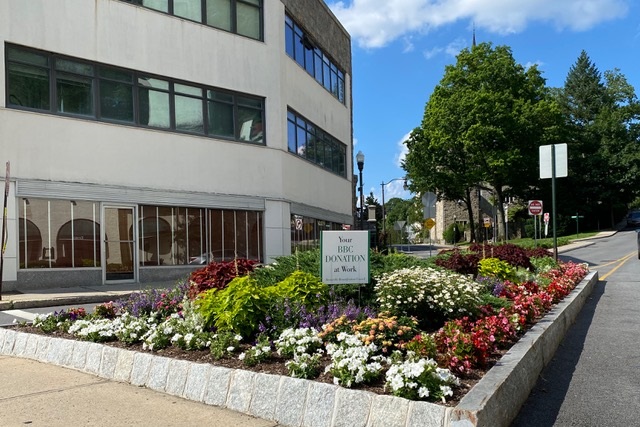 Beautiful plantings in Bronxville courtesy the Bronxville Beautification Council. Photo by N. Bower
Jul. 15, 2020: Below is information about upcoming and ongoing events. If you would like to be included, please send event information to CLOAKING
Upcoming and Ongoing Events 
Deadline July 15, 2020: Voting For Elections for the nine representatives to join the Bronxville Non-Partisan Committee (NPC) is now underway.  The deadline for voting is July 15, 2020.  Click here to learn more.
Sunday, July 19, 2020:  Food Drive at Christ Church Bronxville.  There are two ways to support: (1) Donate to the matching fund by clicking here and selecting "Grace Church Matching Fund" from the dropdown, and (2) Drive by and donate the following items on the 3rd Sunday of each month.  This Sunday, you can donate at Christ Church (17 Sagamore Road in Bronxville) from 11 AM to 2 PM. 
Items requested for donation include: canned beans, canned vegetables, tuna and other canned fish and poultry, coffee, soup, shelf-stable milk, bathroom tissue, paper towels, napkins and other shelf-stable and canned good.  Please don't donate items in glass containers.
Due July 21, 2020:  2020 Tax Bills for Village/School have been mailed and are due without penalty by July 21, 2020.  Tax payments should be mailed to the Village (in person payments are strongly discouraged).  Alternatively, a secure drop box is now available at Village Hall for taxpayers who wish to deliver their bills in person. Receipts will be mailed to all taxpayers.
Tennis:  The village tennis courts (including the clay courts) are open to residents. Residents must purchase permits and make reservations online. For a complete list of rules and regulations click here:
Bronxville Farmers' Market is open on Saturdays from 8:30 to 1:00 PM. All shoppers must sign up for a shopping slot. You can sign up on the Farmers Market Facebook page. There is also a link in their weekly newsletter. To sign up for the newsletter, send an email to CLOAKING . . 
Events in Later Months

October: Due to the continuing uncertainty of the COVID-19 situation, The Counseling Center is canceling its 2020 benefit, scheduled for October 17. They are instead hosting a lively, interactive online event in October with opportunities to support the work of The Counseling Center. Details will follow. A grand in-person 49/50th Anniversary Benefit with special honorees is scheduled for May 7, 2021, at the Bronxville Field Club.
October 6, 2020: The Community Fund Annual Golf Outing. For more information, contact Amy Korb, Executive Director, The Community Fund of Bronxville, Eastchester, and Tuckahoe at 914.337.8808.
October 15, 2020: Senior Citizens Council 50th Anniversary Benefit 
November 7, 2020: Take Back Day.  In the meantime, you can bring paper for shredding (up to four boxes), electronic waste, and other hazardous waste to the Household Materials Recovery Facility (H-MRF), 15 Woods Road, Valhalla. For details on what is accepted and to make an appointment, call 914-813-5400 or click here.
May, 2021: Gramatan Village May Magic Event