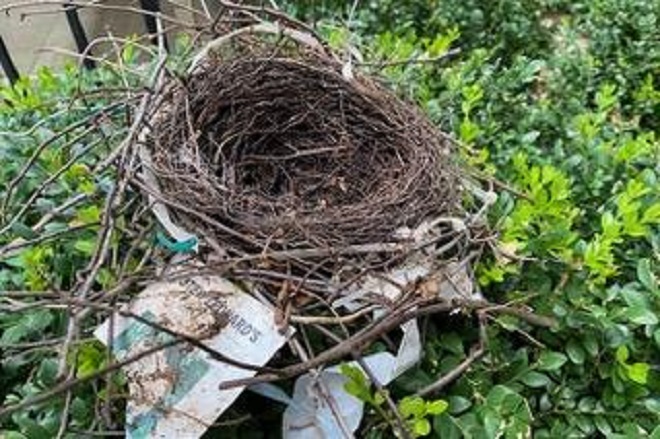 The anatomy of a birds nest. Stew Leonards plant tag, zip ties, ribbons and bag ties.  Photo by N. Bower
Jul. 8, 2020: Below is information about upcoming and ongoing events. If you would like to be included, please send event information to CLOAKING
Upcoming and Ongoing Events 
Deadline July 15, 2020: Voting For Elections for the nine representatives to join the Bronxville Non-Partisan Committee (NPC) is now underway.  The deadline for voting is July 15, 2020.  Click here to learn more.
Due July 21, 2020:  2020 Tax Bills for Village/School have been mailed and are due without penalty by July 21, 2020.  Tax payments should be mailed to the Village (in person payments are strongly discouraged).  Alternatively, a secure drop box is now available at Village Hall for taxpayers who wish to deliver their bills in person. Receipts will be mailed to all taxpayers.
Tennis:  The village tennis courts (including the clay courts) are open to residents. Residents must purchase permits and make reservations online. For a complete list of rules and regulations click here:
Bronxville Farmers' Market is open on Saturdays from 8:30 to 1:00 PM. All shoppers must sign up for a shopping slot. You can sign up on the Farmers Market Facebook page. There is also a link in their weekly newsletter. To sign up for the newsletter, send an email to CLOAKING . . 
Events in Later Months

October 6, 2020: The Community Fund Annual Golf Outing. For more information, contact Amy Korb, Executive Director, The Community Fund of Bronxville, Eastchester, and Tuckahoe at 914.337.8808.
October 15, 2020: Senior Citizens Council 50th Anniversary Benefit 
November 7, 2020: Take Back Day.  In the meantime, you can bring paper for shredding (up to four boxes), electronic waste, and other hazardous waste to the Household Materials Recovery Facility (H-MRF), 15 Woods Road, Valhalla. For details on what is accepted and to make an appointment, call 914-813-5400 or click here.
May, 2021: Gramatan Village May Magic Event