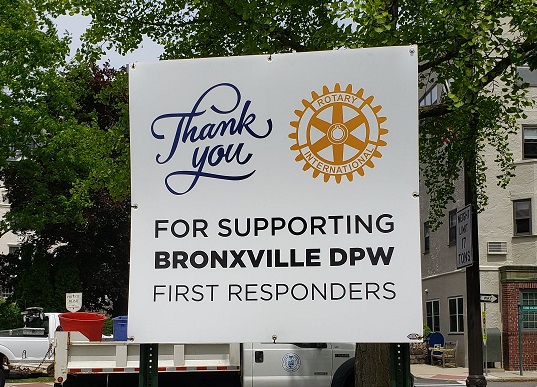 By Richard Pink, President Rotary Club of Bronxville
Jun. 3, 2020: Pursuant to its motto "Service above Self," the Rotary Club of Bronxville (RCB) continues its efforts to assist individuals, businesses, and front liners during the COVID19 crisis. 
We are immensely grateful for the generosity of the Rotary Club Foundation, our Rotary Club members, and so many generous members of this community in helping to build up this Emergency Fund. 
Because of this generosity, and on behalf of all the donors, the Bronxville Rotary Emergency Fund Task Force has been able to make a meaningful difference.
-We reached out to local business owners and are currently supporting 14 furloughed village employees in need with biweekly stipends of $320 each to keep food on the table until government support arrives, or until reemployment. We expect this need to continue as we learn of additional needs because many of those we support do not qualify for government assistance. 
-Coordinating with Mayor Marvin, we delivered eighteen $100 gift restaurant gift cards to our DPW unsung front liners who are out there week in and week out, keeping our village cleaned up. This special thank you had the duel benefit of also helping our restauranteurs (selected by the DPW workers) as they struggle to keep operating. 
-Similarly, our Task Force delivered restaurant gift cards to 50 Postal Service front liners who show up daily to keep the village mail moving. 
-Separately, Bronxville Rotary granted $5k to a sister club in Harlem to aid their efforts to feed their residents impacted by COVID.
-Our Foundation also responded to a separate request with a $5k grant to Groundwork Hudson Valley to help keep this amazing program afloat.
We will continue our support efforts, as long as funds allow. 
If you would like to donate to the cause, you may visit our website www.bronxvillerotary.com . 
If you would like to attend a Bronxville Rotary Club Luncheon meeting via Zoom or learn more about our community service efforts, please contact me at  CLOAKING .
Stay safe, and all the best.
Pictured: Sign made by the DPW to thank the Rotary Club of Bronxville for their support
Photo courtesy Mary Marvin

Editor's note: As a public service, MyhometownBronxville publishes articles from local institutions, officeholders, and individuals. MyhometownBronxville does not fact-check statements therein, and any opinions expressed do not necessarily reflect the thinking of its staff.