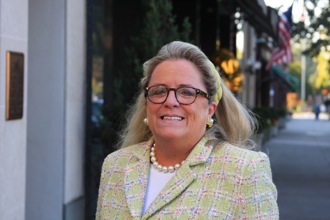 By Mary Marvin, Mayor, Village of Bronxville
May 13, 2020: My column this week is a compilation of Village information that would have been shared at the May Board of Trustees' Meeting in the public forum at Village Hall.  
Since the meeting is by necessity, a phone discussion with call-in options, the news does not get disseminated as widely as is customary. 
Tax Payments
While Village/School tax bills are normally mailed on June 1 and the first half installment payable by June 30, the Village has requested that the Governor issue an executive order for Bronxville granting a twenty-one (21) day extension on the final date for paying taxes without interest or penalty. The extension would provide you with 30 days to pay following the mailing of tax bills after the School District vote now scheduled for Tuesday, June 9. We will continue to keep you updated on this request and advise you if the extension is granted.
Upon the issuance of tax bills, we request that tax payments be mailed to the Village as in-person payments are strongly discouraged. A secure drop box is now available at Village Hall for taxpayers who wish to deliver their bills in person or after hours. Receipts will be mailed to taxpayers. Please contact the Village Treasurer at 337-2194 or by email at  CLOAKING  for any additional information.
Governor's Plan to Reopen the Hudson Valley
With five days to go until New York starts reopening its economy, our Hudson Valley region has only met five of seven required criteria, while other regions such as the Finger Lakes, Southern Tier, and Mohawk Valley have satisfied all seven and could be ready to start with Phase 1 at the end of the week.
The two goals that the Hudson Valley region, of which we are a part, that are yet unfulfilled include a sustained two-week decline in deaths and a decline in new hospitalizations. However, the trend is positive for us as the Hudson Valley had 2.79 new hospitalizations per 1000 residents as of May 10, down from more than four per 100,000 just last week. When we reach all seven goals, we can begin opening businesses in phases. 
Phase 1 includes construction; manufacturing and wholesale supply chain; retail for curbside pick-up and drop off or in-store pick up; and agriculture, forestry, and fishing. The Phase 2 opening will include professional services, finance, insurance, retail, administrative support, and real estate/rental leasing. Phase 3 includes restaurants/food services and hotels/accommodations, while Phase 4 includes art/entertainment/recreation and education. 
Some recreational activities will be allowed in earlier phases, such as landscaping, gardening, drive-in movie theaters, and tennis.
In order to come out of the gate ready to help our merchants get back on their feet, the Village has formed a committee to establish a plan for reopening the downtown, once the governor gives us clearance. The plan will include several elements, including the development of physical changes such as street or parking space closures to enable businesses to meet state occupancy guidelines of social distancing. 
The committee is composed of Village Trustees and staff, business owners, landlords, residents, healthcare professionals, and law-enforcement officials so we can reimagine our streets to maximize the ability of our businesses to once again become vibrant and profitable.
Capital Projects
We have to continue improving the Village by maintaining our infrastructure and upgrading facilities despite this Covid19 pause. 
The following are examples of on-going capital projects in various stages of completion since some were stalled necessarily to deal with the exigencies of our Covid19 response by all hands on deck.
We continue to refurbish the Bacon Woods Park, which is our grassy area between Kensington Road and Sagamore Road. We have great plans to do this in stages and make it not only an easier and more attractive conduit to the train station and the business district from Sagamore Road, but as a beautiful pocket park so needed in this quadrant of our Village.
We continue security and safety upgrades with additional street lighting on the west side, sections of Pondfield Road, the paddle courts, Village Hall parking lot, and security cameras for the tennis hut.
Ripple Effect
Certainly, in the scheme of things, it is quite small but illustrative as I share how the Covid19 virus has affected every element of Village life. As illustration, village parking revenues are already down $180,000, and our court will remain closed until at least mid-June, so there are no other revenues forthcoming from any kind of violations or criminal proceedings.
Medical Update
County Executive George Latimer graciously accepted our invitation to update us at our virtual May Board of Trustees' meeting.
The County Executive shared with us some very heartening news that currently, Westchester County has 3,377 active cases of COVID-19 versus 11,000 not too many days ago. The same is true as we have 500 individuals hospitalized with the virus versus a recent 1,200.
The County has seen 31,000 people test positive for the virus resulting in 1,227 deaths in our County alone. We raised the standard, not only for the State, by having 11% of our County population, or 112,000 people, currently tested for the virus.
Our County has lost 1,227 citizens who will never be forgotten. Thankfully we lost only nine people on Sunday night versus an incomprehensible average of 50 per day in the not too distant past. This news was encouraging but cautionary as any let up could send us right back to those incomprehensibly tragic numbers.
Photo by A. Warner
Editor's note: As a public service, MyhometownBronxville publishes articles from local institutions, officeholders, and individuals. MyhometownBronxville does not fact-check statements therein, and any opinions expressed do not necessarily reflect the thinking of its staff.