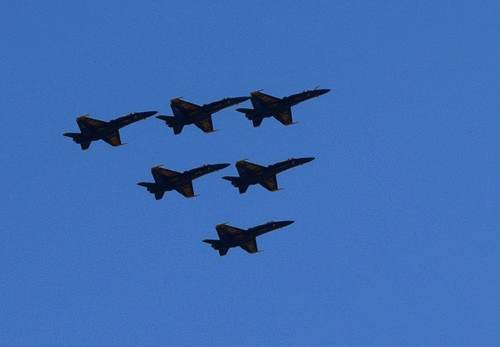 By Staff
Apr. 29, 2020: MyhometownBronxville's "Photo of the Week" this week is three rotating photos of the U.S. Navy Blue Angels and U.S. AirforceThunderbirds flying over Westchester yesterday. They did it as a thank you to healthcare workers, first responders and other essential workers.
Below is a video glimpse of the Blue Angels flying over a neighborhood in Bronxville. Click on the photo below to view the video on Youtube.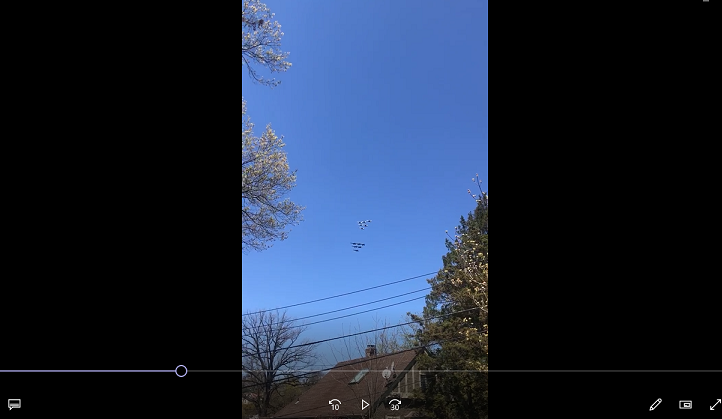 Mayor Marvin shared this quote from the Dalai Lama in a communication this week.  
"....be kind whenever possible as it is always possible."
Finally, below is local Event Information. To be included in this events section, please email relevant information to CLOAKING .
Upcoming Events
May 3, 2020:  Food Drive at Christ Church Bronxville.  Click here to learn more.
May 3, 2020: Bicycle Sundays on the Bronx River parkway will begin on May 3 and continue on Sundays in May, June and September, except for Memorial Day and Labor Day weekend. The course is slightly modified and masks are recommended. Click here to learn more. 
May 10, 2020: Mother's Day!  Shop at the local establishments. They can be reached by phone or email and will be happy to provide curb-side pick up.  Gift certificates are also a great gift from local services such as spas and wellness centers.
Event Postponements:
Local Election: The local election originally scheduled for April 28, 2020, will take place sometime after June 1, on a date to be determined.
The Counseling Center: In a spirit of solidarity, The Counseling Center is postponing its gala benefit honoring Doug Cruikshank, originally scheduled for Friday, May 1st. We sincerely hope you can join us on the new date of Saturday, October 17, 2020 at the Bronxville Field Club. Meanwhile, be well!
Bronxville Rotary Club:  Pursuant to Government Policy, The Rotary Club of Bronxville is postponing its Annual Benefit scheduled for April 24th, 2020.  Under these fluid circumstances, no future date is scheduled at the moment. We thank you for your continued support, and wish you and your families GOOD HEALTH.
Senior Citizens Council: Due to the current health crisis the Senior Citizens Council 50th anniversary benefit scheduled for April 23 has been postponed until October 15. All plans continue to move forward. We wish all our neighbors good health in this trying time.
Gramatan Village:  The health and well-being of our community is of paramount importance to Gramatan Village. Given the rapidly changing environment, Gramatan Village has decided to reschedule our May 14, 2020 May Magic event to May of 2021. 
Photos by A. Warner
Video courtesy Murrer family