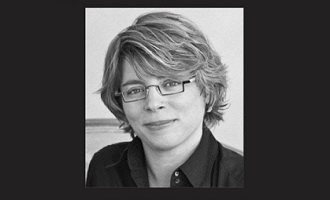 by Lorraine Shanley, Member, Board of Trustees, The Bronxville Historical Conservancy
Jan. 22, 2020: Harvard University professor and the bestselling author, Jill Lepore, will be the featured speaker at the Annual Brendan Gill Lecture on Friday, March. 6, at 8 pm at Sarah Lawrence's Reisinger Auditorium.   
This free lecture is open to the public and presented each year by The Bronxville Historical Conservancy as a gift to the community. Register at  CLOAKING  or call 914-961-6790.
Lepore joins an illustrious roster of previous Gill speakers, including Mo Rocca, Stacy Shiff, the late Cokie Roberts, Jon Meacham, and Michael Beschloss, among others.  
Lepore is the author of These Truths: A History of the United States as well as several other books including The Secret History of Wonder Woman, which was a prize-winning bestseller which one critic called a "lively, surprising and occasionally salacious history." 
Her new book, IF THEN: How the Simulmatics Corporation Invented the Future, will be published in 2020. In it, Lepore argues that facts were replaced by numbers, which have since been replaced by data, with consequences not only for how we know what we know but for how we form (or dismantle) political communities. 
A staff writer at The New Yorker, Lepore has a Ph.D. in American Studies from Yale University and joined the Harvard History Department in 2003. In 2012, she was named a Harvard College Professor in recognition of her distinction in undergraduate teaching. She has written on a variety of subjects, from politics and history to literature, the rise of robots and automation, to superheroes. 
Her essays and reviews have also appeared in The New York Times, The Times Literary Supplement, The Journal of American History, Foreign Affairs, the Yale Law Journal, The American Scholar, and the American Quarterly. 
Three of her books derive from her New Yorker essays including The Mansion of Happiness: A History of Life and Death (2012), a finalist for the Carnegie Medal for Excellence in Nonfiction, The Story of America: Essays on Origins (2012), shortlisted for the PEN Literary Award for the Art of the Essay, and The Whites of Their Eyes: The Tea Party's Revolution and the Battle for American history (2010).
Lepore grew up in West Boylston, Mass., where her father was a junior high school principal and her mother, an art teacher. Before moving to Harvard, she taught at the University of California-San Diego from 1995 to 1996 and at Boston University. She lives in Cambridge, Massachusetts with her husband and three sons.
Pictured:  Jill Lepore
Photo courtesy Bronxville Historical Conservancy

Editor's note: As a public service, MyhometownBronxville publishes articles from local institutions, officeholders, and individuals. MyhometownBronxville does not fact-check statements therein, and any opinions expressed do not necessarily reflect the thinking of its staff.