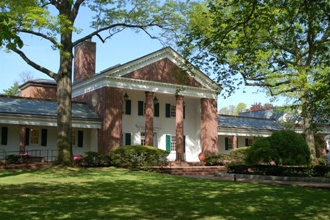 By Susan Miele
Nov. 13, 2019:  What's the secret to preserving Bronxville's character and charm? Credit our village code and the boards that uphold them. While homeowners and landlords might wish they could alter their property without the hassle of approvals, the safeguards ensured by the Village Board of Trustees, the Planning Board, and the Zoning Board of Appeals (ZBA) help prevent Pondfield Road from becoming home to a mega mall and your neighbor's deck from abutting your driveway. Despite the important role they serve, these boards remain unclear to many people in terms of their role and function. What do they do exactly? 
In a nutshell, the Board of Trustees establishes local laws and codes; the Planning Board ensures adherence with respect to development efforts, and the ZBA considers appeals from constituents to deviate from the code. This is the highly simplified explanation for a complex system whose execution must abide by both local and state laws.
Members of the Village Board of Trustees are chosen via general election. In contrast, members of the Planning Board and of the Zoning Board of Appeals are appointed by the mayor with approval from the Board of Trustees. Members must be Bronxville residents, and all are unpaid volunteers.  The meetings of all three boards are open to the public and may be either attended in person at Village Hall or viewed on TV via Bronxville's public-access channel.
Village Board of Trustees
According to New York State law, the Village Board of Trustees—headed by Mayor Mary Marvin--is empowered to "regulate and restrict the height, number of stories and size of buildings and other structures, the percentage of lot that may be occupied, the size of yards, courts and other open spaces, the density of population, and the location and use of buildings, structures and land for trade, industry, residence or other purposes." Village government is entrusted with this power in the interest of promoting the community's overall health, safety, morals, and general welfare. The State requires that no laws shall be codified until after a public hearing on the subject is held, and these must be announced via published notifications at least ten days prior. 
Planning Board & Design Review Committee
Once local laws and codes are established, it's up to the Planning Board to maintain them. The Planning Board evaluates assorted proposals—from the selection of street lights to a store's choice of an awning to the demolition of a house to the installation of an apartment-building ramp. Part of their task is to consider the pros and cons voiced by both residents and commercial interests.
Whereas straightforward applications like a store awning might take only a short time to deliberate, projects with a greater potential for impacting the Village could require the engagement of architects, traffic studies, revised plans, re-revised plans, and even re-re-revised plans. 
Another layer of review may be performed by the Design Review Committee, which advises the Planning Board from the viewpoint of architectural integrity. The Planning Board also draws on the expertise of outside consultants with technical knowledge of matters such as traffic patterns, road construction, and the like.
According to Gary Reetz, the current President of the Bronxville Planning Board, when NewYork Presbyterian Lawrence Hospital applied for permission to build a wing for its proposed cancer center, the Planning Board spent a year and a half reviewing drawings, working with architects and designers, and collaborating with the hospital to arrive at a plan that would be compatible with village code while accommodating the hospital's desire to expand. Another large-scale project was the Kensington Road project—now the site of Villa BXV--whose design underwent three iterations, involving three different developers over about 15 years. 
Zoning Board of Appeals (ZBA)
When an application calls for construction that is not in compliance with the Village's Zoning Code, a property owner can petition the ZBA for a "variance." Both commercial and residential variances are considered. According to Bill Fredericks, current President of the ZBA, the most frequent variance requests that the ZBA receives concern the Village's "setback" requirements, which mandate that the footprint of a home be a minimum distance from the property line. 
Factors that affect these Boards' decisions, says Reetz, include the impact on parking, traffic, population density, neighbor objections, and demand on public resources, like waste disposal and school enrollment. Reetz notes that population density is an important factor when considering proposals to erect housing projects like apartment buildings. A critical factor is the potential impact on the public school, whose reputation for excellence serves as a magnet for home buyers. Housing propositions, he notes, must avoid school overcrowding. 
"I look at things in terms of what its impact will be 50 years from now—because I remember what it was like in Bronxville 50 years ago," Reetz, a longtime Bronxville resident, said. "Our job is to maintain the village character and quality of life." To that end, the Planning Board also contributes to village comprehensive plans, which establish goals and policies for both short- and long-term public planning. 
According to Fredericks, the ZBA exists to provide some flexibility, recognizing that even well-conceived rules may not need to be upheld precisely as stated in every situation. However, "the burden is always on the applicant to establish that there is a genuine need for the variance and that an alternative with a lesser impact is not an option," Fredericks noted. "We want to allow reasonable modernizations of existing properties, but we don't want to lose the existing sense of scale and proportion that we are all familiar with." 
Fredericks reports that the ZBA generally rules on applications at the hearing when they are first presented but cautions that applicants who may require a variance should do their homework to ensure an efficient procedure with respect to both time and expense. "Do not assume that the ZBA will rubber-stamp your plans – to the contrary, think of your neighbors, the impact of your plans on the character of the local neighborhood as a whole; above all, make a serious effort to explore all reasonably available options to make sure that you really do need a variance to meet your project objectives." 
All these boards work collaboratively to consider policy refinement, such as in response to the spate of storefront vacancies that occurred several years ago. Because the longstanding zoning law discouraged service and food providers from obtaining variances (businesses are "zoned" to house retail, service, entertainment, or dining establishments; thus, a variance is required to allow an alternative use), the zoning law was modified to be more accommodating, based on the changing nature of commerce and the reality of its effect on local trade. 

Photo by N. Bower