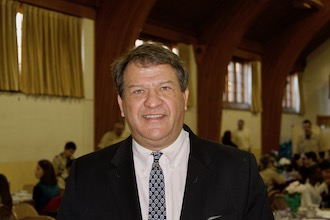 Contributed by Catherine Cioffi, Communications Director Westchester County Executive George Latimer
Jul. 24, 2019:  Focused on taking the burden off Westchester County property taxpayers, and combating the loss of the federal SALT deduction, Westchester County Executive George Latimer announced a series of actions in response to Governor Andrew Cuomo's signing of the Westchester County Property Taxpayer Protection Act. The announcement came during a press conference with nearly 60 elected officials, government leaders, and school district leaders and advocates from both sides of the aisle standing in solidarity with the county executive.
Below is the direct impact on municipalities and school districts in Westchester County Legislative District 15 from the Westchester County Property Taxpayers Protection Act. Also included are quotes from school and municipal leaders within this district. This new revenue stream will potentially allow local municipalities and school districts to fund needed essential services while not placing the burden solely on property taxpayers.
| | | |
| --- | --- | --- |
| Municipality/School District | Projected 2019 Additional Revenue* | Projected 2019 Additional Revenue** |
| Bronxville (Village) | $155,941 | $338,186 |
| Bronxville School District | $77,971 | $169,093 |
*Revenue projected for August - December (Five Months)
**Revenue projected for January - December (Twelve Months)
Senate Majority Leader Andrea Stewart-Cousins said: "This law, requested by the county government, allows Westchester to have greater parity with neighboring counties while directly helping overburdened local governments and providing much-needed funding to our local schools."
New York State Senator Shelley B. Mayer, Senate bill sponsor, said, "I was pleased to be the Senate prime sponsor of the Westchester County Property Tax Payer Protection Act to provide property tax relief to Westchester residents while securing additional aid to local school districts and municipal governments. The new sales tax rate will bring in over $70 million to Westchester County annually, with 20% of the funds going to local municipalities and 10% of the funds going to local school districts. The projected sales tax share for the remainder of 2019 will provide an additional $390,000 for the Port Chester School District and over $400,000 for the Ossining School District. Creating parity in local sales tax rates is a fiscally prudent step forward for Westchester County and will have a positive impact on our municipalities and local school districts."
New York State Assemblyman Nader Sayegh said: "Westchester doesn't only have the highest property taxes in New York State, it's the highest taxed county in the nation. The Westchester County Property Taxpayers Protection Act generates revenue while providing relief to our county's homeowners without raising property taxes. This is a smart & effective policy which will protect thousands of homeowners whose lives have been impacted by recent changes in the federal tax code over the last year."
Yonkers City Council Majority Leader Michael Sabatino said: "The Property Tax Payer Protection Act will help the county fund the necessary services it provides without raising the property taxes. This will allow for a balanced budget, a freeze on county property tax, and sale tax parody throughout the county. It will also elevate the bond rating for the county."
The series of actions announced by Latimer include:
Signing of an executive order to prohibit the county from independently selling county parkland that is over two acres;
Announcement that budget amendments will be introduced to stop the sale of county parking lots;
Moving $5 million to the county's reserve fund;
Directing the Departments of Budget and Finance that county property taxes throughout the county will be frozen for two years (FY 2020 and FY 2021); and
Announcing that of the nearly $70 million collected, 20 percent will go to local municipalities and 10 percent to the school districts.
Latimer said: "This is the end of one-shot revenues and borrowing for operating costs. We now have a creative source of revenue that is not an additional burden on the county's property taxpayers. This tax freeze will help address the expected increases for many residents and taxpayers from the new federal tax plan."
Pictured here: George Latimer.
Photo by N. Bower
Editor's note: As a public service, MyhometownBronxville publishes articles from local institutions, officeholders, and individuals. MyhometownBronxville does not fact-check statements therein, and any opinions expressed therein do not necessarily reflect the thinking of its staff.