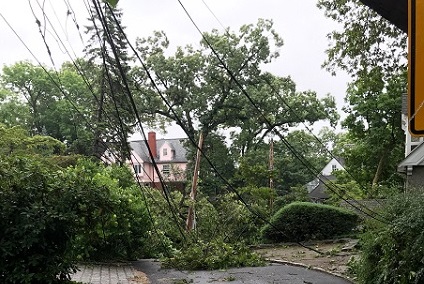 By Staff
Jul. 18, 2019:  A powerful storm from the remnants of Tropical Depression Barry swept through Bronxville yesterday evening, July 17, bringing downpours and leaving downed trees and power outages throughout the village.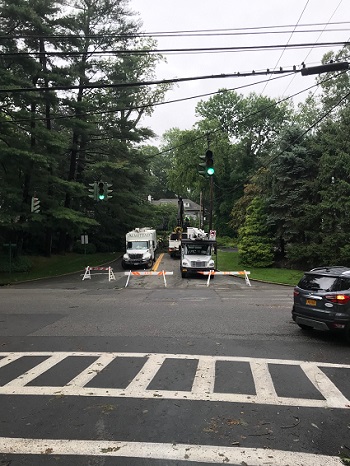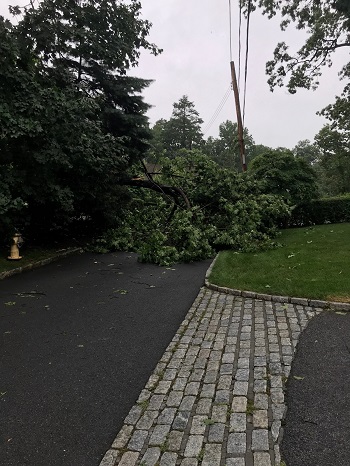 At around 8:30 pm, the Bronxville police started responding to a large number of calls reporting downed trees, fallen power lines, and fire.  According to the Bronxville police report at midnight, there were trees, branches, and power lines down in over 20 locations in the village. A tree also struck a car parked in the Kensington lot and a "tree log" hit a car on Masterton Road.
According to the Con Edison outage map, as of 10:30 am on July 18, power outages were concentrated on the Hilltop, in the Midland Avenue area, and on Tanglewylde, Summit, Hobart, and New Rochelle Road. According to Con Ed, power is expected to be restored in some of these areas by 5:00 pm. Click on the Con Edison outage map to get updates.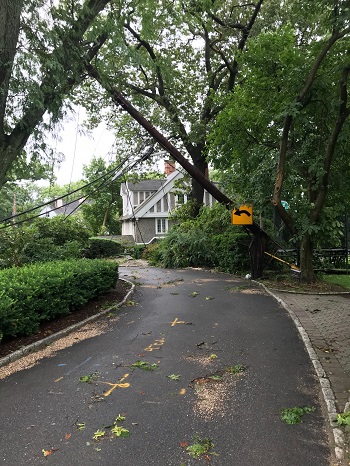 Chief of Police Christopher Satriale is urging residents to "use extreme caution when travelling through the village today. There are large limbs down blocking roadways and live power lines in many locations. If you see a power line, assume it is live and notify the police department." 
In an email alert at 10:45 am on July 18, Chief Satriale also provided the following update:
"Department of Public Works crews are busy clearing roadways of debris. Con Edison has multiple crews in the village de-energizing power lines and working to restore power. We expect to have most roadways opened by the end of the day.
"If you have not reported your power outage to Con Edison, please do so by calling 1-800-75CONED. Each individual outage must be documented even if your neighborhood outage has already been reported.
"The storms will be followed by extreme heat for the remainder of the week and weekend. Please refrain from unnecessary outdoor activities and be sure to check on friends, neighbors, and relatives who may require special assistance or care.
"In the event of an emergency, dial 911."
Photos by P. Clifford