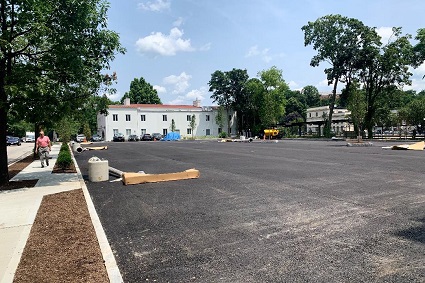 By Carol Bartold, Senior Reporter     
Jul. 17, 2019:  The new Parkway Road Parking Lot, originally scheduled for completion and opening earlier this month, will be open for use before the end of July, per Village Administrator Jim Palmer. The completely refurbished and reconfigured lot will feature parking for 80 automobiles, including ten 24-hour permitted spaces; four handicapped parking spaces; and an electric car-charging station. The lot will also have space to accommodate four or five Vespa scooters.
Palmer noted that parking in the lot will be allowed by permit only until 3:00 pm on weekdays. From 3:00 pm until 7:00 pm weekdays and on Saturdays, parking will be available to the public using the Pango parking app.
"Interest in the lot is enormous," Palmer said. "Parkers who will be getting a 24-hour reserved space are anxious to return to the lot. We have a waiting list for additional 24-hour spaces."
Construction, which had proceeded on schedule for a projected July 1 opening, came to a halt and was delayed for almost two weeks when the lighting company delivered a component incompatible with the lot's light standards. Palmer reported that the general contractor did not want to initiate final paving until the light standards could be installed. The correct part received, the light standards installation was completed on Friday, July 12. Palmer added that final paving and striping on the lot will be done the week of July 15.
Consolidated Edison has approved both the location of the electric car charging station and the meter to be used for charging. The station, which can accommodate two cars simultaneously, will be at the corner of the lot closest to Chase Bank and will face the Metro-North Railroad tracks. Still to be determined, per Palmer, is whether the charging station will be available only to permitted parkers or to the general public.
The village has landscaped the new parking lot and its perimeter with columnar hornbeam, eastern redbud, and pear trees, as well as burning bushes, holly, and inkberry shrubs. The village also constructed a new sidewalk from Parkway Road to the Metro-North Railroad platform to replace the previous blacktop path.
The Village of Bronxville purchased the parcel, formerly known as the Avalon Lot, from AvalonBay Communities, Inc., on March 17, 2019, for $1.6 million. Under the terms of purchase, the seller razed a structure that had housed a gas station and performed environmental cleanup of the site. The cost to the village to construct the new Parkway Road Parking Lot was approximately $600,000, per Palmer.
"We have been keeping the residents along Parkway Road, those that will have 24-hour reserved parking spaces, informed about an opening date," Palmer stated. "Likewise, once we get the lot open, we'll start notifying those parkers."
Pictured here: Former Avalon Lot under construction.
Photo by A. Warner