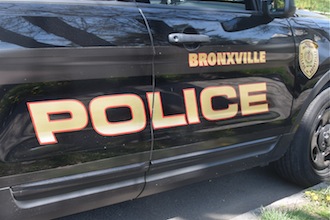 By Bronxville Police Department
Jul. 17, 2019: The following entries are from the Bronxville police blotter
July 4, 2019, 1:09 pm: Police officers completed a domestic incident report for a verbal dispute between family members. No crime was committed.
July 5, 2019, 9:57 am, White Plains Road: A 19-year-old Bronx female was charged with endangering the welfare of a child after the summer camp van she was operating, carrying 17 children between the ages of four and six years, struck a pole. The van carrying 19 total passengers was equipped with only 15 safety belts and no child passenger safety seats or booster seats, which are required in New York State for children until the age of eight. Eight of the children were given medical attention from the Eastchester Volunteer Ambulance Corps for various physical complaints of pain. The driver was also cited for operating an unregistered motor vehicle and operating out of class for not having a passenger endorsement. The 19-year-old female was processed and released on her own recognizance pending her next court appearance.
July 7, 2019, 10:56 am Pondfield Road: A 43-year-old woman of the Bronx was charged with misdemeanor suspended registration after she was stopped for disobeying a traffic control device and a subsequent inquiry revealed that the registration to the 2017 Hyundai Santa Fe she was operating was suspended due to an insurance lapse. The woman was also cited for operating without insurance and operating an unregistered motor vehicle. The aforementioned vehicle was impounded and the woman was processed on scene and released pending her next court appearance.
July 9, 2019, 12:45 pm, Pondfield Road, CVS: A 33-year-old man of Yonkers was charged with petit larceny after he stole $391.54 worth of merchandise--phone chargers, sunglasses, and earrings--and fled the store. Police located the man with the stolen items trying to flee on the southbound Metro-North platform. A search incident to lawful arrest also led to the man being charged with criminal possession of a hypodermic instrument. The man was arraigned by Judge George Mayer and remanded to Westchester County Jail pending his next court appearance.
July 10, 2019, 6:55 pm Midland Gardens: Officers assisted an 88-year-old female with general weakness. The Eastchester Volunteer Ambulance Corps responded and transported the woman to NYP Lawrence Hospital for evaluation.