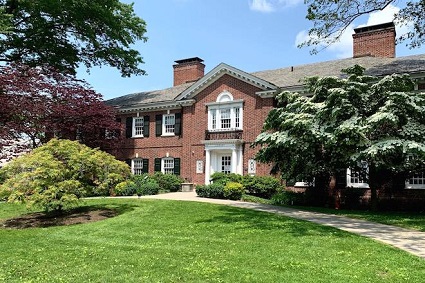 By Bill Gaston, Member, Bronxville Democratic Committee
Jul. 3, 2019:  Confronting the challenge of global climate change will require no small amount of courage and imagination. At the national level, the challenge is immense, and efforts to combat its consequences can be frustrating. In towns and villages, however, grassroots activism and outreach are already making a difference in providing pragmatic responses.  
The Village of Bronxville is no exception.
On June 18, at the Bronxville Library, village residents were treated to an absorbing and wide-ranging discussion of local environmental issues ranging from a new food scrap recycling program to county green power generation and energy conservation Initiatives. The forum, organized by the Bronxville Democratic Committee, concluded with a sobering presentation by three Bronxville High School seniors on Bronx River water quality. 
Michelle Sterling, a co-chair of the Scarsdale Forum Sustainability Committee, spoke of the many benefits of her town's food scrap recycling/composting initiative. The first of its kind in the county, it started in 2017 and has since spread to 16 towns in Westchester. She urged Bronxville to sign up, arguing its small size would make it an ideal candidate for food scrap recycling: "You're teeny-tiny, just one square mile. One drop-spot for food scraps would be enough," said Ms. Sterling. "Write your mayor to adopt it. It would be a game-changer." Over 2,000 tons of municipal solid waste, including food scraps, are burned each day in county incinerators. Nationwide, according to the Environmental Protection Agency (EPA), food scraps account for approximately 22% of waste in landfills and incinerators.
Ms. Sterling acknowledged that for many residents, participation in food recycling requires "a mental shift," a change in habits that takes some effort. However, in the long run, she added, "It doesn't make sense to burn food in incinerators." She also explained how the minimal start-up costs and operating expenses of food scrap recycling--she brought with her for display a green food scrap bucket and a storage bin--make it a cost-effective alternative to traditional waste disposal methods.
Peter McCartt, director of energy and conservation for Westchester County, told the audience that under the leadership of county executive George Latimer, the county has made several significant strides toward promoting energy savings and green power sustainability. 
Mr. McCartt said that County Executive George Latimer has authorized a $200,000 study to look into a cost-effective county-wide food scrap recycling plan. He commented that removing food scraps from the incineration mix would be a "huge" accomplishment. Mr. McCartt also said the "Recycle Right" program (launched in April) has made a big difference in educating citizens about the benefits of recycling, even as efforts on the national stage have dimmed. Additionally, he pointed to other countywide green energy initiatives: expanding the electrification program for the county's fleet of public buses (including the purchase of more hybrid buses), increased land resource management, and the development of solar energy for the county by 2020.
Next to speak were Bronxville High School juniors Sunday Ladas, Hailey Mullen, and Charlotte Cagliostro, whose Bronx River water quality presentation got the attention of the audience. The students tested water samples at several riverside locations for enterococcus bacteria (EB), a bacterium associated with human sewage in water. The concentrations they discovered were alarming. Efforts by the students to identify the source of the contamination have been in part frustrated by the inability of the village government to locate relevant maps of sewer and storm drain lines that would help to identify where the leaks are coming from. Until those maps resurface and/or the village utilizes dye tests to identify the source of the pollution, the cause of the high EB count in the Bronx River will remain a mystery.
In another grassroots initiative, village resident Ruth Walter, proprietor of Dobbs & Bishop Fine Cheese and a 2019 candidate for the Westchester County Legislature, announced one of her own: a proposal to install fast-fill water fountains in municipal buildings so residents can fill their reusable bottles and water containers, thus cutting down on the use of plastic water bottles. It is estimated that Americans buy 29 billion water bottles a year. For every six bottles people buy, only one is recycled. Walter's plan would be to install these fountains in libraries, town halls, etc., and eventually outside in parks. Said Ms. Walter, "Go green, and leave the plastic behind."
Pictured here: Bronxville Library.
Photo by A. Warner

Editor's note: As a public service, MyhometownBronxville publishes articles from local institutions, officeholders, and individuals. MyhometownBronxville does not fact-check statements therein, and any opinions expressed therein do not necessarily reflect the thinking of its staff.