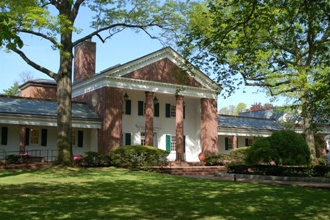 By Carol P. Bartold, Senior Reporter
May 22, 2019: The Bronxville Board of Trustees, at its regular meeting on May 13, addressed the approval of capital projects and the funding of those projects over the next five years.
Projects approved via a resolution include the purchase of body cameras for police officers; repairs to the tennis courts as well as fence replacement and a security camera for the tennis court; street and curb restoration; the replacement of police vehicles, a new DPW dump truck, and a new sanitation truck; teardrop street lighting; a new electronic fingerprint machine; playground upgrades for Sagamore Park; traffic improvements to the Kraft Avenue and Meadow Avenue intersection; and repairs to the Pondfield underpass.
Although the trustees approved upgrades to the Bronxville Public Library HVAC system and the construction of a new department of public works garage, both projects require an environmental review and were not included in the bond resolution presented.
"Some projects will be financed using unassigned fund balances rather than debt financing," Village Administrator Jim Palmer stated. "We want to move forward on some of these programs now." He added that the decision about how to fund the projects need not be made right away and noted that no purchases can be made until the projects are put out for bid and bids are accepted.
Palmer reported that, while the village can make certain repairs to the Pondfield underpass steel columns, he has attempted to secure an agreement with Metro-North Railroad to coordinate work schedules between the two entities so that all column work can proceed at the same time. Palmer has also asked the railroad for definitive substantiation of its position that the village is solely responsible for repairing the underpass sidewalks and sidewalk railings.
The village has worked with a consultant and Police Chief Christopher Satriale to determine the best traffic and pedestrian signaling for the Kraft Avenue and Meadow Avenue intersection. The traffic signal has been on a flashing yellow mode for several months because it can no longer be repaired. The village is procuring cost estimates for signal replacement.
Work on the Parkway Road parking lot, formerly the Avalon lot, is progressing. Landscaping has been installed. The lot is scheduled for a soft opening in early June. At that time, pedestrians will also regain access to the walkway leading from Parkway Road to the Metro-North Railroad platform.