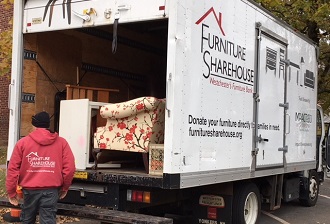 By Mary Liz Mulligan, Chair, Bronxville Green Committee
May 15, 2019:  The Bronxville Green Committee's semi-annual take-back day is not far off. It is on June 8 from 10:00 am to 1:00 pm at Palumbo Place. Please enter on Pondfield Road at the police department driveway.
We have a new collection category, which is a good thing for many reasons. We will be collecting clean, usable clothing (no shoes or purses, please) for the Vietnam Vets of America. I have been donating to this organization for years and they are very appreciative.
The timing is perfect to let you know of this new collection since we are all in swap-out mode for the heavy warm clothes to summer fare. Spring is here ... although it doesn't seem like it.
We will have a total of five collection categories:
County Mobile Shredder. The truck will be with us to shred your sensitive paper documents. There is a limit of two cartons/shopping bags per car. No walk-ups, please, for safety and fairness reasons. There is always a lineup of cars for the shredder; walk-ups are put into harm's way because of all the vehicle traffic on Palumbo during the event. The truck capacity is five tons, and once it is reached, the paper collection is ceased. We have often been able to continue collecting right to the final bell, but several times, it fills before 1:00 pm, so please try not to wait until 12:30 to head over because you may be disappointed. There is only one shredder truck for the entire county, and we have it scheduled for Bronxville two times a year. For your planning purposes, the next visit will be November 2.
Furniture Sharehouse. Furniture Sharehouse accepts used but still functional furniture for needy families in Westchester County. Please check here for guidelines and restrictions. This organization has helped thousands of our needy families.
E-Waste. E-waste includes computer monitors, keyboards, VCRs, printers, fax machines, cell phones, and more.
Animal Shelter. Clean towels and sheets are accepted for animal shelters; no dog beds, please.
Vietnam Vets of America. Clean, usable clothing (no shoes or purses, please). 
If you have any questions, please email Mary Liz Mulligan at CLOAKING  
Please check out the Bronxville Green Committee page on the Village of Bronxville website.
You can also access the Bronxville Giving Garden page on the site and become involved by digging and planting, weeding, harvesting, and delivering the freshest veggies to our needy neighbors.
Photo courtesy Green Committee

Editor's note: As a public service, MyhometownBronxville publishes articles from local institutions, officeholders, and individuals. MyhometownBronxville does not fact-check statements therein, and any opinions expressed therein do not necessarily reflect the thinking of its staff.