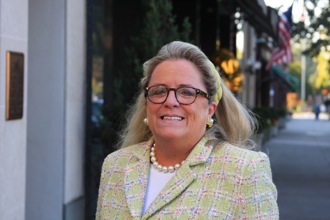 By Mary C. Marvin, Mayor, Village of Bronxville
May 15, 2019:  I recently attended a Westchester County municipal officials presentation on decreasing a whole section of potentially recyclable waste by capturing the textile market. Most communities are doing a good job on the paper/plastic/bottle recycling, but presently, 85% of all the textiles we use are discarded as trash, and the number is growing.
According to the EPA, trash removal costs the US economy a staggering $384 billion yearly, and the cost of managing trash has risen 2.4 times the rate of inflation for decades now. The result is an ever-increasing cost to municipal budgets, diverting funds from parks, recreation, infrastructure repairs, etc.
At the village level, we spend one-half million dollars yearly on trash removal. This is only operating expenses and does not even factor in the costs of trucks, ancillary equipment, and vehicle repair. I can only imagine how we could improve the village if we just reduced costs in the 10 to 20% range.
The company Waste Zero, founded in 1991, saw a need to fill the gap re: textile recycling. A certified B corporation, they have partnered with more than 800 municipalities in reducing waste and saving money, serving over 4.5 million households weekly, including many in nearby central Connecticut.
To earn a B corporation certification, Waste Zero underwent investigation of its environmental impact, impact on the communities in which it operates, its governance, and its treatment of its work force.
The mechanics of the program are thus: 
Residents first receive pink recycling bags in the mail, which are to be placed out for collection on the normal recycling day next to the paper/can recycling bins. Bags are collected on that same day and replacement bags are placed in or tied on to the residents' recycling bins.
Based on a mapped route, the only village involvement would be a button pressed by our recycling staff as they pass by a pink bag. Waste Zero's truck, via GPS, would receive the transmission.
The benefits are first and foremost the recycling of used textiles such as sheets, frayed towels, and rags that all end up in the garbage stream.

There is no cost to a municipality and in addition to saving on municipal costs, a community receives $20 per ton for textiles collected.

While the primary focus is on textiles, the program will also accept small household items that can fit into the size of the pink bag. These include purses, drapes, tools, dishes, mirrors, toys, shoes, and pots and pans.

If a bag should get missed, the company can be notified and guarantee same-day pickup.
Of course, as in anything, there are potential downsides:
The program claims the impact on charitable drop-off programs is minimal. Documented behavior suggests people who donate to charities do so because they believe in the charity and/or appreciate the tax deduction. The program primarily is for those who normally don't recycle textiles or find many of their goods too used to donate. The goal is to get these residents in the habit of adding textiles to their recycling stream.

There is no receipt given for tax deductions.

Concern over the possible interval between village recycling pickup and textile pickup, i.e., bags left on streets for hours.
I would love residents' thoughts on this initiative and would appreciate an email reaction at  CLOAKING .
The village, in conjunction with our Green Committee, has been looking into a variety of energy-saving initiatives including a ban on plastic bags, food composting, and the use of solar panels. As to a plastic bag ban, we knew both the state and the county were ready to enact legislation, so we tabled it locally knowing the principle of pre-emption would dictate whose law would prevail.
The county is also actively pursuing a county-wide food compost program with a central composting location available to all participating county communities. This would so beneficially negate the need for our village to find a composting site in our densely populated village.
Many communities also have very open-ended solar panel regulations. But again, given our lot sizes and density, we must be cautious that the benefit to one home does not prove to be a detriment to a resident within feet of the installation.
We continue to be one of the top three Westchester communities, along with Bedford and Scarsdale, in recycling of papers and cans, bottles, and plastics, but there are so many more avenues of reclamation we must pursue. 
Editor's note: As a public service, MyhometownBronxville publishes articles from local institutions, officeholders, and individuals. MyhometownBronxville does not fact-check statements therein, and any opinions expressed therein do not necessarily reflect the thinking of its staff.