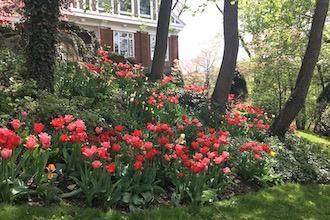 By Staff

May 1, 2019: Below are events that will take place in and around Bronxville from Wednesday, May 1, to Wednesday, May 8, 2019. For the Village of Bronxville calendar, click here. For events at the Bronxville Public Library, click here. For the Bronxville school district calendar, click here.
Thursday, May 2, 7:00 pm, Discussion of Women's Soccer at Bronxville Library. Bronxville's Gemma Clarke, the author of a new book, Soccerwomen: The Icons, Rebels, Stars, and Trailblazers Who Transformed the Beautiful Game, will be in conversation with Andrea Montalbano, the author of Soccer Sisters and also a soccer star in high school and co-captain of the women's soccer team at Harvard. For more information, go to www.bronxvillelibrary.org email CLOAKING , or 914-337-7680, ext. 34.
Friday, May 3, 6:00 pm, Counseling Center Annual Benefit Honoring Roseanne Welshimer. Guests will have the chance to enjoy cocktails and hors d'oeuvres while participating in a raffle as well as in silent and live auctions. To purchase tickets, contact Sue Perry at 914-793-3388, ext. 101, or click here. 
Sunday, May 5, 4:00 pm, Village Historian Ray Geselbracht to Speak about Bronxville and WWI at Bronxville Library. Village historian Raymond Geselbracht will give a public lection titled "Bronxville's World War I—Service at Home and Abroad During the Great War, 1914-1918" using photographs and documents from the Bronxville History Center. For more information, go to www.bronxvillelibrary.org email CLOAKING , or 914-337-7680, ext. 34.  
Photo by A. Warner
Editor's note:  As a public service, MyhometownBronxville publishes notices about meetings of village government, the Bronxville Board of Education, and the board of trustees of the Bronxville Public Library. MyhometownBronxville does not independently research other events but will, at its discretion, consider including a notice of an event that will occur in Bronxville if information about the event is received by MyhometownBronxville (Sarah Thornton Clifford at sethorntoncliff@aol.com) by noon on the Sunday before the subsequent Wednesday publication. These notices must not be advertisements; please send any requests for advertisements to Sarah Thornton Clifford at   CLOAKING .