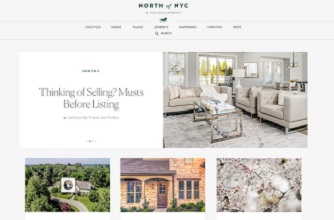 By Dean Bender, Thompson & Bender, for Houlihan Lawrence
May 1, 2019:  Houlihan Lawrence today announced the new NorthOf.NYC, a website and curated guide to living in the communities it serves across Westchester, Connecticut, and the Hudson Valley.  
"Some people are surprised that a real estate company would create a website that isn't all about selling houses, but our agents have relationships with clients that exist well before they consider purchasing a home," said Anne Marie Gianutsos, chief marketing officer of Houlihan Lawrence. "North of NYC helps clients discover the lifestyles possible in our area and delivers a new platform for our agents to share their local knowledge outside of real estate transactions."
The website features an interactive map experience that lets users explore hundreds of curated shops, restaurants, attractions, and more. The website also covers a range of topics from real estate how-tos and market insights to local events and a new content feature, "Journeys," which assembles map locations as themed itineraries—from a beach day to a brewery tour.
"We know what makes our communities tick," said Russ Pruner, an associate real estate broker in the firm's Riverside office, who created a Greenwich "journey" for the website. "Northof.NYC provides invaluable local advice to people considering a move and even to our neighbors living here."
"Northof.NYC is a great new place for agents to share local insights and build their brand," said Mary Kmetz, an agent in the Rye office on the Joan O'Meara team. "We love to provide our clients with a roundup of local events, and now we have greater distribution for our content with the launch of this website."
For potential buyers who are just discovering the area north of the city, the website can be browsed by local lifestyles that then connect back to actual cities and towns: Villager, Locavore, Trailblazer, Waterfronter, Locavore, and Cosmopolitan. The website was designed and built by King & Partners.
The website is just one element of the brokerage's North of NYC lifestyle brand, which includes lifestyle gear, Spotify playlists, and seasonal travel guide North of NYC Journeys. The site's first iteration launched three years ago, when the firm set out to dispel tired suburban stereotypes and spotlight the individuality of each community.
"Clients love to get the local scoop from our agents," remarked Gianutsos. "This is just our latest way to empower agents to make new connections and grow their business with Houlihan Lawrence."
Photo courtesy Thompson & Bender
Editor's note: As a public service, MyhometownBronxville publishes articles from local institutions, officeholders, and individuals. MyhometownBronxville does not fact-check statements therein, and any opinions expressed therein do not necessarily reflect the thinking of its staff.